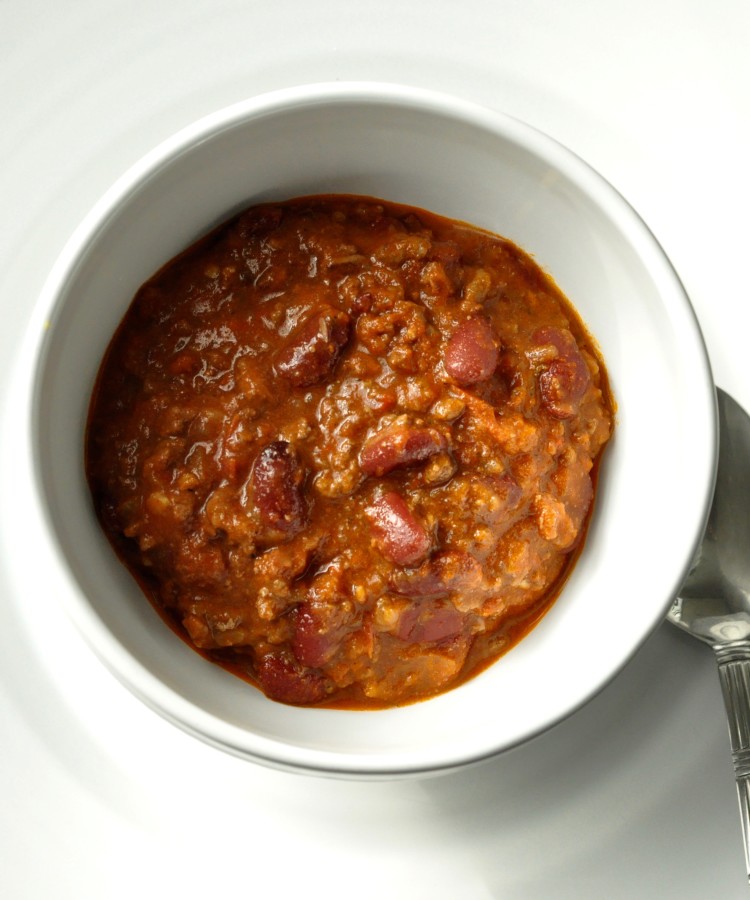 Day 5 of Blizzard2016. When I went to Whole Foods well into Day 1 of Winter Storm Jonas, I wasn't the only one who had chili on the storm survival menu. In fact, I wasn't sure if we were headed into the worst storm in 50 years or a city-wide chili cook-off. Turns out it was the former… While, the spice section was completely clear of cumin, cayenne and paprika (really!), I had something different in mind: Spicy Harissa Chili with Merguez Sausage. Chili with a Mediterranean kick…and I mean KICK! Another inspiration from a new cookbook, "Balaboosta, Bold Mediterranean Recipes."
Harissa is a hot chili pepper paste that originates from North Africa. Merguez, popular in North Africa and the Middle East, is a lamb or lamb/beef sausage that is spiced (often with cumin and harissa). Whole Foods carries harissa (both dry spice and a paste) and merguez sausage. I opted for the harissa paste, which I found tucked in between the hummus and baba ganoush in the refrigerated section. If you can't find it locally, you can always order it online (you Amazon Prime junkie you…).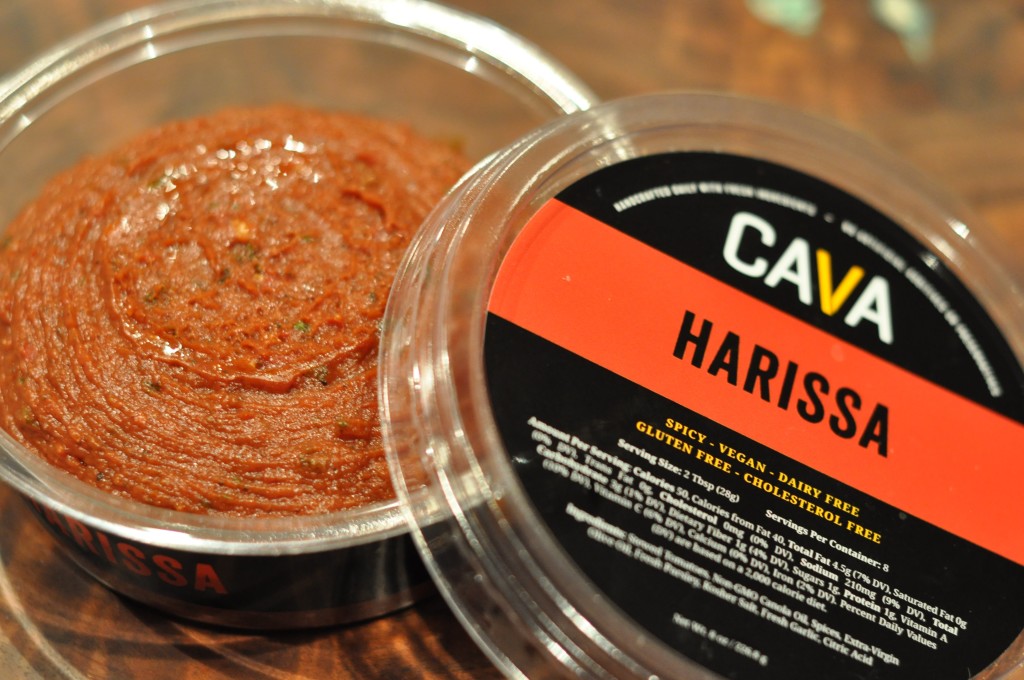 This chili has an interesting twist with the harissa and merguez sausage, and it's really quite easy to make. I had it prepped in no time, grabbed my mug of hot cocoa, snuggled up in my oversized chair, and stared out the window watching my neighbors dig through 3 feet of snow as my chili simmered away…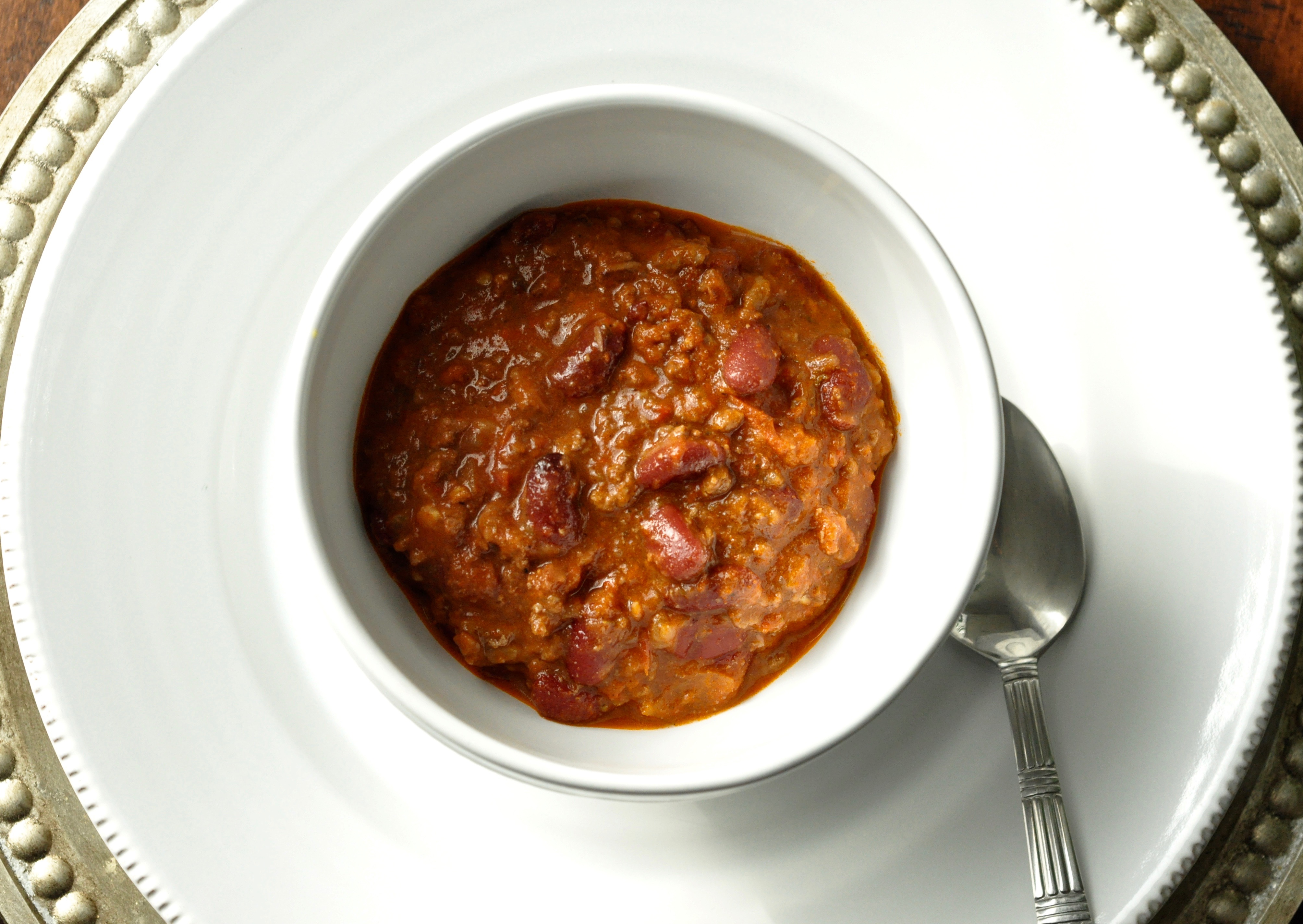 Spicy Harissa Chili with Merguez Sausage
2016-01-26 21:49:07
Serves 6
Spicy chili with a Mediterranean twist
Nutrition Facts
Amount Per Serving
* Percent Daily Values are based on a 2,000 calorie diet. Your Daily Values may be higher or lower depending on your calorie needs.
Ingredients
2 cans 15.5 ounce dark red kidney beans, thoroughly rinsed
1 pound lean ground beef
1 pound merguez sausage, casing removed and cut into bite-sized pieces
3 tablespoons olive oil
1 medium yellow onion, finely chopped
1 large red bell pepper, finely chopped
3 garlic cloves, finely chopped
2 tablespoons tomato paste
1 teaspoon sugar
3 medium tomatoes, finely chopped
3 tablespoons harissa paste
1 tablespoon salt
1 teaspoon ground cumin
1/4 teaspoon chipotle powder
1/4 teaspoon black pepper
2 tablespoons oregano, finely chopped
4 cups water
Instructions
Meat.
Saute the ground beef and merguez sausage over high heat until browned. Season the meat with a little salt and pepper. Drain excess liquid/fat and set the browned meat aside.
Veggies and spice.
Heat the olive oil in a large pot over medium-high heat. Add the onion and bell pepper and saute until soft and slightly caramelized (about 7 minutes). Add the garlic and saute one minute. Add the tomato paste, stir into the veggies, and then sprinkle the sugar over the mixture. Add the chopped tomatoes and cook for another 5 minutes. Add the meat mixture to the large pot. Stir in the harissa paste, salt, cumin, chipotle powder, pepper, and oregano. Add 4 cups of water. Finally, add the kidney beans.
Boil, then simmer.
Bring the chili to a boil, then reduce the heat to very low, cover the pot, and simmer the chili for 2 1/2 - 3 hours. Stir occasionally and add water if it starts to get dry.
Adapted from Balaboosta, Bold Mediterranean Recipes
Adapted from Balaboosta, Bold Mediterranean Recipes
TraveLynn Eats http://www.travelynneats.com/