There's a running list of recipes that scrolls through my head. There's a lot of chatter up there. Thank gawd much of it is food related. This is one of those recipes I've waited a long time to make. Suddenly, it became one of those "must make now" recipes. Detour on the drive home from work. In Whole Foods in my military uniform (so deliciously out-of-place in my most favorite, overpriced yuppie market). Snatching up sweet potatoes, cilantro, limes, tahini, chickpeas with all too much enthusiasm.
I burst through the door, straight into the kitchen, cranked up my fave Pandora channel (ohhh you love Chill Loungers Radio too?!), and got right to work. Don't stop, won't stop, ah crap…forgot to take pictures…last ditch smartphone shot right before serving. Close call. Glad I can give you a little Samsung Galaxy 4 kickin-it-old-school happy snap.
This is one of those dishes that highlights what I love about cooking. Simple to make; perfect mix of flavors; separate components of a dish that stand alone wonderfully, but come together perfectly; results exceed expectations. What's not to like…?
So, in a string of "I'm not vegan" vegan recipes: Just.Make.This.One.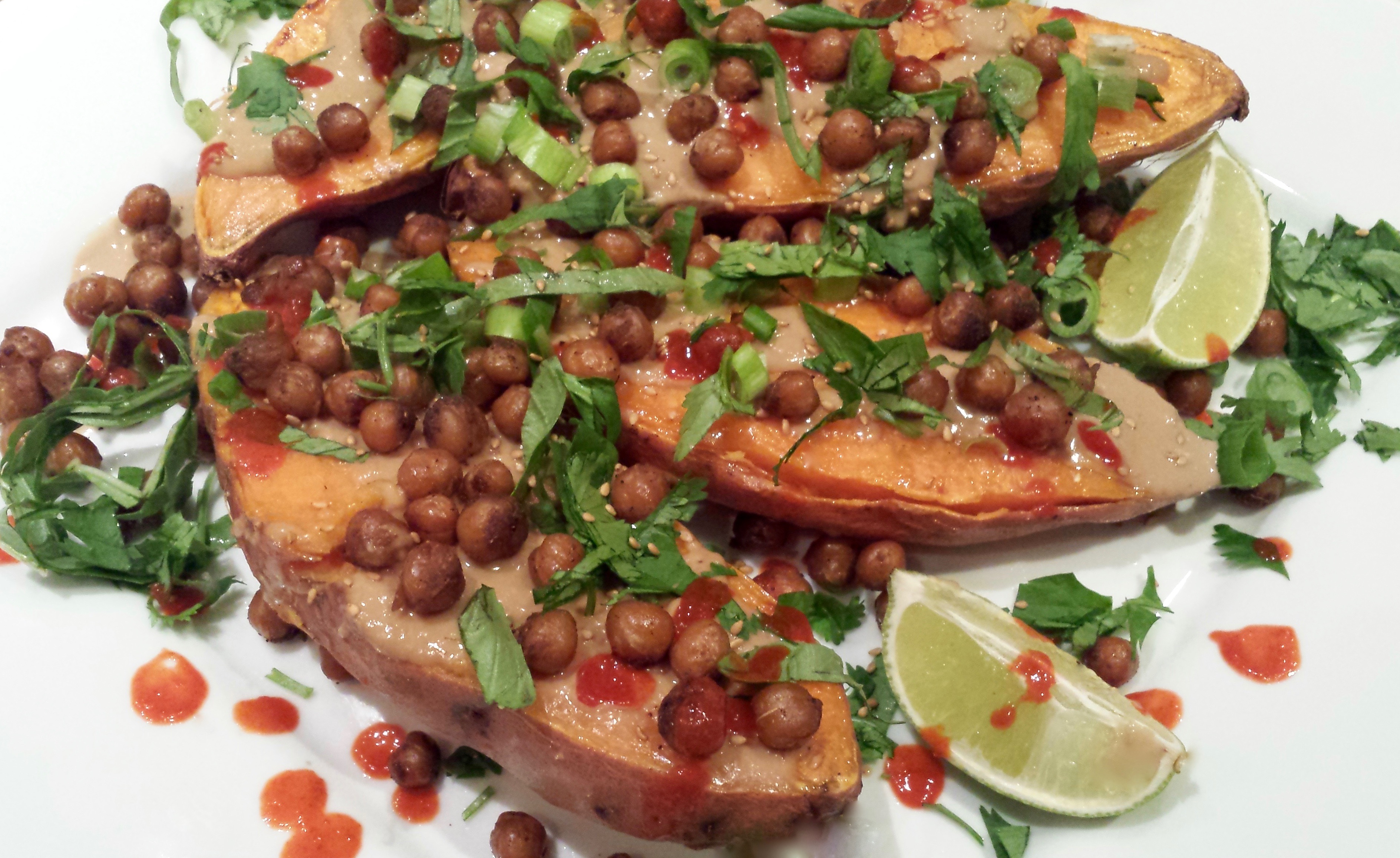 Sweet Potatoes with Spiced Chickpeas & Ginger Lime Tahini Sauce
2016-08-27 10:58:08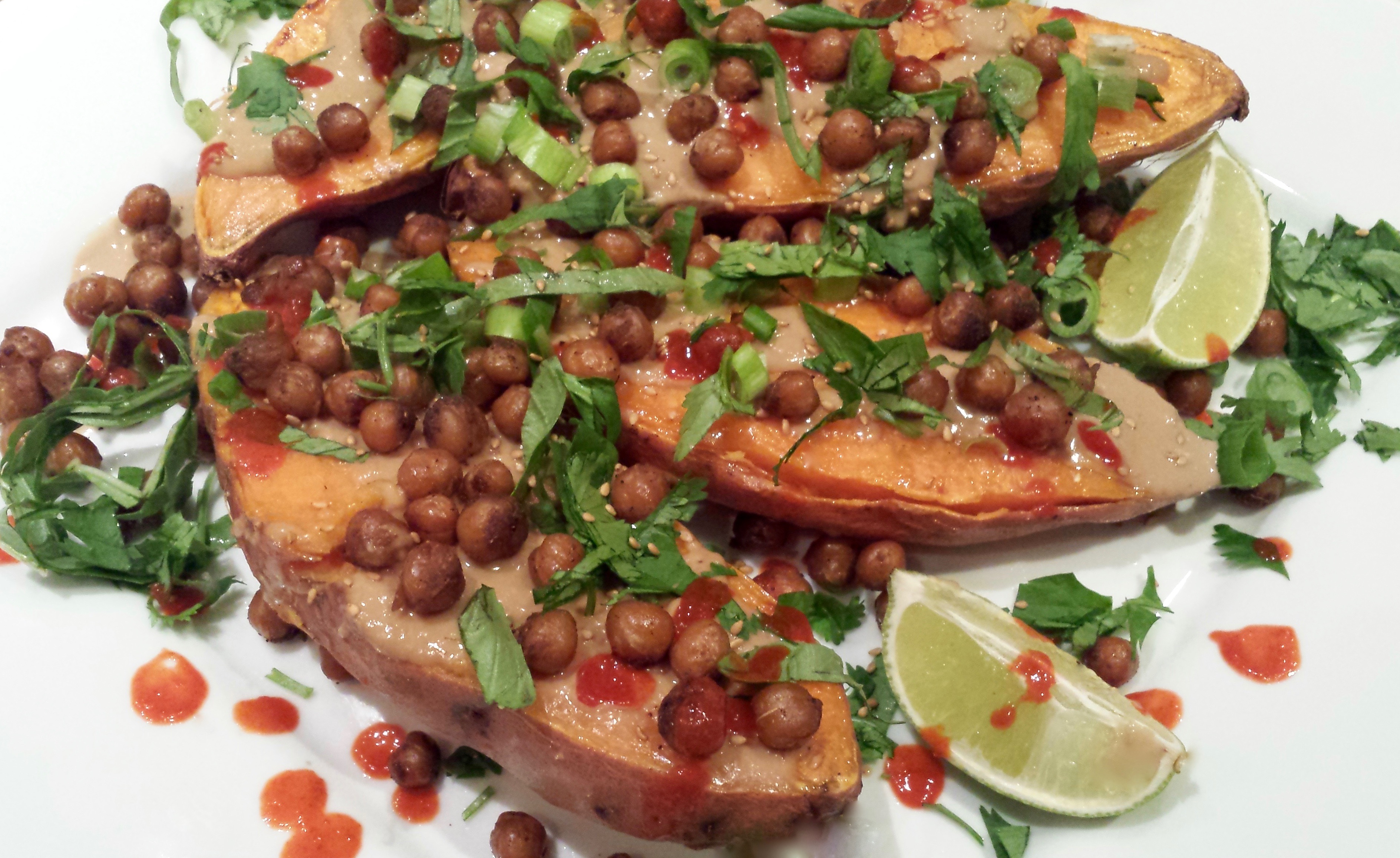 Serves 4
Roasted sweet potatoes, spiced & crispy chickpeas, and a ginger lime tahini sauce. Sprinkled with green onions, basil, cilantro, sriracha sauce. Deep, yet refreshing marriage of flavors and textures.
Nutrition Facts
Amount Per Serving
* Percent Daily Values are based on a 2,000 calorie diet. Your Daily Values may be higher or lower depending on your calorie needs.
SWEET POTATOES
4 medium sweet potatoes
CHICKPEAS
2 teaspoons olive or coconut oil
1 15 oz can chickpeas, drained and rinsed
1 teaspoon garlic powder
1 teaspoon ground cumin
½ teaspoon finely grated fresh ginger
¼ teaspoon ground coriander
1 tablespoon pure maple syrup
1 tablespoon soy sauce
½ teaspoon chili garlic sauce or other hot sauce
GINGER TAHINI SAUCE
1 tsp finely grated fresh ginger
¼ cup tahini
1 lime, juiced (approximately 2 tablespoons)
1-2 tablespoons soy sauce
2-3 tablespoons pure maple syrup
½ teaspoon chili garlic sauce or other hot sauce
2-3 tablespoons water (to thin sauce after mixed)
GARNISH
2 green onions, thinly sliced
1/4 cup chopped cilantro
1/4 cup fresh basil, thinly sliced
Sesame seeds
Sriracha sauce
Lime wedges
Instructions
Preheat oven to 400 degrees F. Line a baking dish with 2-inch sides with parchment paper. Set the sweet potatoes, flesh side down, onto the parchment. Bake sweet potatoes until they are tender all the way through, about 25-30 minutes.
While sweet potatoes bake, heat the oil in a medium skillet over medium heat. In a glass bowl, mix the garlic powder, cumin, ginger, coriander, maple syrup, tamari, and hot sauce. Then toss the chickpeas in this sauce.
Transfer the chickpeas to the skillet. Sauté chickpeas until visibly browned and lightly dried. The spices should form a golden "crust" on the outside of the chickpeas. This should take about 5-10 minutes with intermittent stirring.
Using the same bowl that you tossed the chickpeas in, whisk together the tahini sauce. Mix the ginger, tahini, lime juice, tamari, maple syrup, and hot sauce. When the sauce is smooth, add hot water to get the sauce to pourable consistency. Whisk thoroughly and set aside.
Place the baked sweet potatoes on a platter. Top the sweet potato halves with tahini sauce, the cooked chickpeas, green onions, cilantro, basil, sesame seeds, and sriracha sauce. Serve with lime wedges on the side. Enjoy immediately.
Adapted from Minimalist Baker
Adapted from Minimalist Baker
TraveLynn Eats http://www.travelynneats.com/