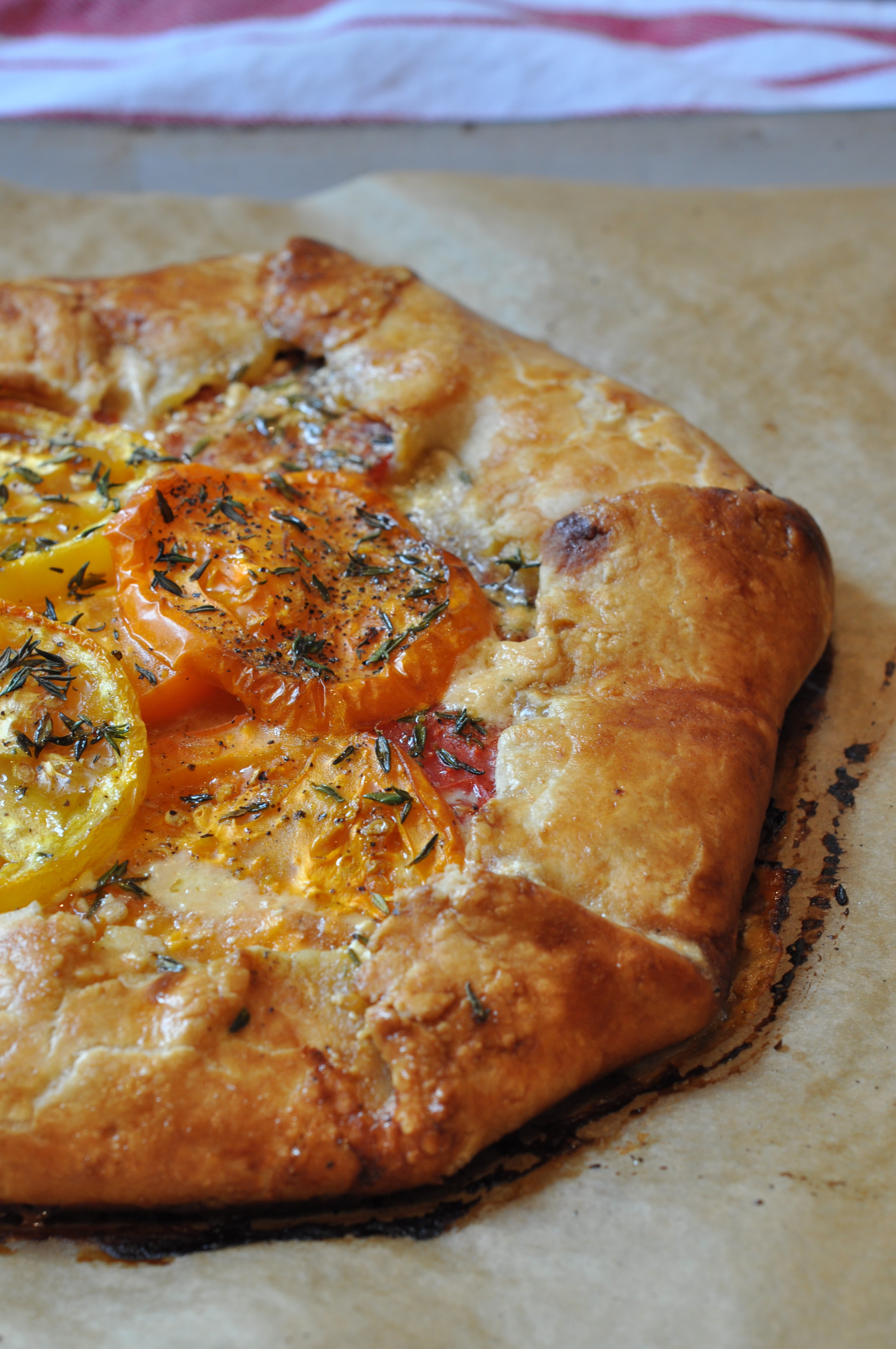 Sometimes it's hard to decide what's more perfect: a weekend morning strolling the farmer's market or the post-market creations… Life is full of hard choices. But, making this tomato galette should not be one of them… Galette's are so easy, so versatile, so lunch, brunch, dinner with a side salad, served hot, cold…so midnight snack.
This galette recipe caught my eye on Bloglovin. Tomatoes, goat cheese, thyme …and honey. Oh honey, does this ever magically come together with the honey. I had no idea why the author of Wry Toast spent so much time talking about the honey in this recipe. Until.I.Tried.It… Savory, sweet, the richness of the goat cheese, tangy tomatoes, and the honey unifies the flavors in a unique and delightful way. Do you have those dishes you just want to bury your face in? This is it.
This galette was lovingly filled with yellow, orange and red tomatoes I picked up from the Dupont Circle Farmer's Market this weekend. Ahhh, a tomato rainbow. I felt like their beauty deserved to be framed, wrapped in love. What better than a galette. Summer's gift in a light and crispy pastry. Now, that's a gift worth giving.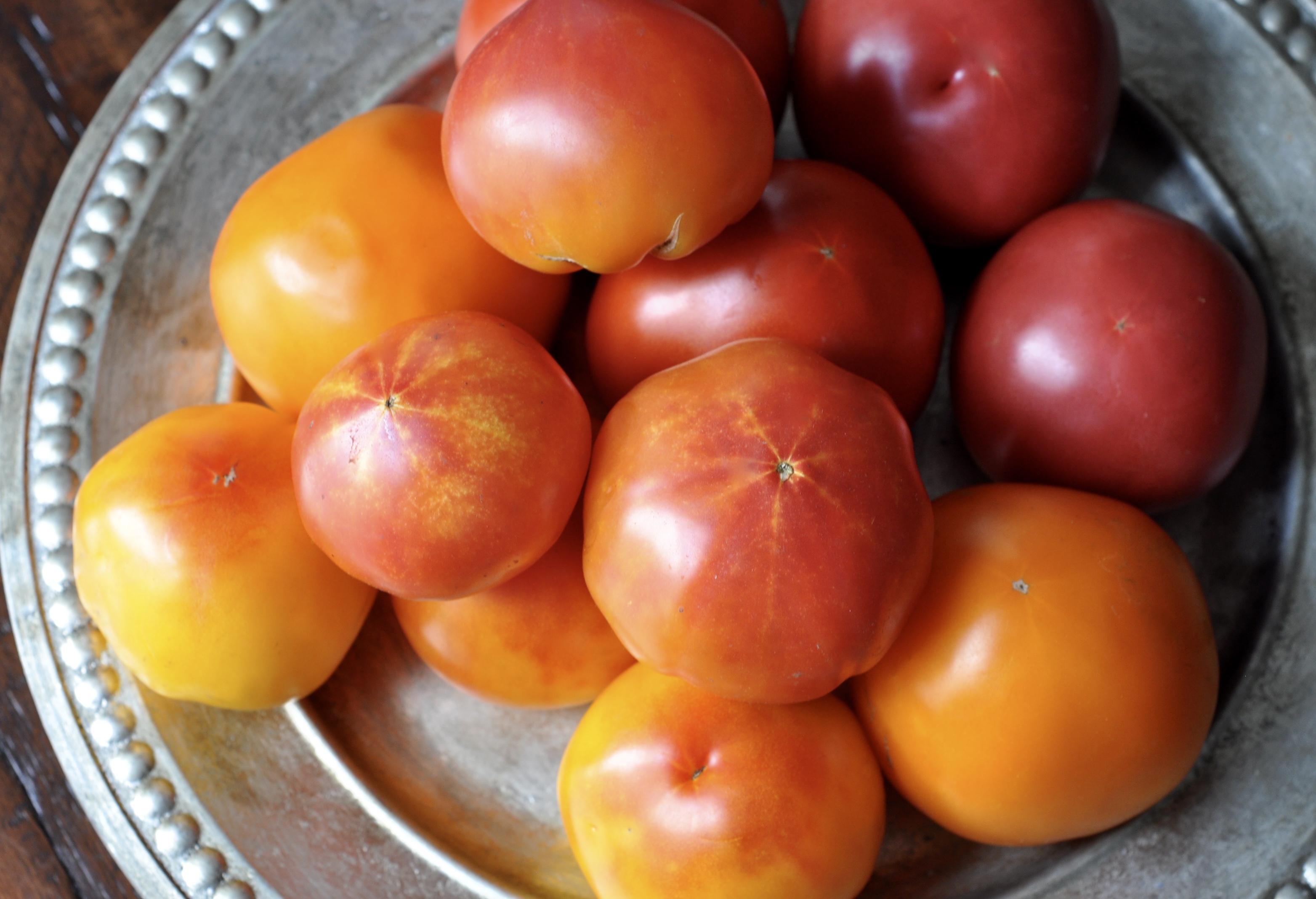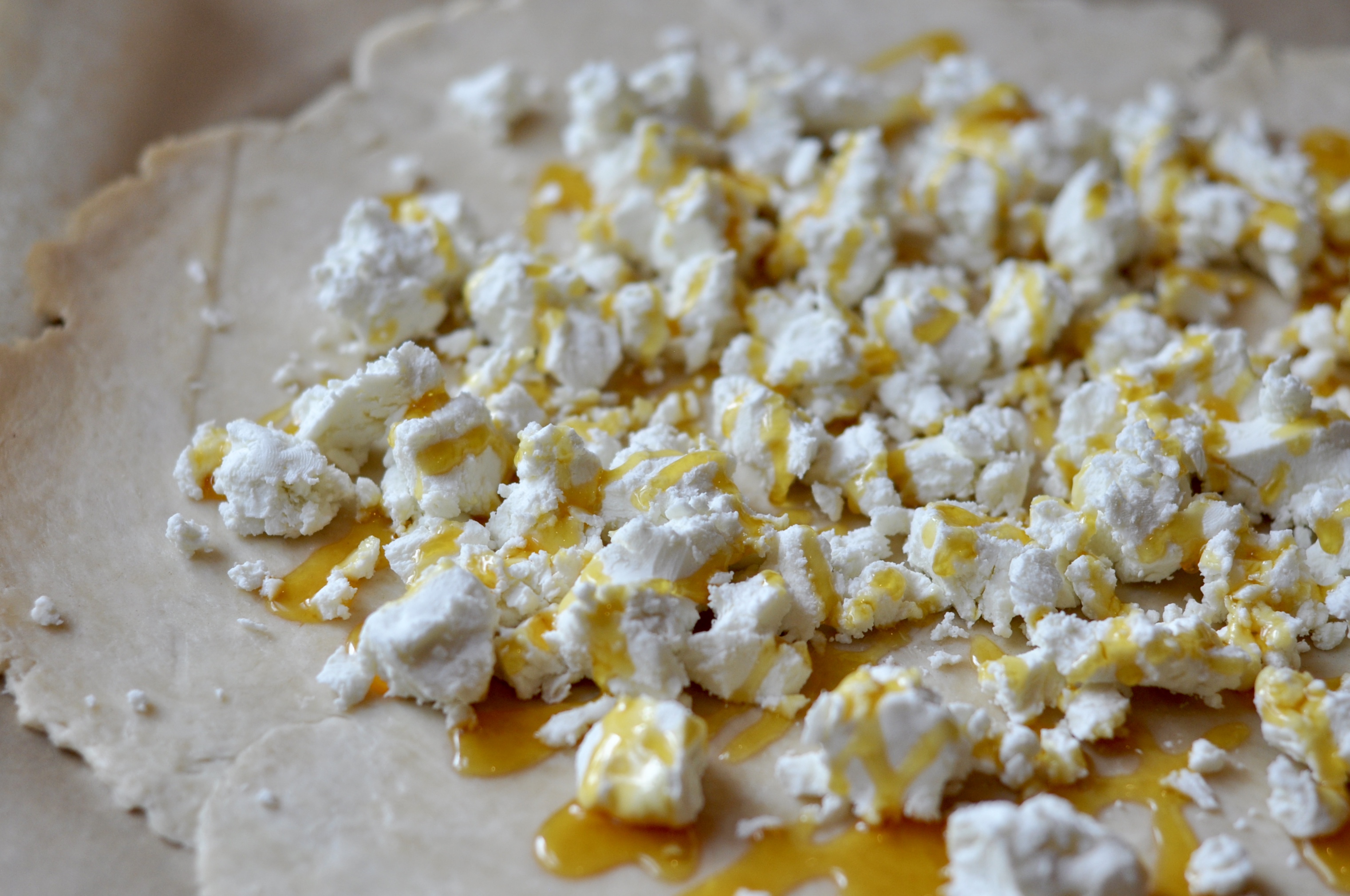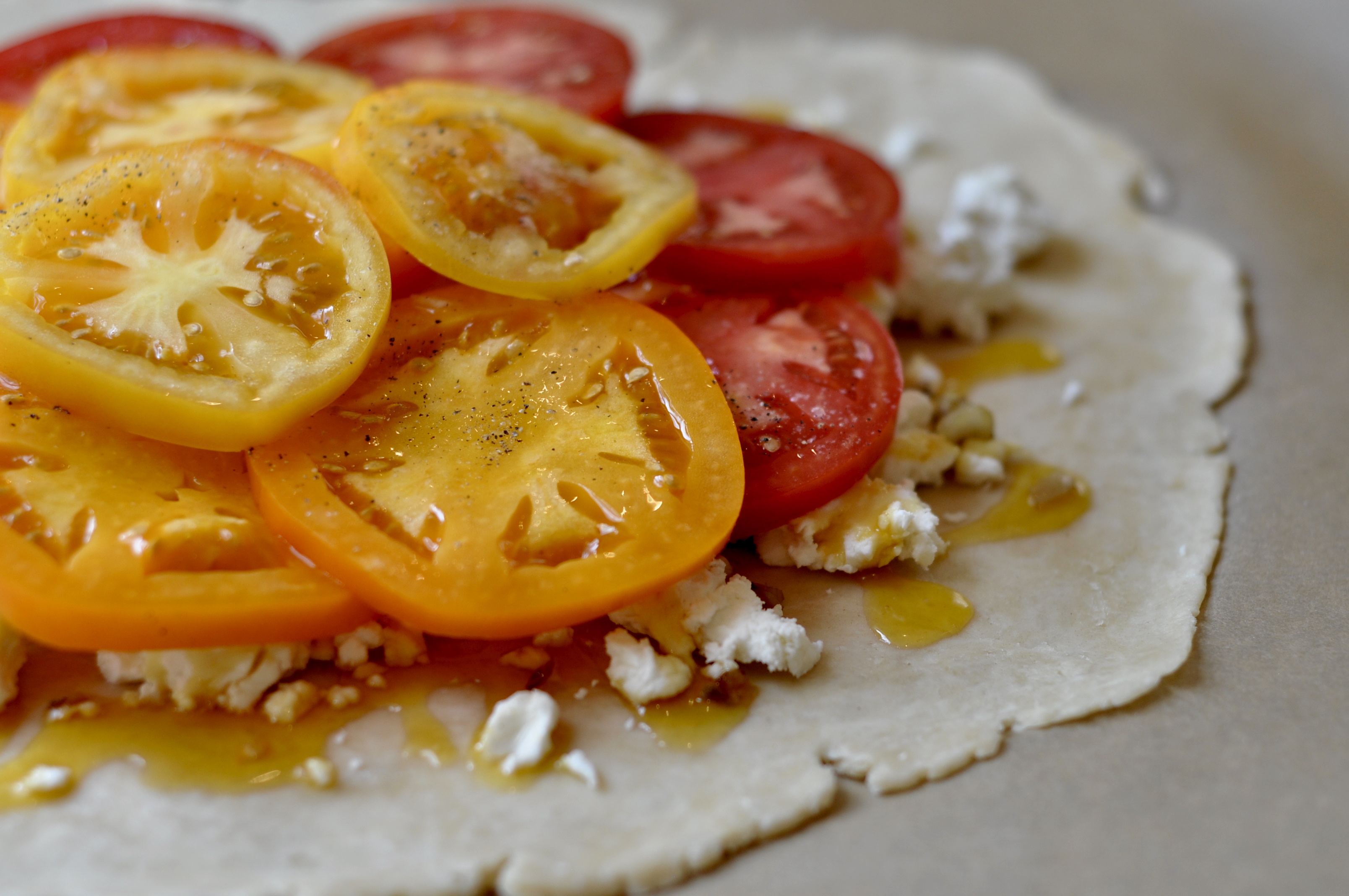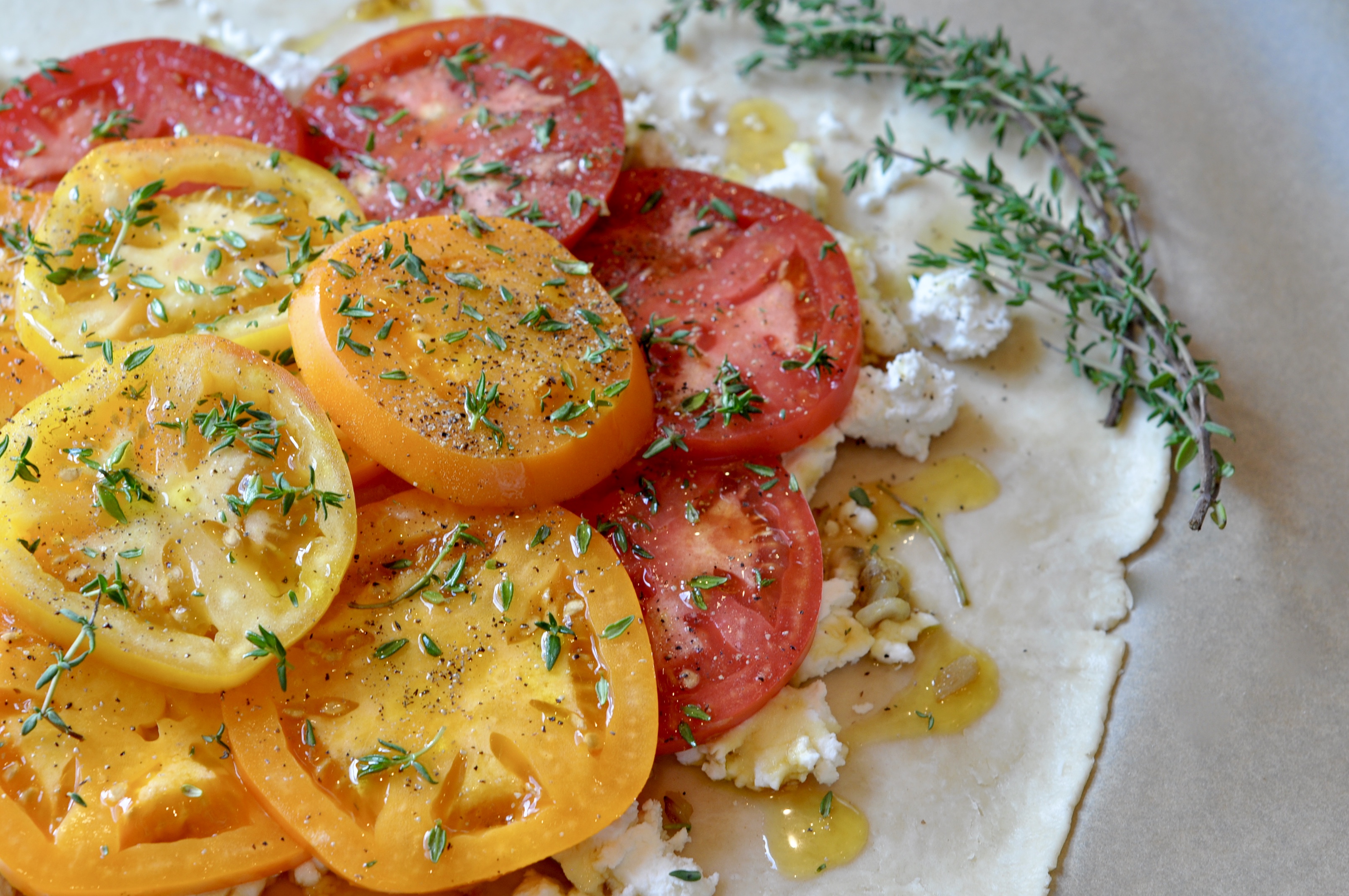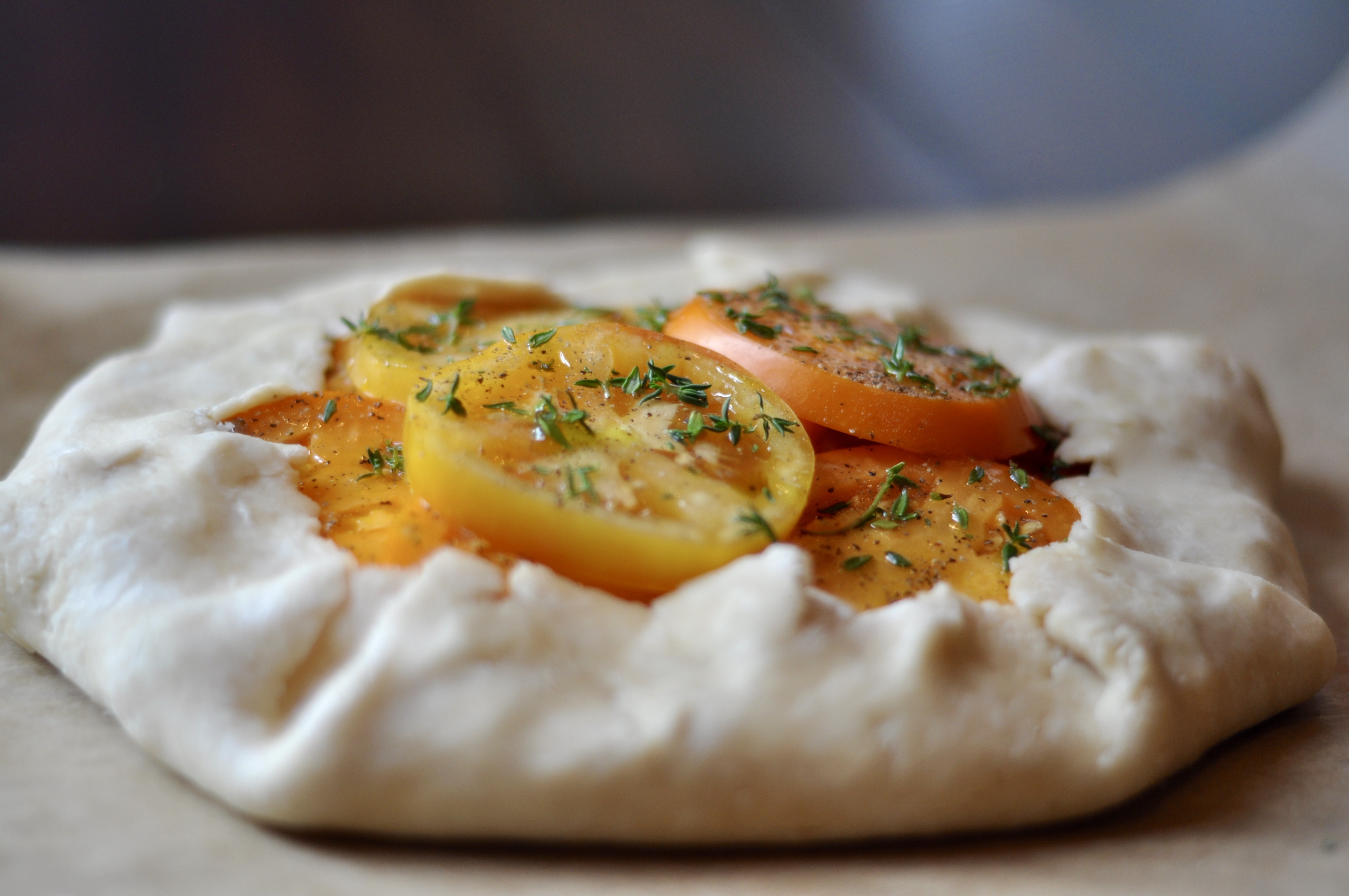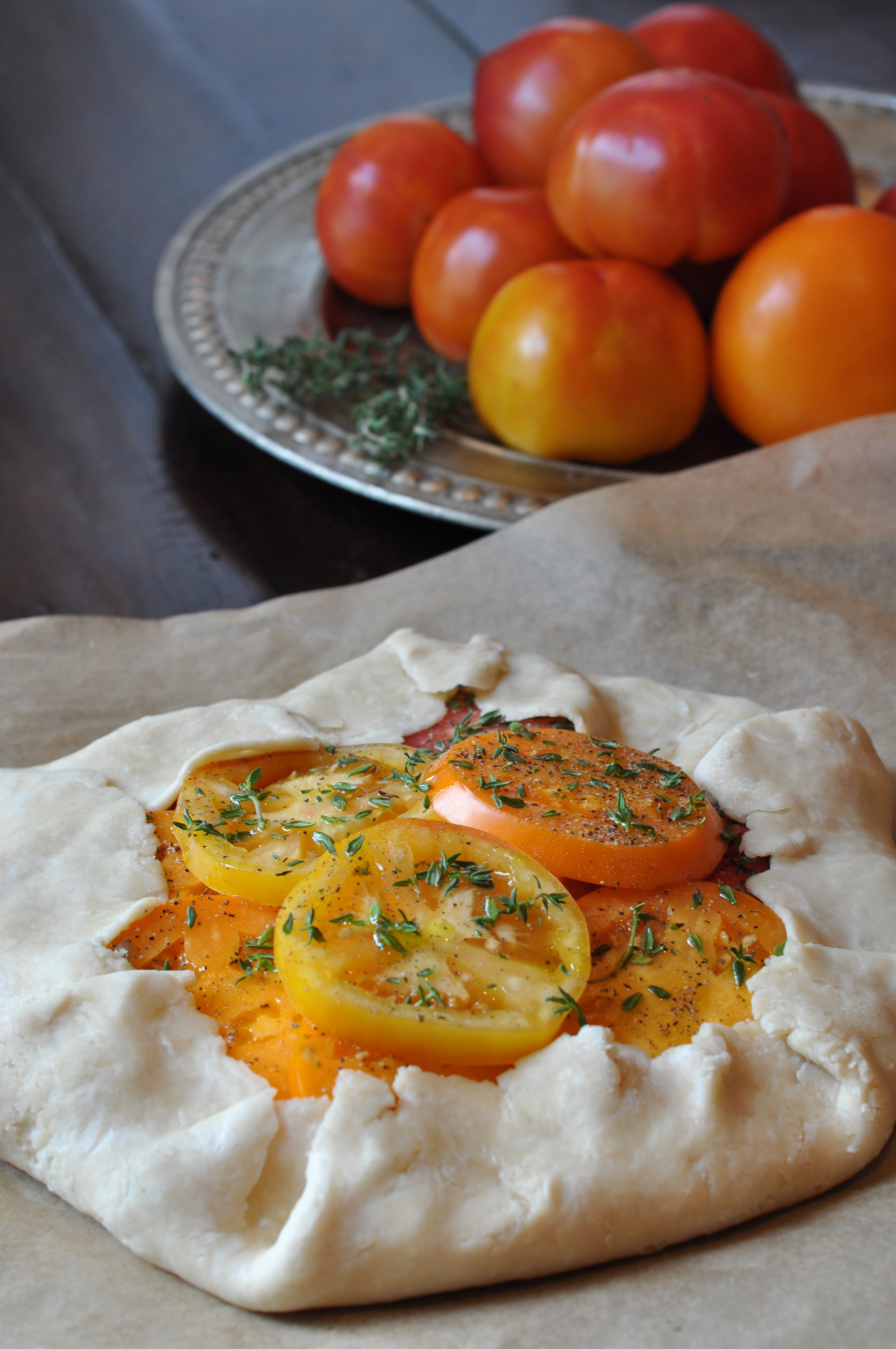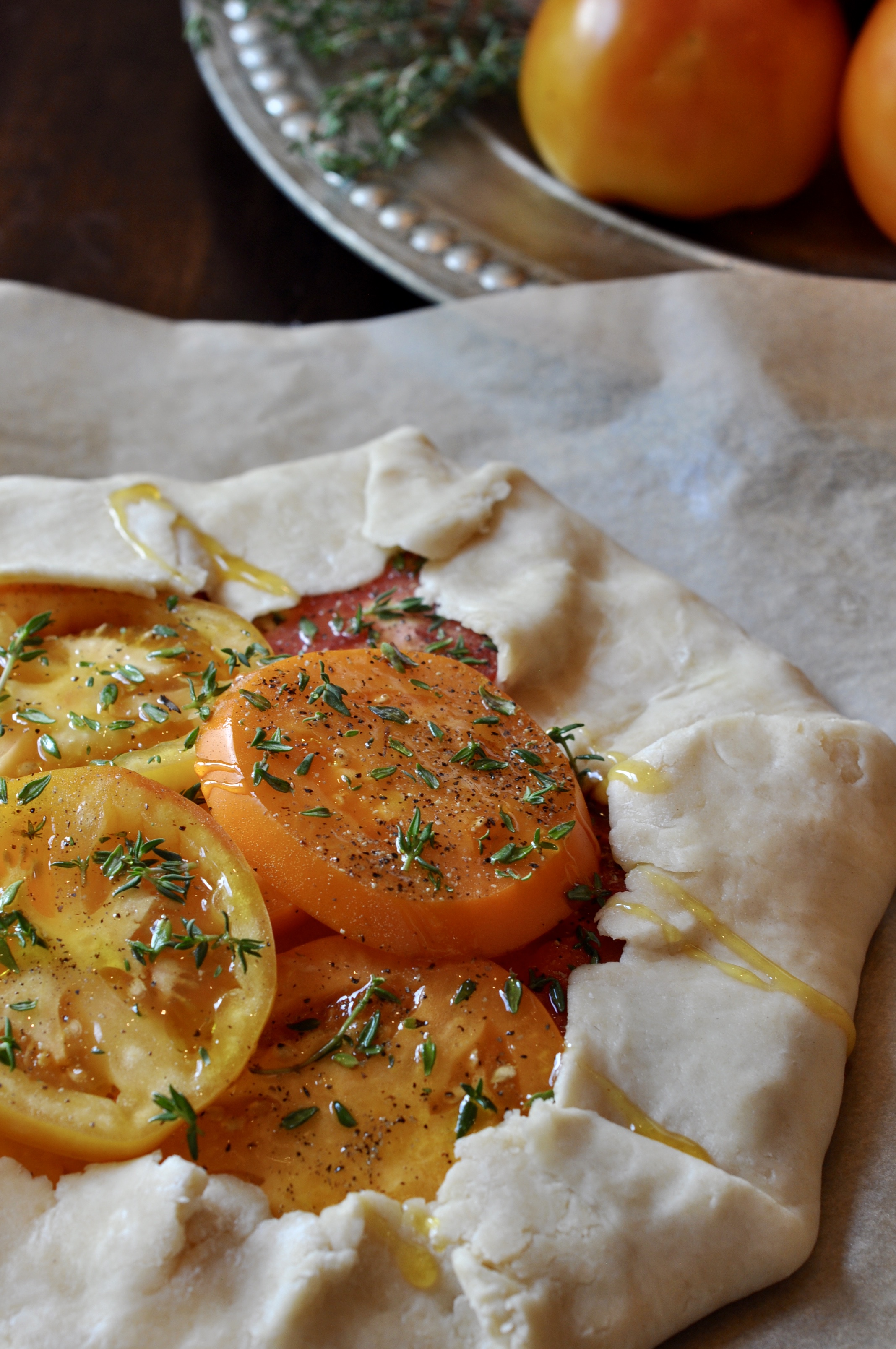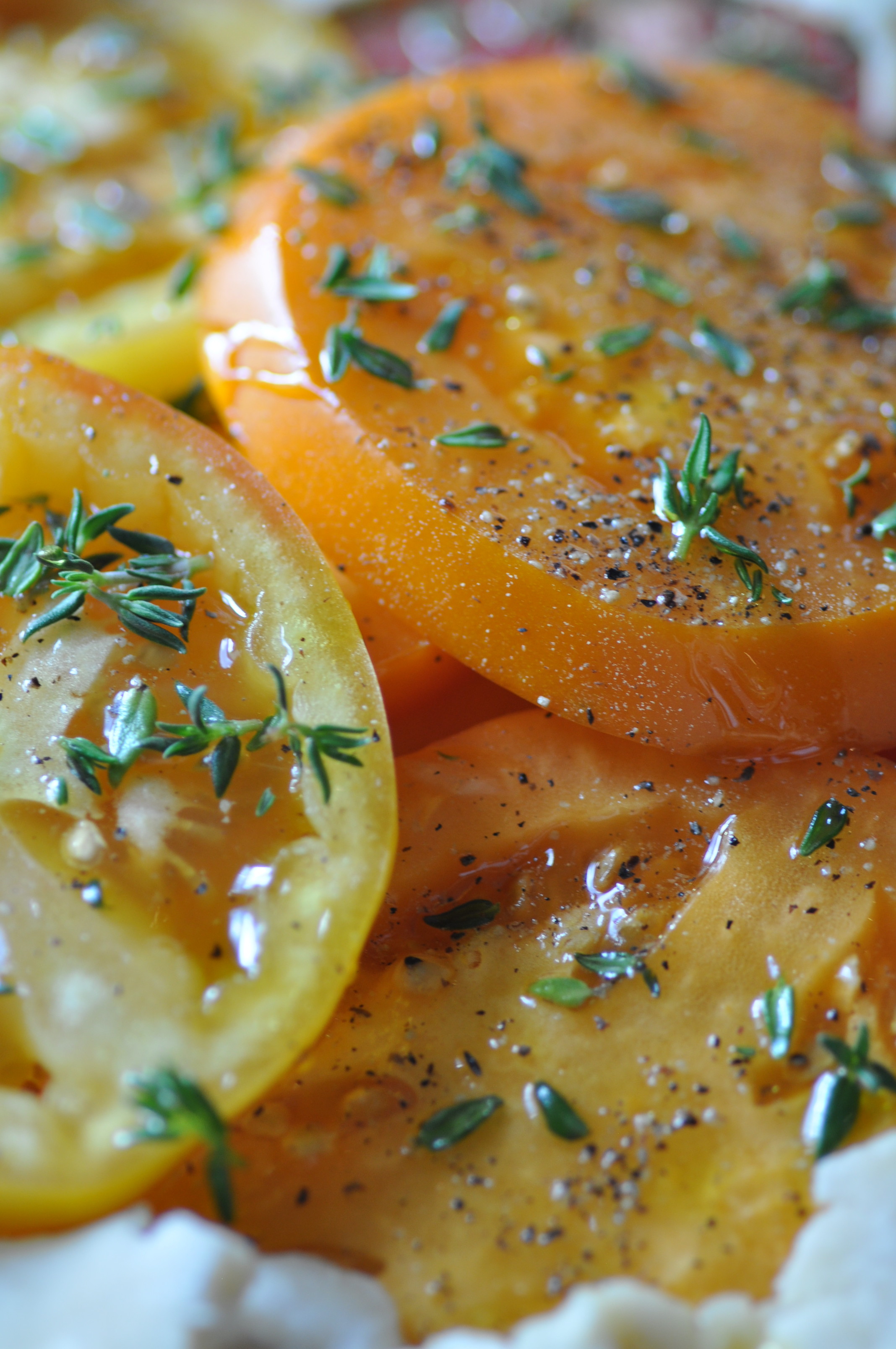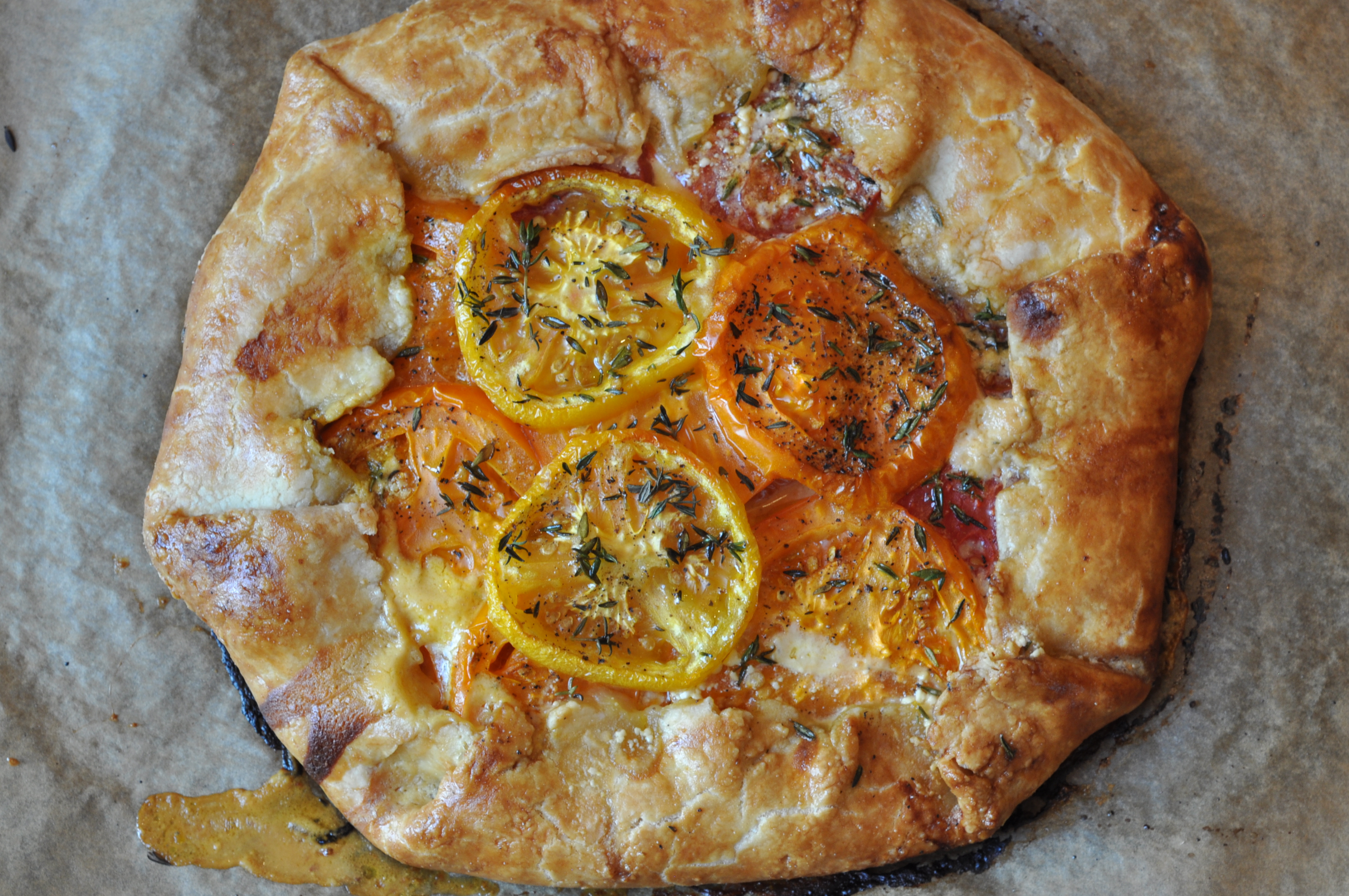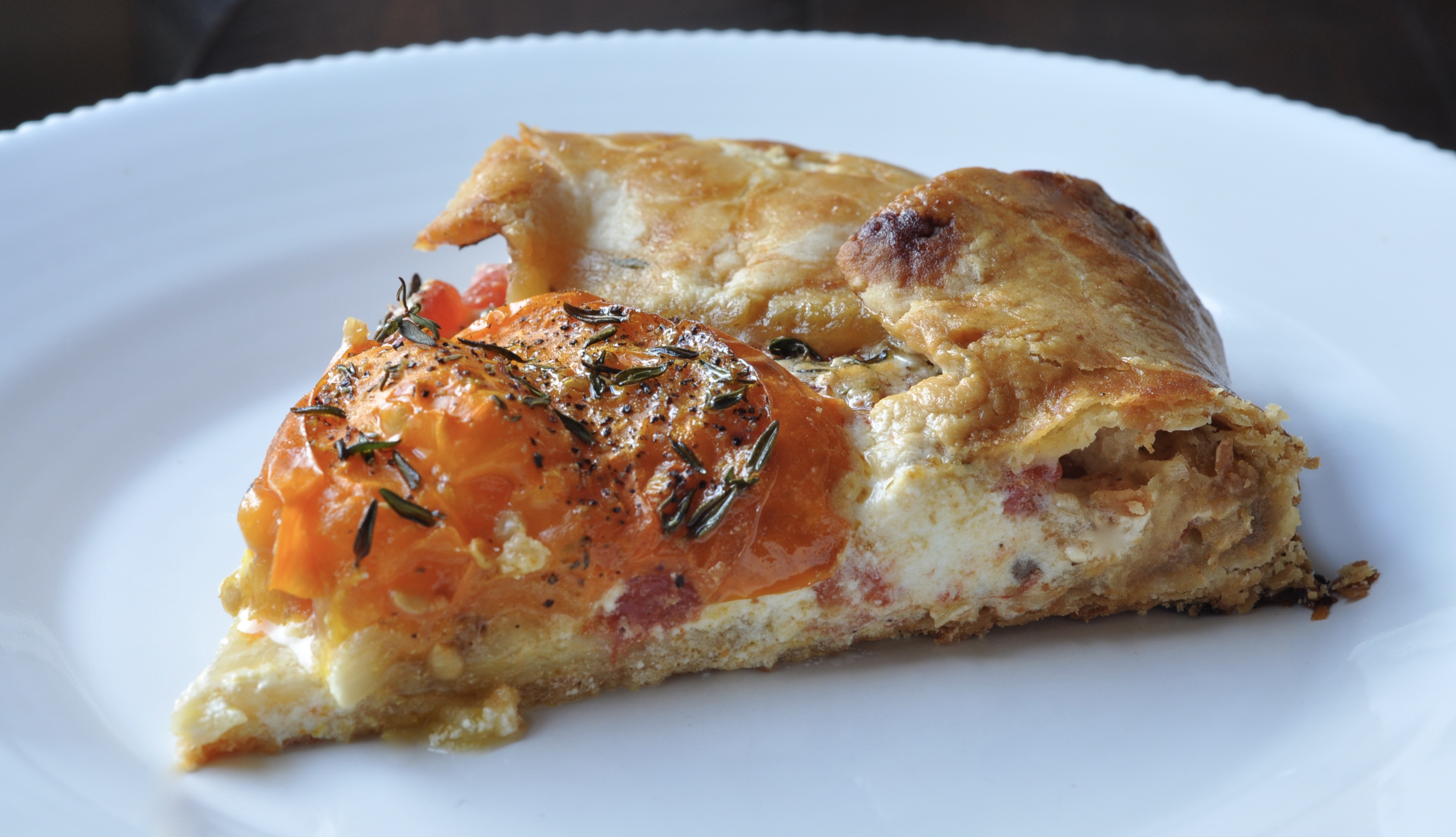 Bon appetit mon amour….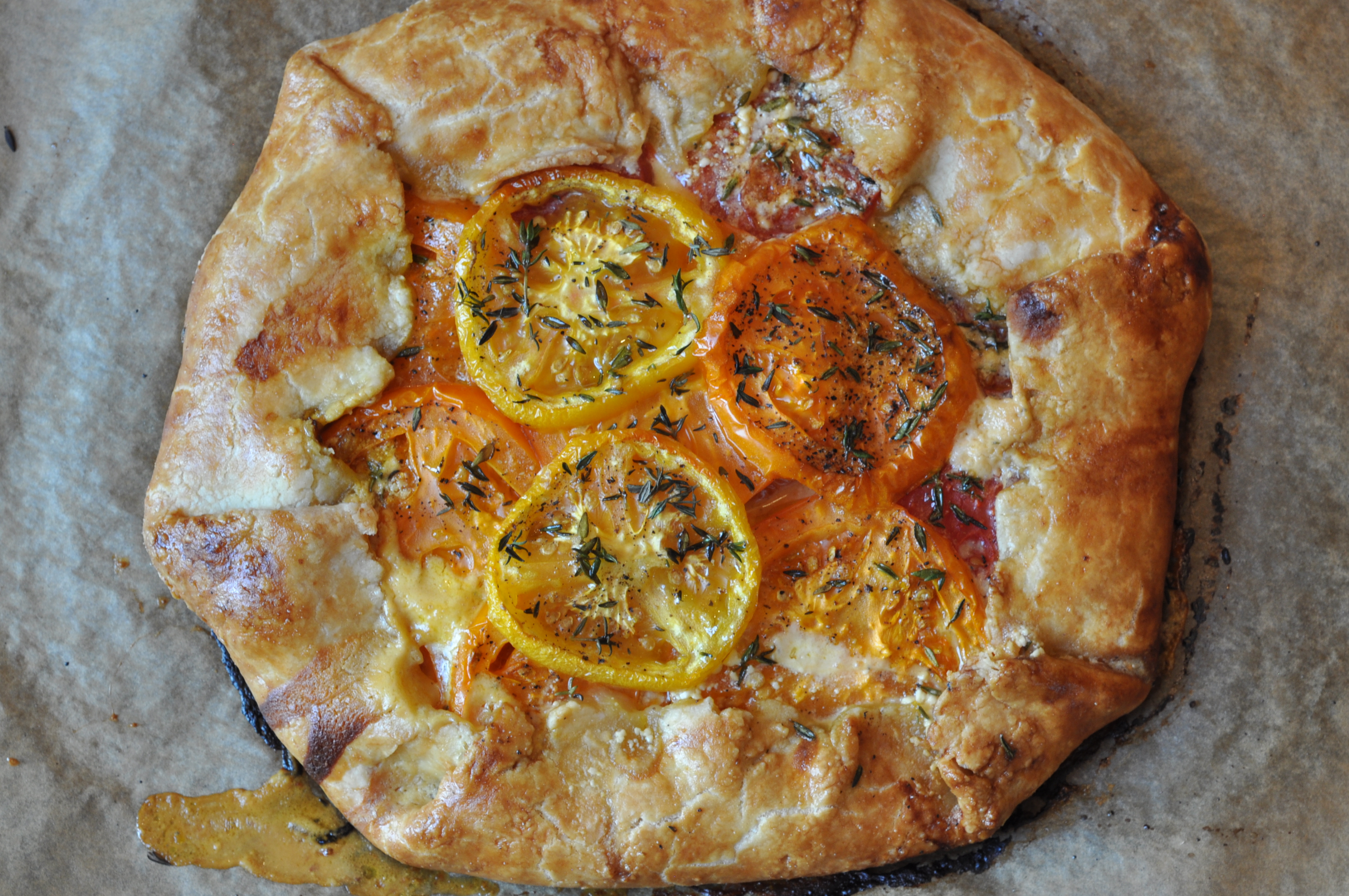 Tomato Galette with Goat Cheese, Honey & Thyme
2016-08-30 17:50:08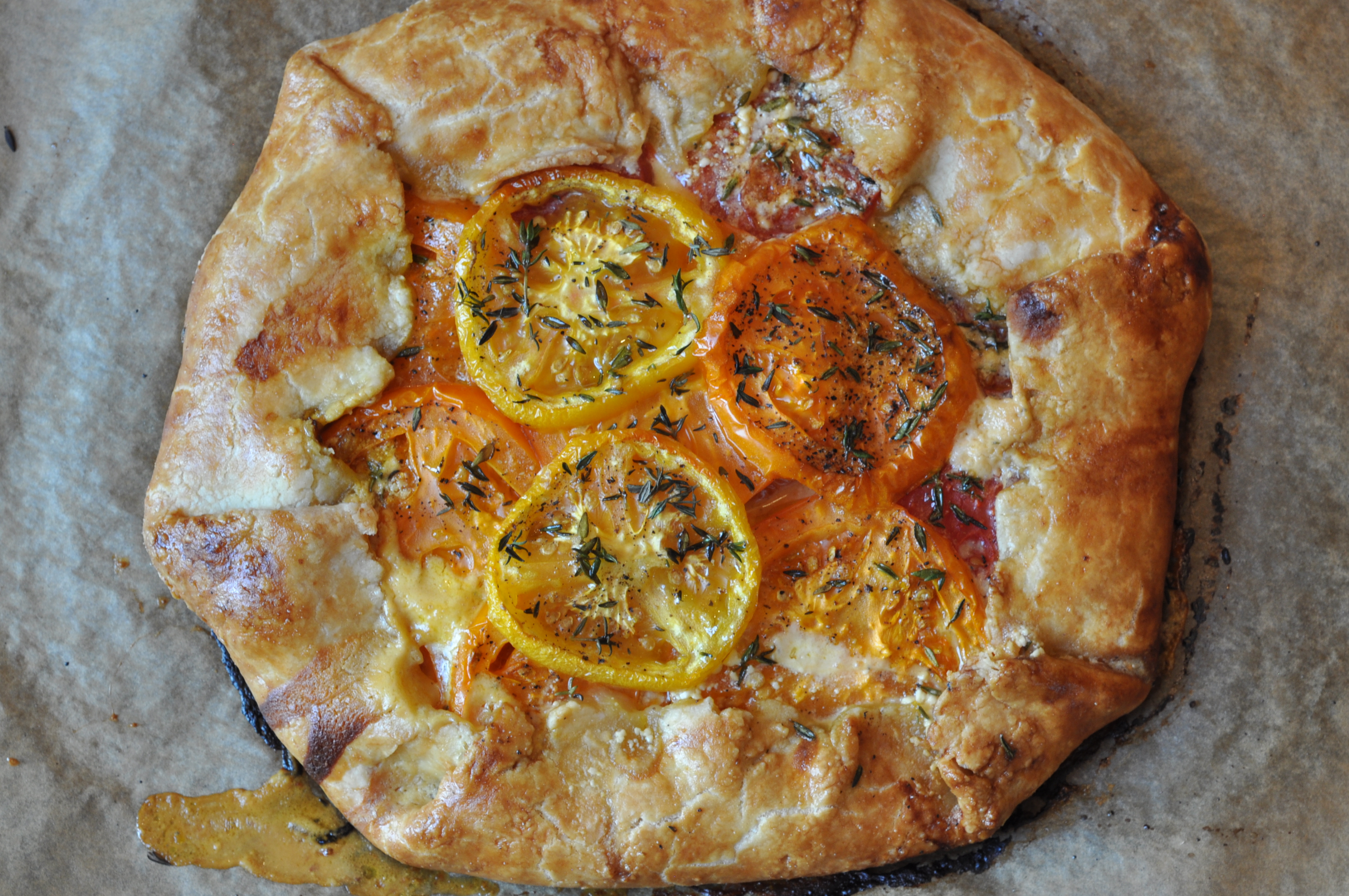 Serves 6
Light, crispy, fresh and easy to make. This tomato galette with goat cheese, honey, shallots and thyme is soon to become one of your go-to summer recipes.
Nutrition Facts
Amount Per Serving
* Percent Daily Values are based on a 2,000 calorie diet. Your Daily Values may be higher or lower depending on your calorie needs.
DOUGH
1/2 cup (1 stick) unsalted butter
1 1/2 cups all purpose flour, sifted
pinch of salt
pinch of sugar
1/3 cup cold water
FILLING
4 shallots, diced (approximately 1 cup)
2 teaspoons extra virgin olive oil + more for drizzling
8 ounces goat cheese
3 tablespoons honey
3 – 4 heirloom or variety of tomatoes, sliced
1/2 teaspoon sea salt
1/2 teaspoon black pepper
2 tablespoons fresh thyme
1 large egg, beaten
DOUGH
Start first by preparing the dough. Using a cheese grater, grate the butter into a small bowl and freeze for 10 minutes. While butter freezes, combine the flour, salt, and sugar in a large mixing bowl. Whisk the cold grated butter into the flour mixture until a mealy texture forms, then slowly add water, 1 tablespoon at a time, until dough takes shape. Form the dough in a ball, transfer to a lightly floured surface, and shape into a flattened round. Tightly wrap in plastic and refrigerate for 45 minutes until the dough is firm and cold.
FILLING
While the dough chills, heat olive oil over medium-high heat and sauté the diced shallots until lightly caramelized (approximately 10 minutes). Remove from heat and allow to cool.
Preheat oven to 375F.
Line a baking sheet with parchment paper and lightly sprinkle with flour. With a floured rolling-pin, roll out the chilled dough into a 1/8″ thick round and transfer to the parchment-lined baking sheet. It's easiest to transfer the dough by rolling it onto the pin and then lifting it onto the baking sheet.
Crumble the goat cheese over the rolled-out dough, leaving a 2-inch border along the edges. Drizzle a heavy serving of honey over goat cheese (don't be shy), then evenly top with caramelized shallots.
Next, season the sliced tomatoes with salt & pepper and layer over the goat cheese and shallots. Drizzle the olive oil over the tomatoes and, finally, sprinkle with fresh thyme.
Fold the 2-inch border of the dough over the edges of the tomatoes, then brush the crust with beaten egg.
Bake the galette for 45-60 minutes until the crust is golden and the tomatoes have begun to char.
Cool for a few minutes before serving.
Adapted from WRY Toast
TraveLynn Eats http://www.travelynneats.com/