It's my favorite time of year: farmer's market season. It's a thing. Summer, Fall, Winter, Spring, Farmer's Market. It's like brunch… you know, it bridges two very important food epochs.
The Baltimore's Farmer's Market is certainly worth a visit. It's filled to the brim with seasonal fruits, vegetables, poultry, seafood, beef, pork, lamb, bison, goat, rabbit, fresh baked goods, flavorful herbs, organically produced milk, yogurt, butter, eggs, cheeses, flowers and vegetable seedlings for your garden. It's literally a cornucopia as far as farmer's markets go. To top this, there are numerous food vendors dotted throughout the market. Pit beef sandwiches, omelets, breakfast burritos, crepes, wood-fired pizzas, pies, quiches, soups, noodles, dumplings and mushrooms (more on this later). Vegan items are sold as well, which may not have been obvious yet… Crafts, candles, organic dog treats, art, retro clothing, kombucha and kimchi. It's the largest producers-only market in Maryland. The market is sprawling and, interestingly, located underneath the highway overpass. Great for a rainy day, shielding from the summer sun, and adding an edgy, if not gritty, Baltimore feel to the market.
Eat, shop, be merry. What are you waiting for?…
The market is held on Sundays from 7:00 am – 12:00 pm between April – December. Many Sundays also feature live music performances and cooking demonstrations. The market is located below the Jones Falls Expressway at Holliday & Saratoga streets.
Parking is surprisingly convenient and free (for 2 hours) at the Mercy Medical Center across the street in the Mary Catherine Bunting Garage at 330 Guilford Avenue, Baltimore, MD 21202. Ensure you bring your ticket to the Market's Welcome Tent to get a validation stamp. Without the stamp you will find yourself sweet-talking the garage attendant out of a $10 parking fee. Yeah, I still got it…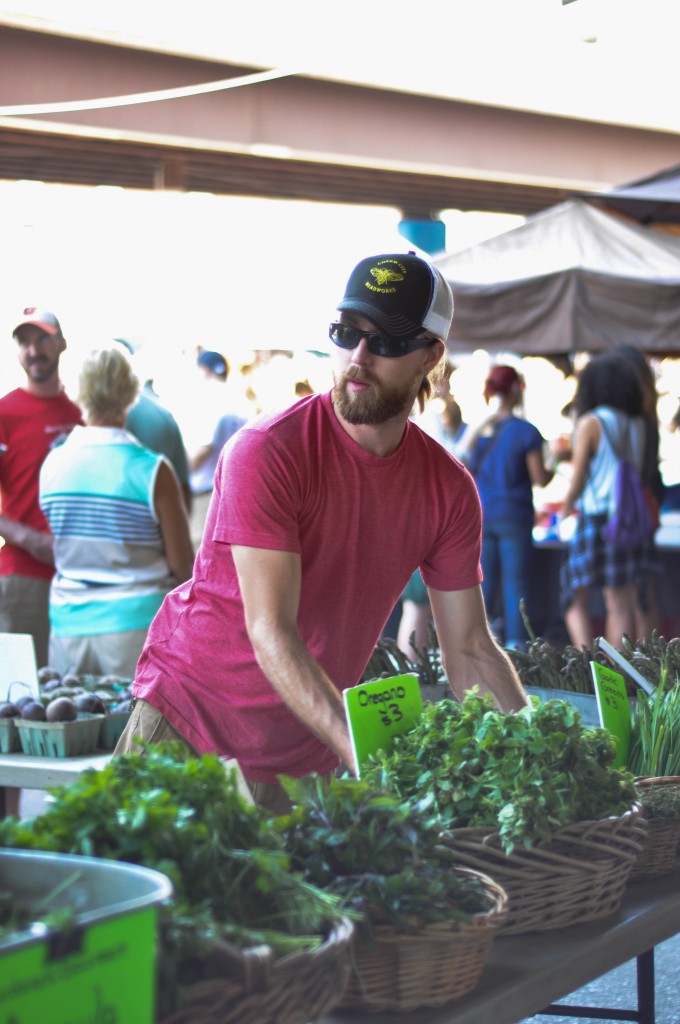 Art at the Farmer's Market … it's a permanent collection
Amazing food at The Mushroom Stand
What's to eat at The Mushroom Stand? Your favorite fungi, baby!
More specifically,…..
Oyster Mush Fritters. Blue Oyster mushrooms dipped in beer batter and fried in peanut oil, topped with hot sauce and a healthy dose of feta cheese, served on a bed of lettuce.
Portabella Salad. Marinated and smoked portabella served over mixed greens and topped with feta and hot sauce.
The Portabella Sandwich. Marinated and smoked portabella with mixed greens in a toasted pita and topped with feta cheese and hot sauce.
Three choices; one hard decision. I opted for the Oyster Fritters. F.A.N.T.A.S.T.I.C.
Bread at the Farmer's Market … plenty of carb-lovin' options
Veggies at the Farmer's Market