I have embraced it: summer is over. I love this time of year. Windows open, crisp mornings, leaves unraveling their colors, pumpkin patches, wrapped up in a blanket couch cuddling. But, I wasn't ready for it this year. Life has been busy…good busy…but BUSY. The summer raced by and I found myself on the other end of it, greeting autumn with full on denial slight hesitation. I've tried a half dozen PSLs (I know, but admit it– you long for them each year too…). I tossed a scarf around my neck. Nothing. I just wasn't feeling it. But, if there is one thing I look forward to this time of year… it is certainly an autumn menu. I knew transition would find me there. Soups, chilis, roasted roots, squashes and pumpkins, apple pies and homemade breads, a house full of fresh-baked scents, spices and cinnamon. This is the time of year when menus get cozy. This is when comfort food is less a guilty pleasure and more just something you sink into with complete abandon. Because.You.Can…
I am adoring Dana Shultz', aka the Minimalist Baker's, Everyday Cooking. What's not to adore about simple, healthy, creative cooking?… She brings butternut squash, kale and quinoa together in a gorgeous combination. But, there's an earthy richness with the onions, mushrooms and walnuts that really weave all the ingredients together. Bright pops of color and a texture you can sink your teeth into. This dish did it for me. It's fall and I'm embracing it.
If you're looking to serve up a side of autumn, this recipe is for you.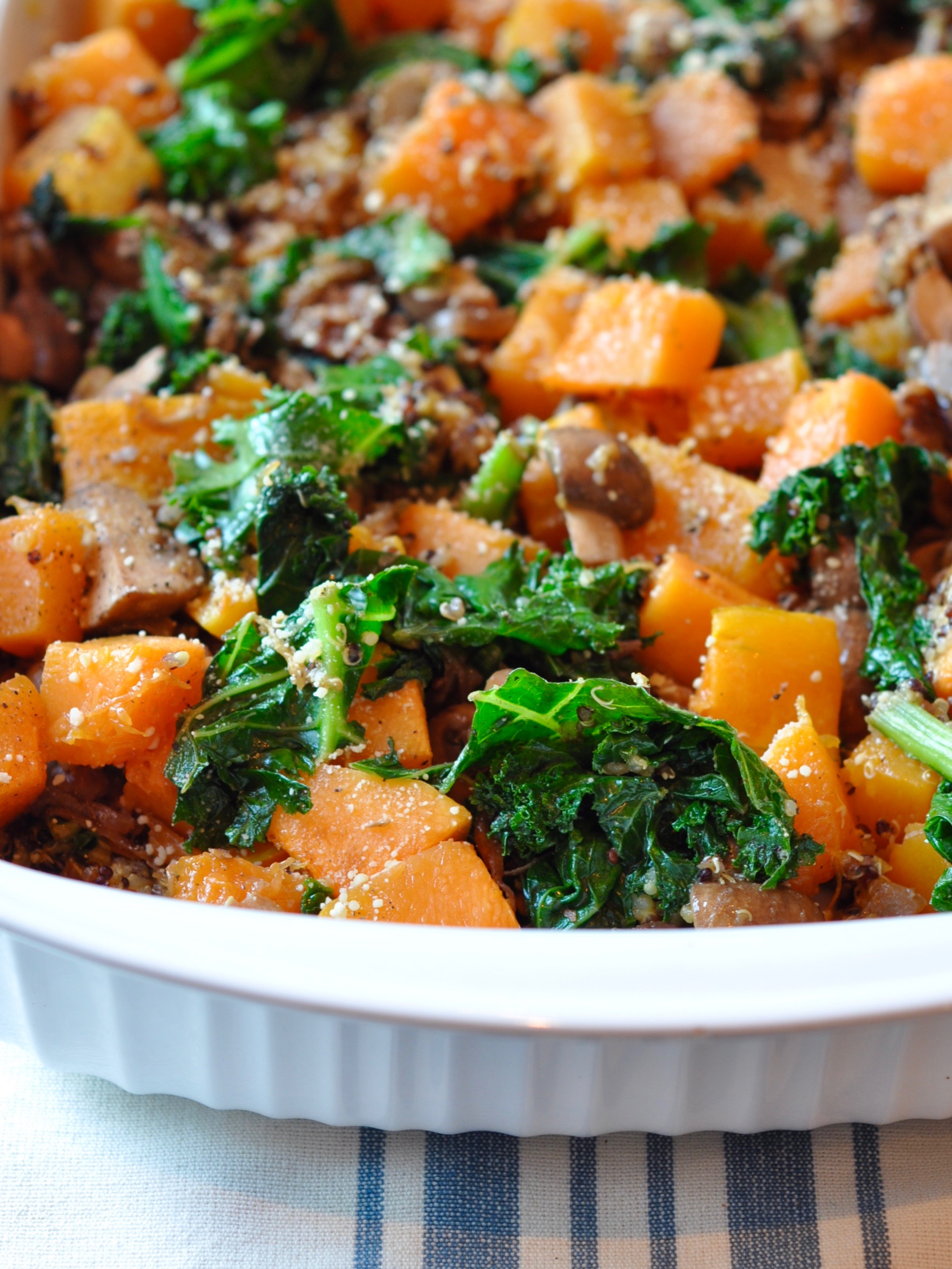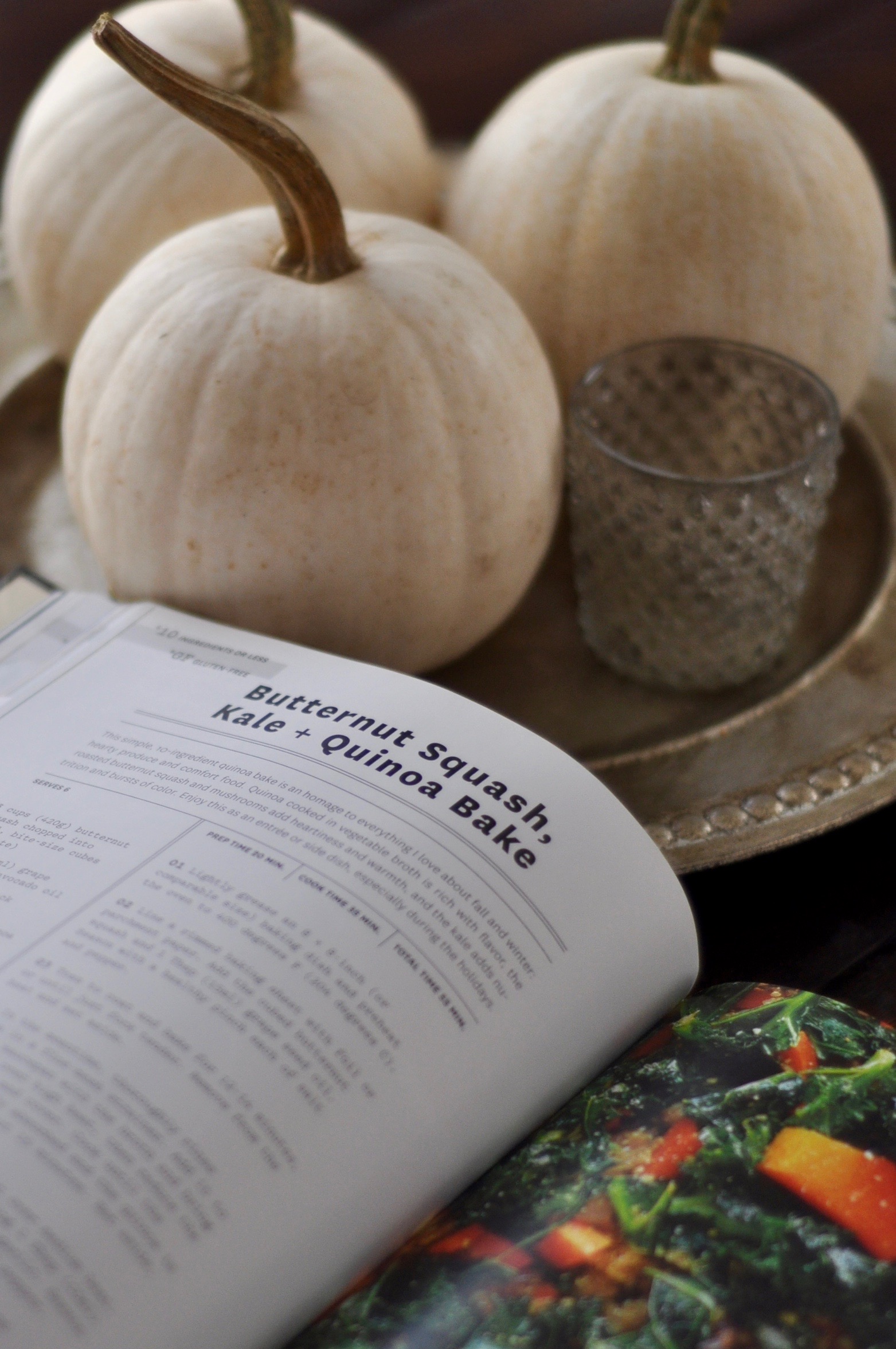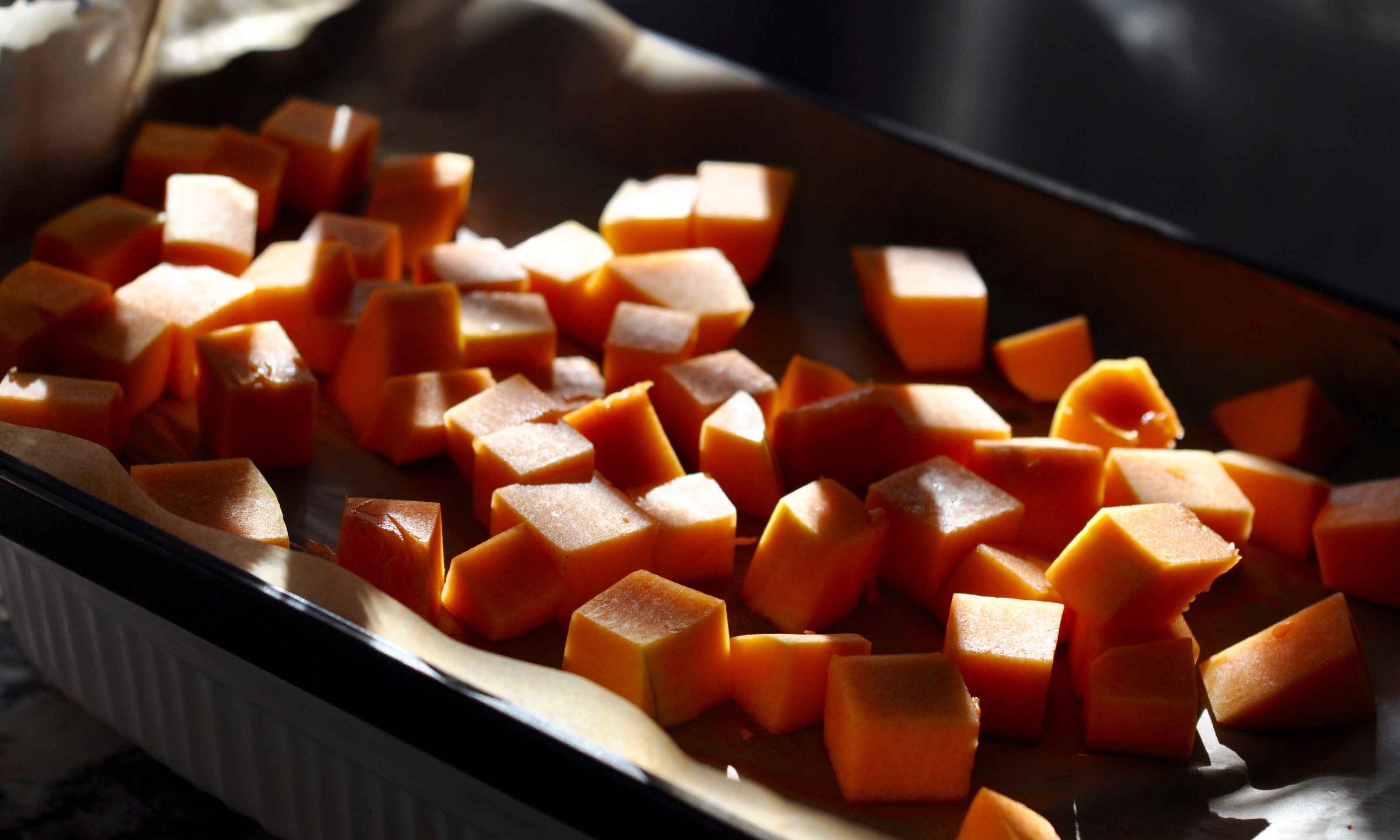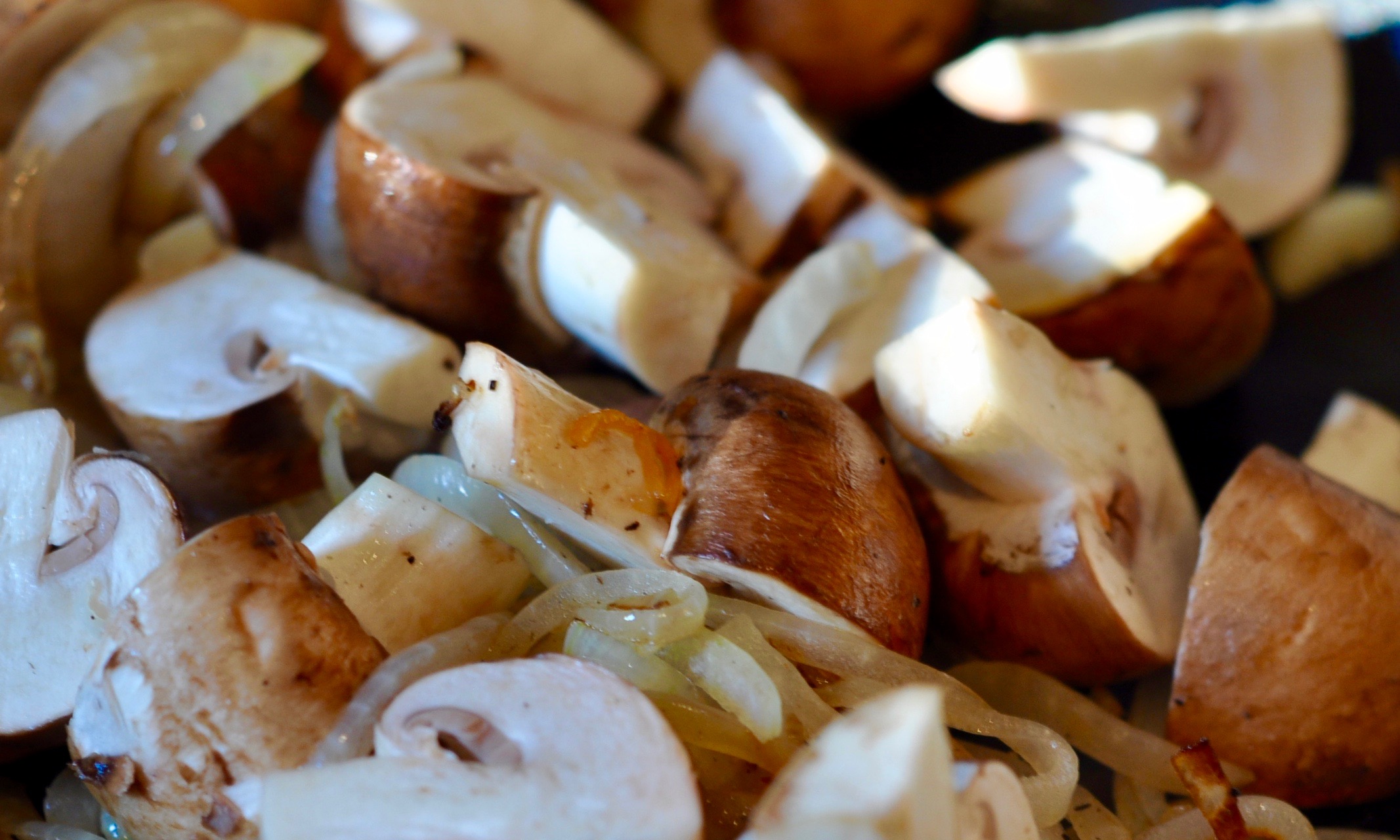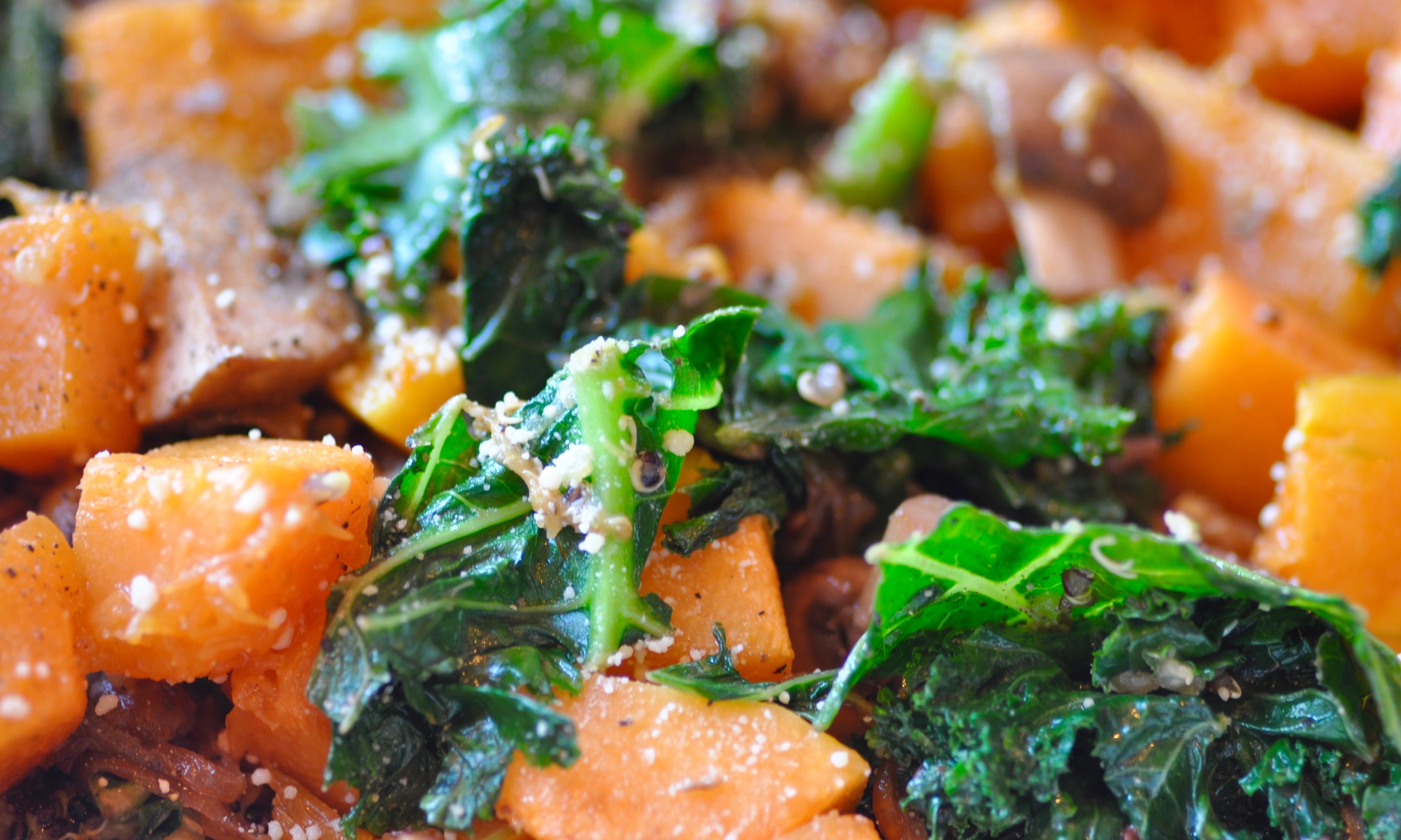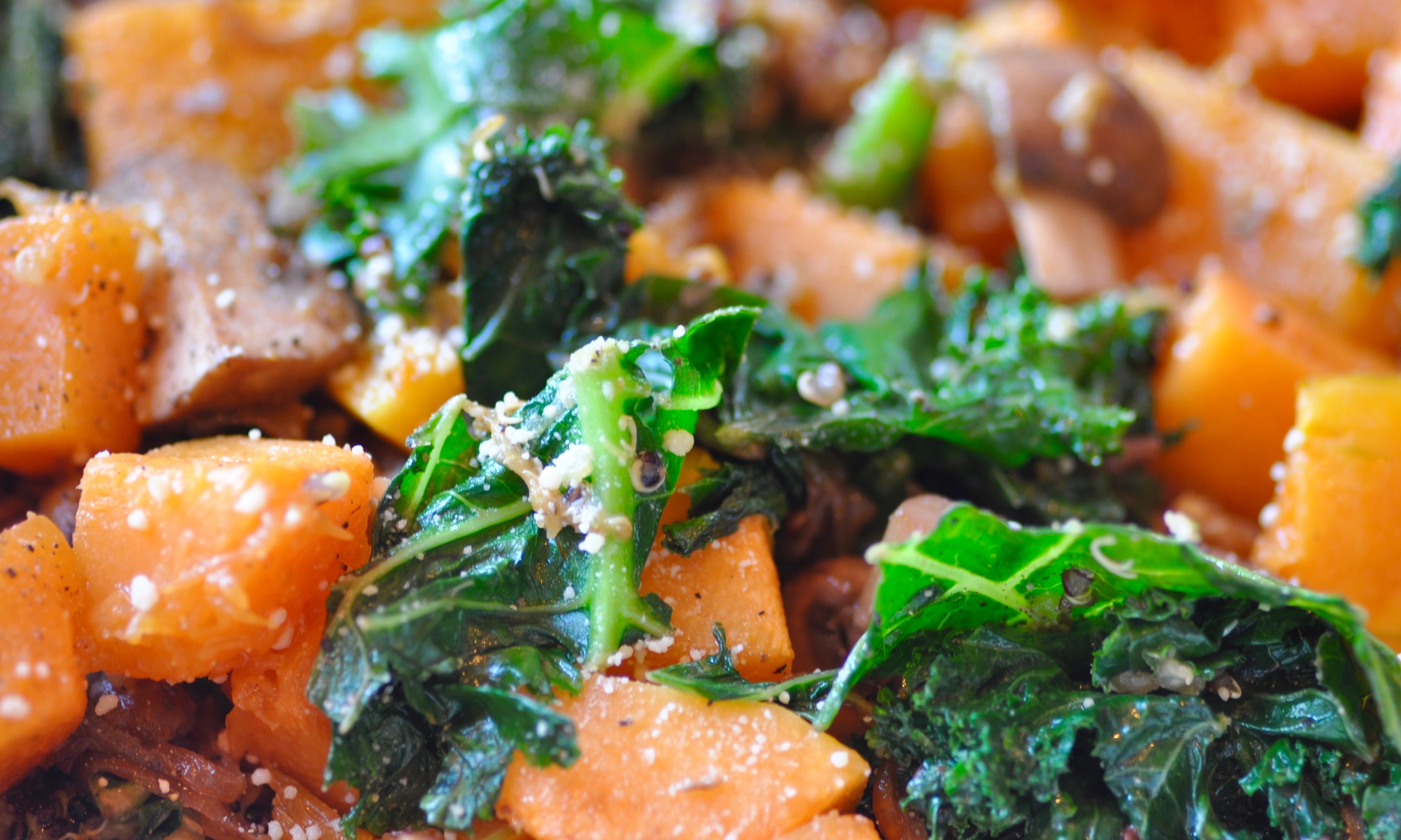 Butternut Squash, Quinoa & Kale Bake
2016-10-12 20:52:28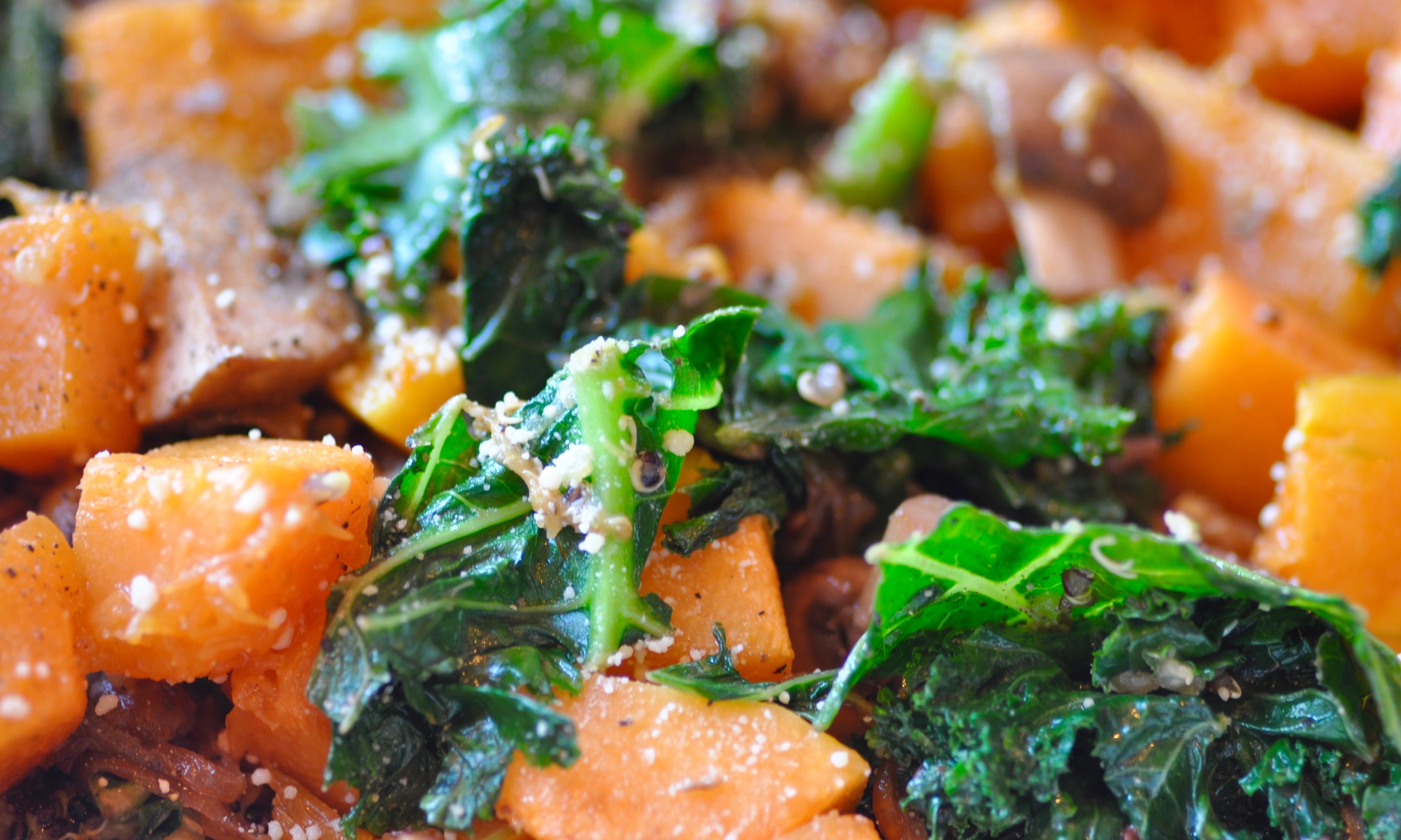 Serves 6
Butternut Squash, Quinoa & Kale Bake. The perfect autumn veggie dish.
Nutrition Facts
Amount Per Serving
* Percent Daily Values are based on a 2,000 calorie diet. Your Daily Values may be higher or lower depending on your calorie needs.
Ingredients
3 cups butternut squash, cut into bite-size pieces
2 tablespoons grape seed oil, divided
3/4 cup quinoa
1 1/2 cups vegetable broth
1/2 medium yellow onion, thinly sliced
2 cloves garlic, minced
8 ounces crimini, button or baby bella mushrooms, quartered
1/2 cup walnuts, roughly chopped
3 cups loosely packed kale, chopped
1/3 cup parmesan cheese (or vegan parm), divided
Sea salt and black pepper, to taste
Instructions
Lightly grease an 8×8-inch (or comparable size) baking dish and preheat oven to 400°.
Butternut Squash
Line a baking sheet with parchment paper. Add cubed butternut squash and toss with 1 tablespoon oil. Season with a healthy pinch of salt and pepper. Bake for 15-20 minutes until fork-tender. Remove from oven and set aside.
Quinoa
While the squash is baking, rinse quinoa in a mesh strainer. Add to small saucepan with vegetable broth and bring to a boil over high heat. Reduce heat to low, cover and cook until liquid is fully absorbed and quinoa is fork-tender (15-20 minutes). Once quinoa is finished cooking, season with a healthy pinch of salt and pepper and half of the vegan Parmesan cheese. Stir, sample and adjust seasonings to taste. Remove from heat and leave covered.
Onions, Mushrooms & Kale
Heat large skillet over medium heat. Add remaining 1 tablespoon oil, onion and garlic. Season with a pinch each of salt and pepper. Cook until onion is translucent (about 4 - 5 minutes) stirring frequently. Add mushrooms and walnuts and season once more with salt and pepper. Continue cooking for 5 minutes or until mushrooms are lightly browned.
Make room in the pan and add kale. Season once more with a good pinch of salt and pepper, and stir to coat. Cook until kale is just tender (about 3 - 5 minutes). Remove from heat and set aside.
Assemble and Bake
Reduce oven temperature to 375 and add cooked quinoa to prepared baking dish. Top with vegetable-walnut mixture and roasted butternut squash. Lightly stir to combine. Top with remaining vegan Parmesan cheese and bake uncovered for 10 minutes to warm through. Serve immediately. Leftovers will keep covered for up to 3 days.
Adapted from Minimalist Baker
Adapted from Minimalist Baker
TraveLynn Eats http://www.travelynneats.com/