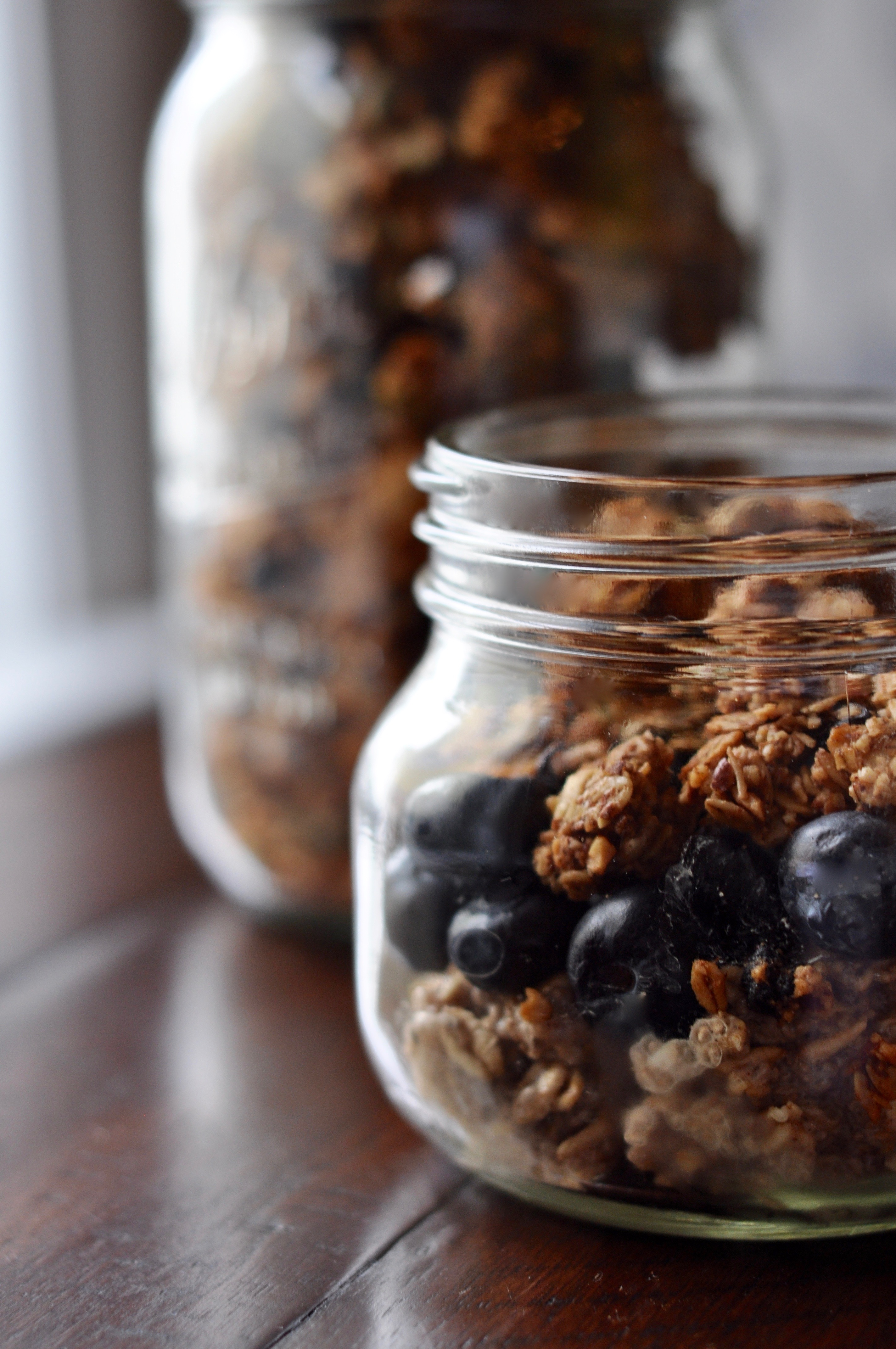 Every time I find myself in Dupont Circle, I wonder why I'm not wandering around Dupont Circle more often. It's a charming and lively spot in the city: embassies, restaurants, shops, bookstores, eclectic everything. On each visit, I seem to end up at Kramerbooks & Afterwards Cafe. There are many things I love there: books and food and cashiers with nose piercings and tucked in the corner by the cafe… cookbooks… a.k.a. foodie romance novels.
And just like that, another one for the collection: The Oh She Glows Cookbook, Over 100 Vegan Recipes to Glow from the Inside Out by Angela Liddon. Not because I'm vegan, but just because I want to be more mindful of what I'm eating. In the interest of more mindful eating, I thought I'd start with breakfast… Because, in my world, coffee is a food group… It's what's for breakfast… I'm not a morning person… so, I knew this new mindful eating thing would have to be easy if involving breakfast. And, with that, I present to you: Angela's Vegan Overnight Oats with Nutty Granola Clusters. They are simply delicious. If you're skeptical of cold oats… don't be. Vegan oats… It's what's for breakfast.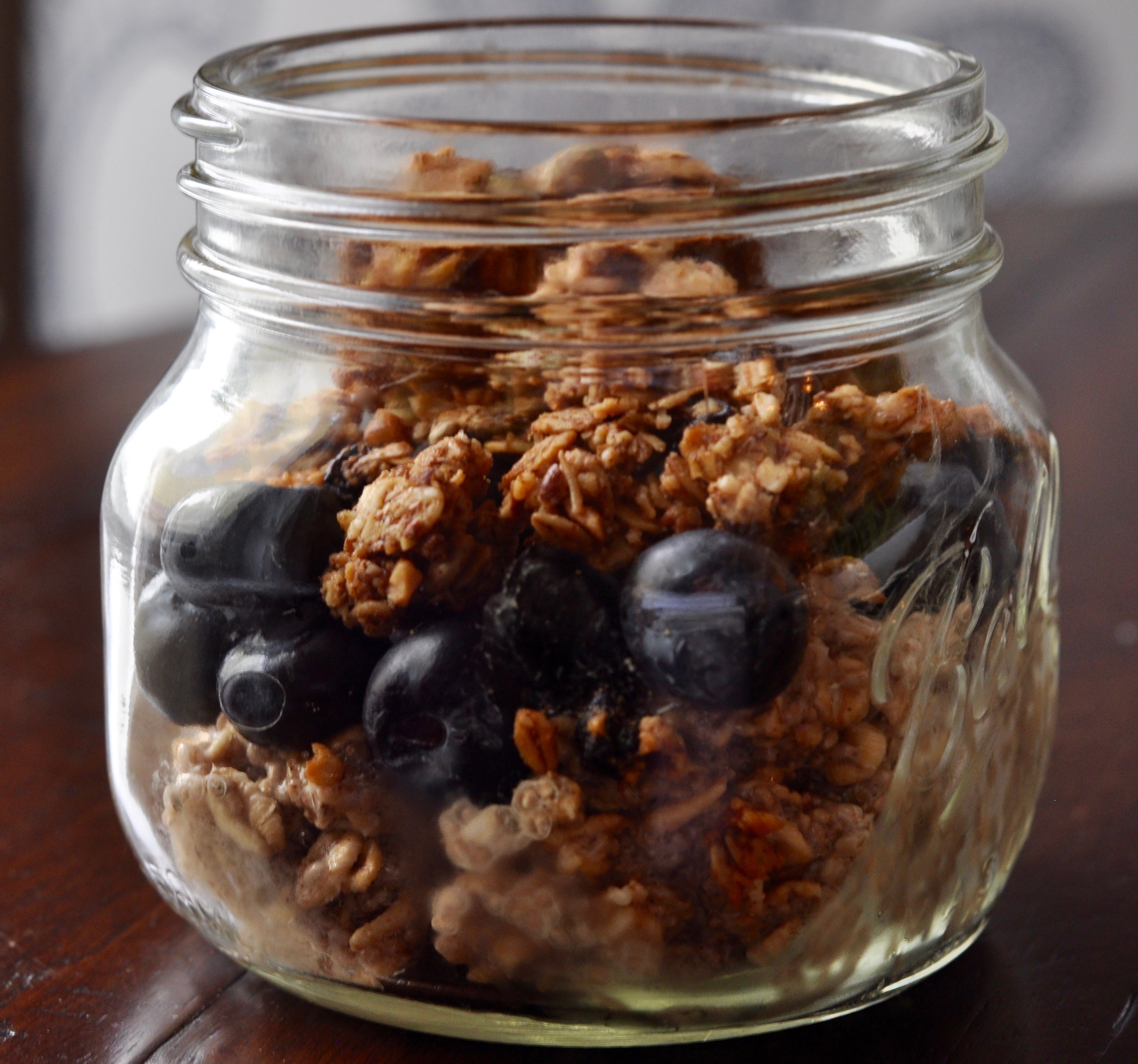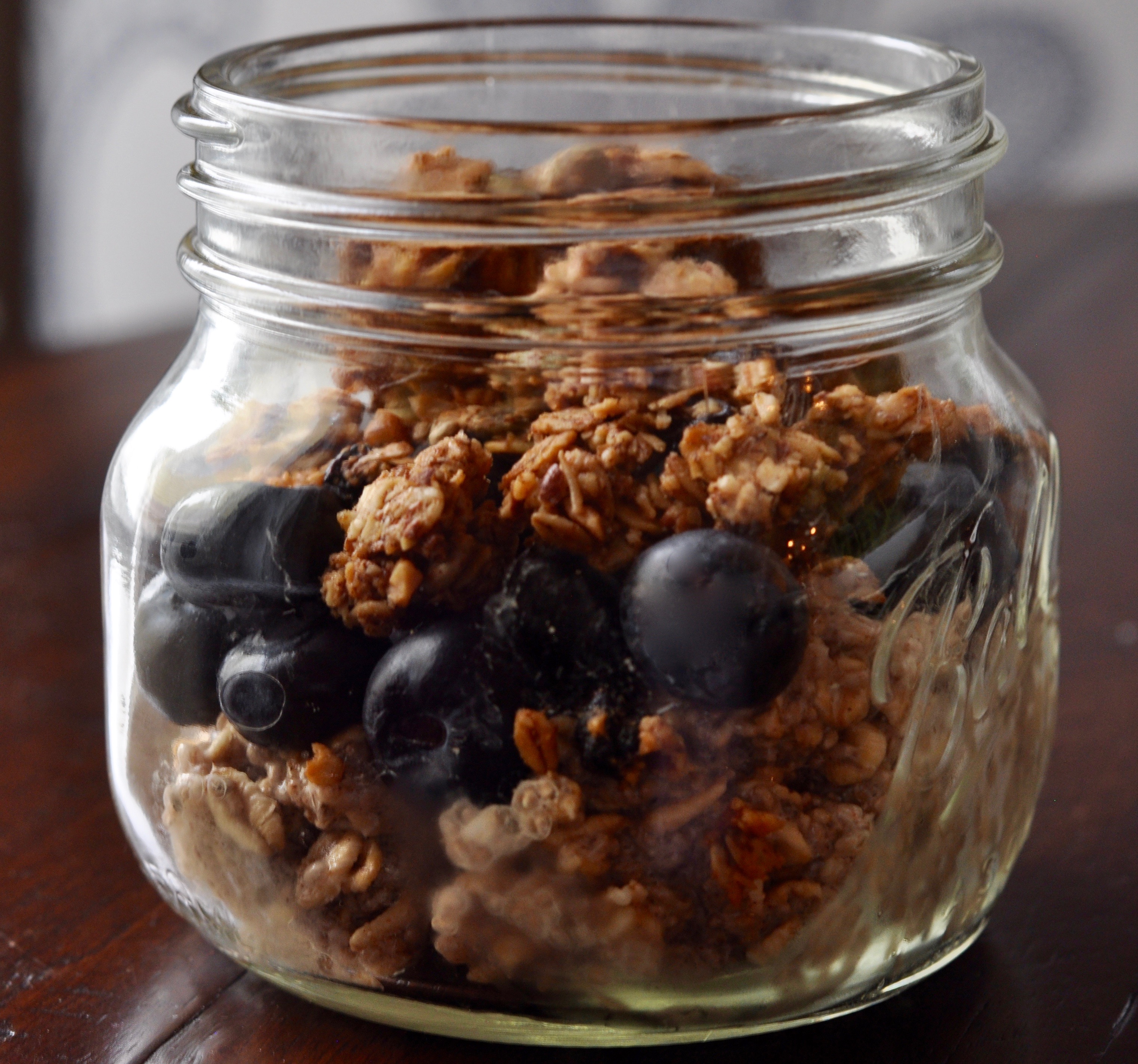 Easy Vegan Overnight Oats with Nutty Granola Clusters
2016-05-11 21:10:55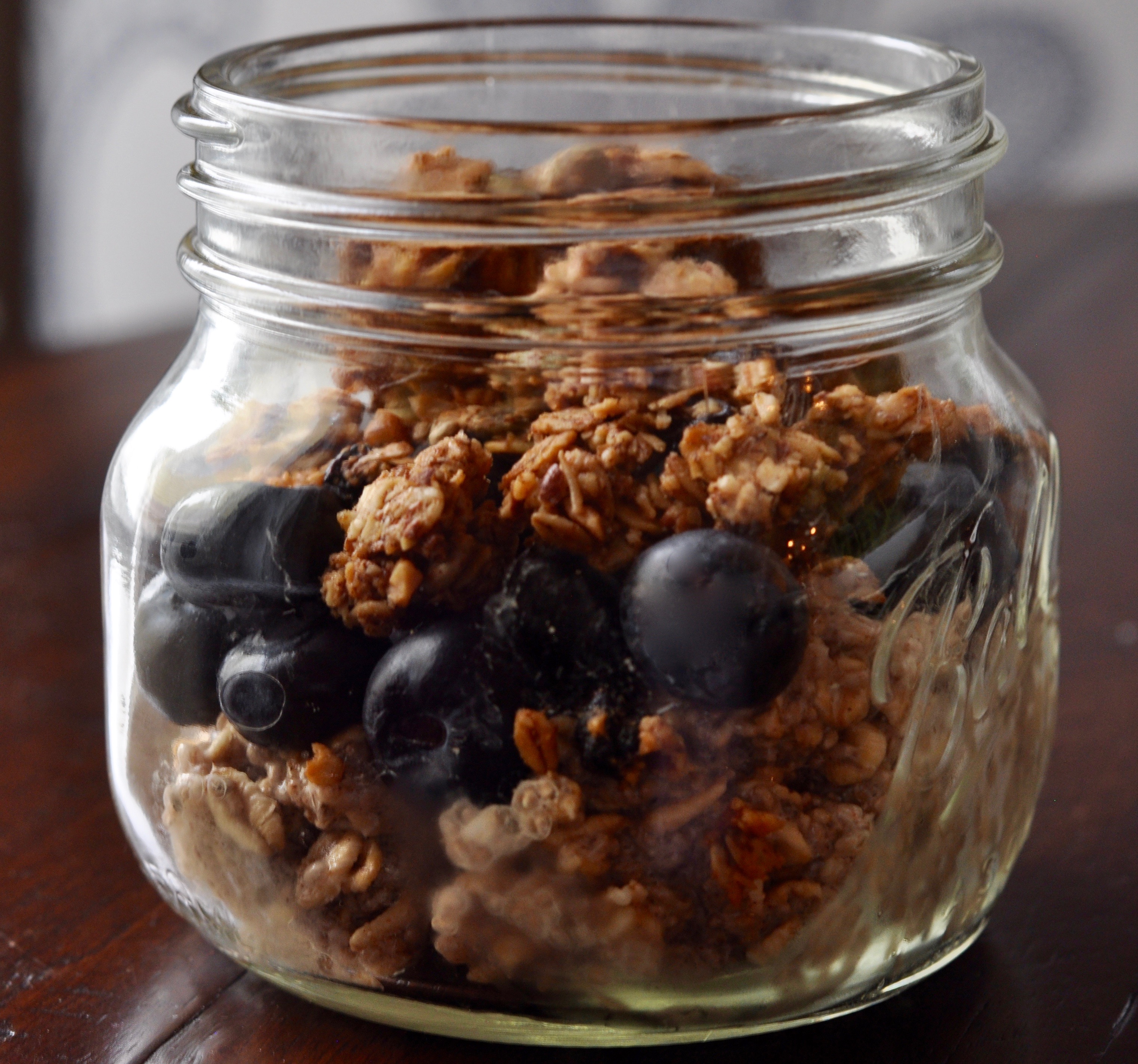 Serves 4
Easy prep, CHILL OVERNIGHT so you can chill in the morning, top with your favorite fruit and nutty granola.
Nutrition Facts
Amount Per Serving
* Percent Daily Values are based on a 2,000 calorie diet. Your Daily Values may be higher or lower depending on your calorie needs.
Vegan Oats
1 cup rolled oats
1 1/2 cups almond milk
1/4 cup chia seeds (white chia seeds if you can find them)
1 large banana, mashed
1/2 teaspoon ground cinnamon
For serving
Blueberries or fresh berries of your choice
Nutty Granola Clusters
Maple Syrup
Nutty Granola Clusters
1 cup whole raw almonds
1/2 cup raw pecans
1 1/4 cup rolled oats
2/3 cup mixed dried fruit (cranberries, cherries and/or blueberries)
1/2 cup raw pepita seeds
1/4 cup raw sunflower seeds
1/3 cup shredded unsweetened coconut
2 teaspoons ground cinnamon
1/4 teaspoon fine-grain sea salt
1/4 cup + 2 tablespoons pure maple syrup (or other liquid sweetener)
1/4 cup coconut oil, melted
2 teaspoons pure vanilla extract
Vegan Oats
In a small bowl, thoroughly mix the oats, almond milk, chia seeds, mashed banana and cinnamon. Cover and refrigerate overnight to thicken. In the morning, if too thick--add a little almond milk.
Nutty Granola Clusters
Pre-heat the oven to 275 degrees. Line a large baking sheet with parchment paper.
Place 1/2 cup almonds into a food processor and process for 10-15 seconds, until a fine meal forms. Transfer the ground almonds to a large bowl.
In the food processor, combine the remaining 1/2 cup almonds and 1/2 cup pecans and process 5-10 seconds, until finely chopped (there will be some fine meal and some larger pieces). Add to the bowl with the almond meal.
Add the oats, dried fruit, pepita seeds, sunflower seeds, coconut, cinnamon and salt to the large mixing bowl and stir.
In a small bowl, combine the maple syrup, melted oil and vanilla and then mix into the large bowl with the oats.
With a spatula, spread the granola into a 1/2 inch layer on the baking sheet and gently press to lightly compact it. Bake for 20 min, then rotate the pan and bake for 18-20 minutes more--until the granola is lightly golden.
Cool the granola in the pan for at least 1 hour and then break apart and store in a glass jar. The granola stores for 2-3 weeks in the refrigerator or freezer for 4-5 weeks.
To serve
In a jar or parfait dish, layer the oats, fresh berries and granola and drizzle with a little maple syrup, if desired.
Adapted from The Oh She Glows Cookbook
Adapted from The Oh She Glows Cookbook
TraveLynn Eats http://www.travelynneats.com/