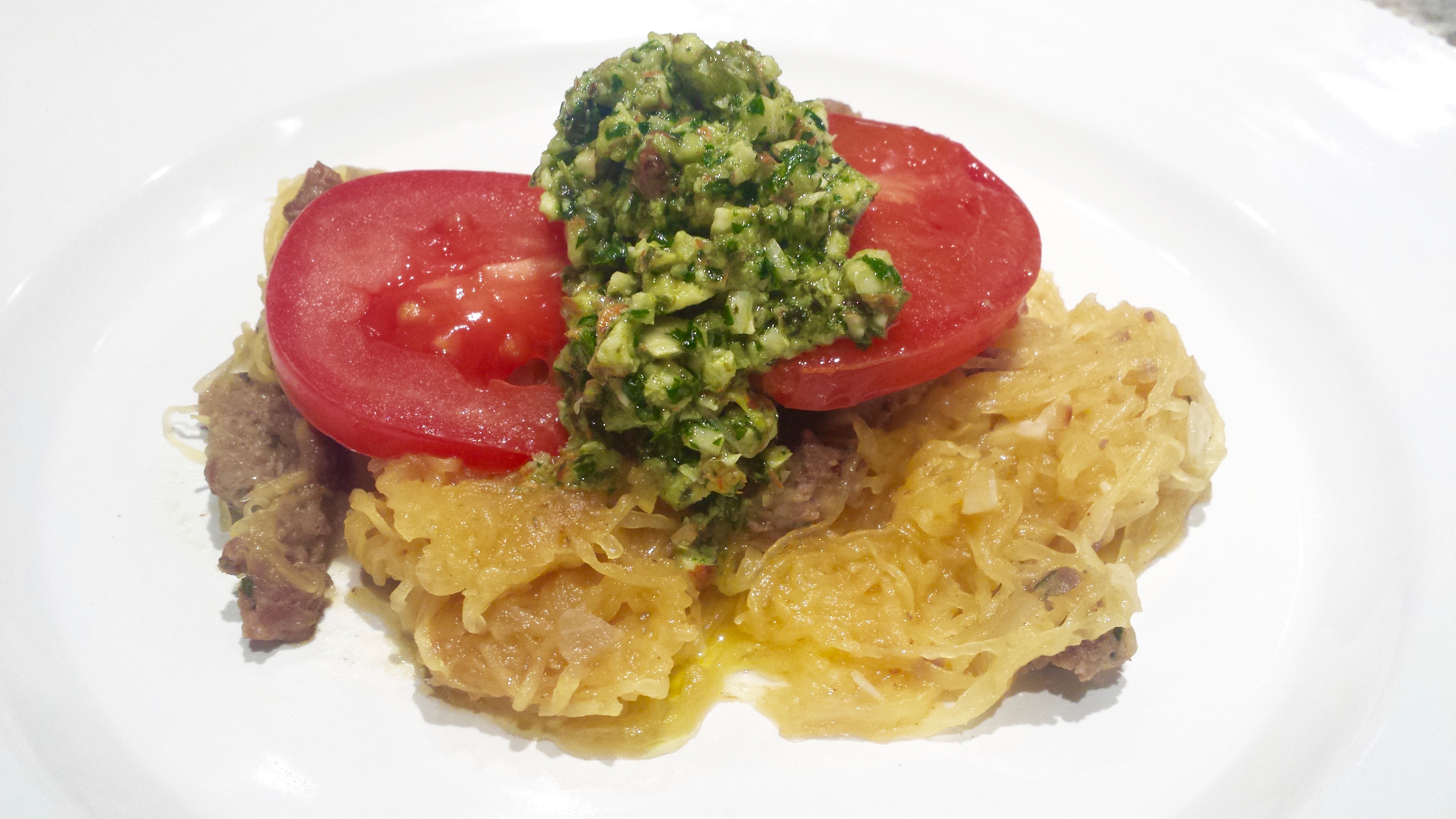 Santa Barbara, California. Have you been there? Then I don't have to explain… I grew up in California, but left 20 years ago when I entered the Air Force. I've been to some pretty amazing places along the way, but my heart has always been in California. Now, I find that I miss it more and more. Especially in February…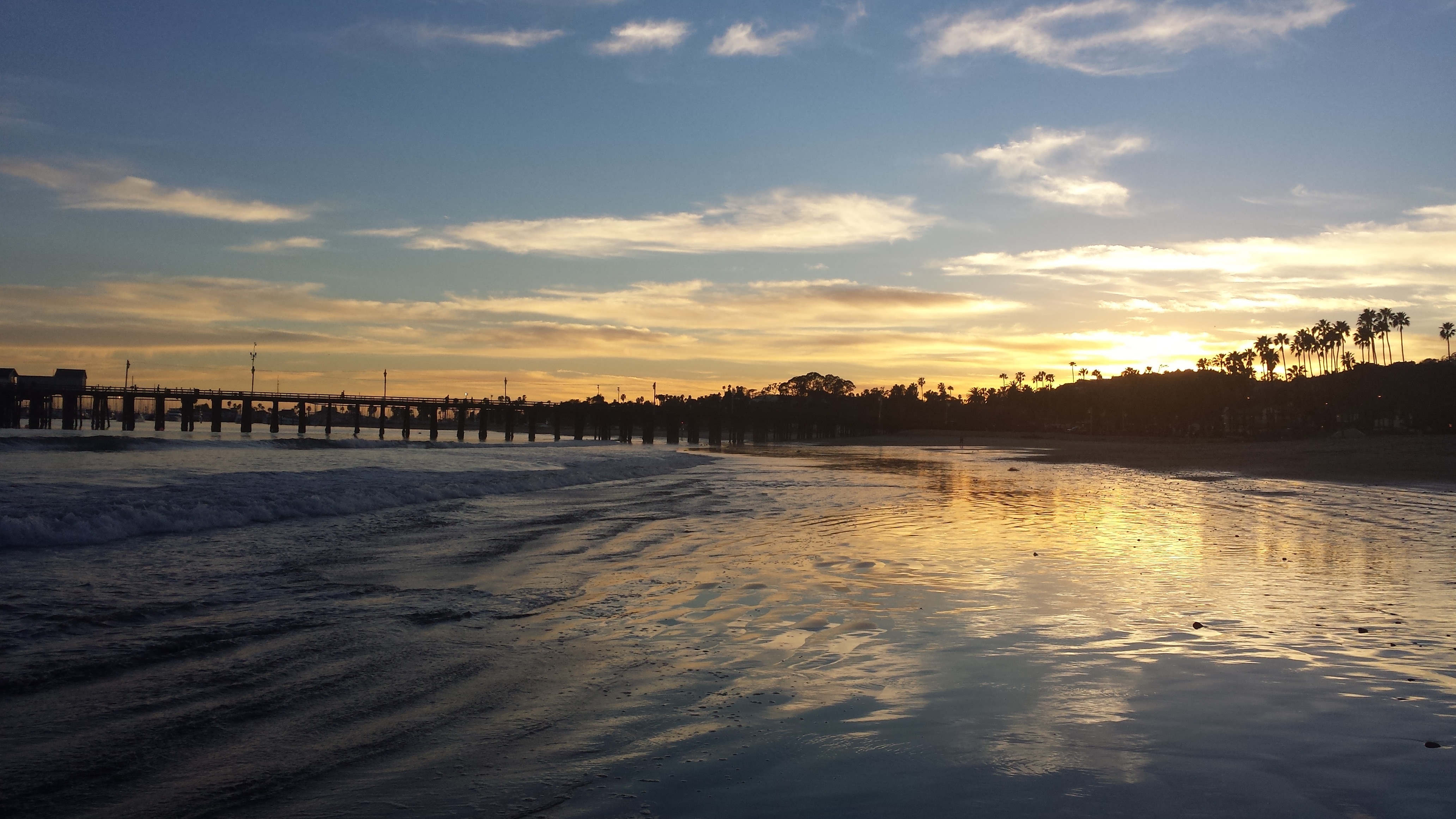 I picked up the winter edition of Edible Santa Barbara while at the Hitching Post II in Buellton, California. I thumbed through Edible in my hotel room in Buellton. It was nice, but it seemed to be missing something: Santa Barbara. I snuck away from my work assignment and made my way to Santa Barbara. I barely remember the drive there– I was so intoxicated by the ocean scene, top down, sea salt air tickling my face. Then, pants rolled up, feet in the Pacific, gazing at that point where the sea meets the horizon. Flip flops, boys on skateboards pulsing through the Funk Zone, late afternoon sun beating down on my DC winter skin. I had come home to my love.
Roasted Spaghetti Squash with Lamb Sausage and Almond Salsa Verde
2016-02-15 20:26:11
Serves 6
Spaghetti Squash with Lamb Sausage and Almond Salsa Verde. This dish is California fresh--eat local, eat fresh!
Nutrition Facts
Amount Per Serving
* Percent Daily Values are based on a 2,000 calorie diet. Your Daily Values may be higher or lower depending on your calorie needs.
Ingredients
2 spaghetti squash
2 tablespoons olive oil
Salt and pepper, season squash to taste for roasting
2 large tomatoes
-------------------------
Lamb Sausage.
1 pound ground lamb
2 sprigs fresh rosemary, finely chopped
2 sprigs fresh thyme leaves, finely chopped
1/2 teaspoon pink or black peppercorns, ground
1/2 teaspoon fennel seeds, ground
1/2 teaspoon black mustard seeds, ground
1/2 teaspoon caraway seeds, ground
1/2 teaspoon coriander seeds, ground
1 tablespoon kosher salt
2 large shallots, chopped
3 cloves garlic, chopped
-------------------------
Almond Salsa Verde.
2 cloves garlic
1 jalapeno pepper, roasted
1 poblano pepper, roasted
1/2 cup raw almonds
1 cup fresh cilantro
1 tablespoon dried marjoram (or tarragon)
1/3 cup olive oil
1 lime, juiced
1/2 teaspoon rice wine vinegar (or sherry vinegar)
1 teaspoon kosher salt
Pinch of pepper
Instructions
Preheat oven to 350 degrees.
Roast the squash and peppers.
Cut the spaghetti squash into 1-inch rounds (leave the skin on). Brush the rounds with olive oil and season with salt and pepper. Place the the rounds on an oiled or parchment-lined baking sheet. Bake for 30-40 minutes until the squash starts to soften and the threads separate when you press the edges. Place the jalapeño and poblano peppers in the oven and roast at the same time (monitor the peppers as they will cook a bit faster). Remove from oven and set aside to cool briefly. When cool enough to handle, press the squash flesh away from the rind and place in a bowl. Set aside.
Prepare the Almond Salsa Verde.
Combine the garlic, roasted jalapeño and poblano pepper in a food processor and pulse until finely chopped. Add the almonds, cilantro and marjoram, and continue to pulse until the almonds are finely chopped (but not pureed). Place this mixture in a bowl and work in the oil, lime juice and vinegar. Season with salt and pepper and place the mixture in the refrigerator.
Prepare the lamb sausage.
Grind the peppercorns and seeds. You can grind them with a mortar and pestle or throw them in your coffee bean grinder (my choice!). Combine the lamb, minced herbs and ground spices (and salt) in a bowl and mix thoroughly. Sauté the lamb mixture in a large frying pan and chop up slightly with a wooden spoon while cooking. Add the shallots and garlic when the lamb starts to brown. When the lamb sausage is almost cooked, mix in the roasted squash and heat until the squash is warm.
Grill tomato slices.
To serve.
Place a serving of spaghetti squash with lamb on each plate, top with a grilled tomato slice and garnish with the Almond Salsa Verde. Enjoy!
Adapted from Restaurant Julienne
Adapted from Restaurant Julienne
TraveLynn Eats http://www.travelynneats.com/