Brown Butter Chocolate Chip Cookies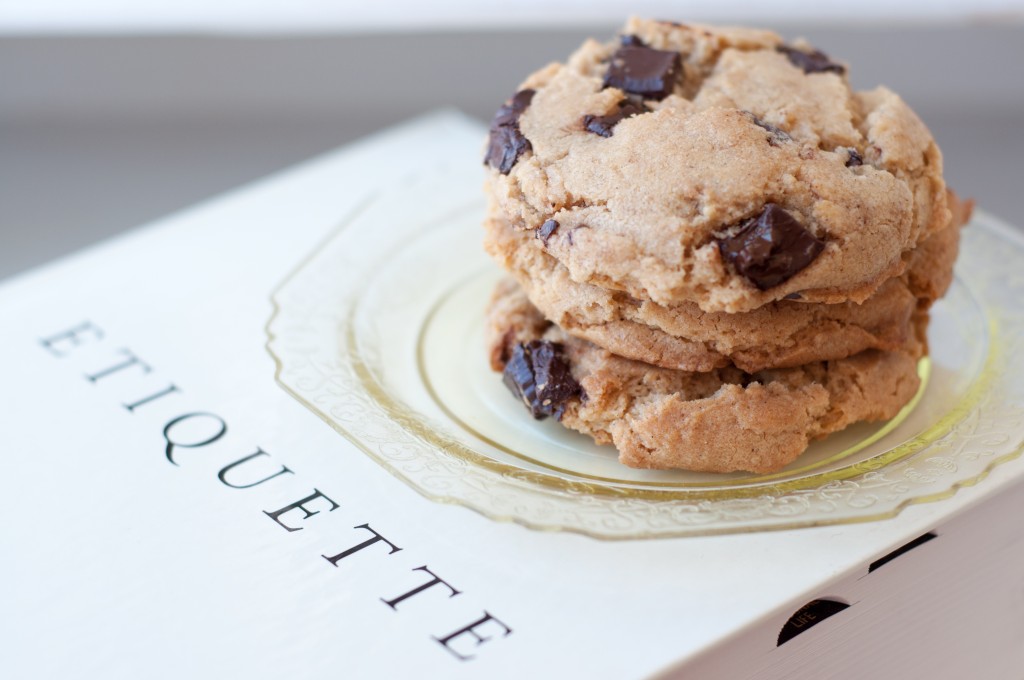 The search for the perfect chocolate chip cookie has begun.  This could be dangerous … for my new fitness regimen … that I just started …  oh please, who am I kidding.
Do you have those food blogs that you routinely check in on?  Like that obsessive sort of Facebook checking…
On my list of "totally dig" is Bakergirl.  Love her fascination with brown butter.  And brown sugar.  And all sorts of yummies that add depth to your baking creations.
….and that's how I came across Bakergirl's Brown Butter Bourbon Chocolate Chip Cookies.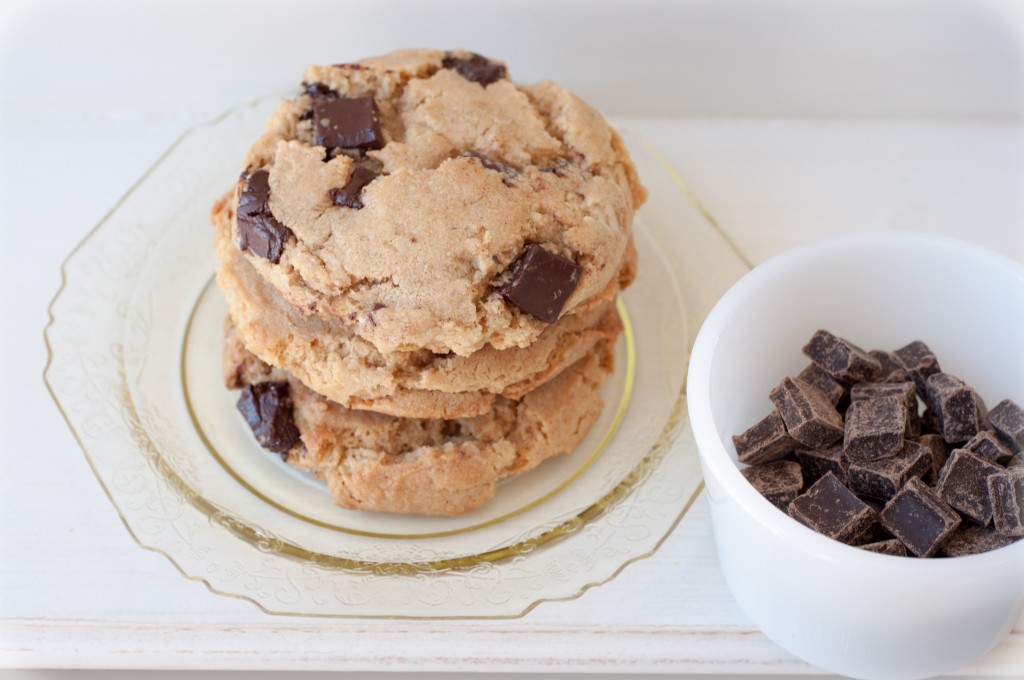 The search is off to a good start.
Amazing right out of the oven.  Amazing.

Brown Butter Chocolate Chip Cookies
Ingredients
1 1/4 cups unsalted butter (browned)
2 1/4 cups cake flour
1 1/2 cups all-purpose flour
1 1/4 tsp baking soda
1 1/2 tsp baking powder
1 tsp salt
1/2 tsp cinnamon
1 1/2 cups brown sugar
3/4 cup sugar
2 tsp vanilla extract
2 Tbs bourbon, optional
2 eggs (room temperature)
10 oz bag of chocolate chunks (semi-sweet or dark chocolate)
Instructions
Brown the butter in a medium saucepan over medium heat. Whisk the butter constantly as it melts; it will bubble and foam in about 7 - 9 minutes and then start to brown soon after it foams. Shortly after the foaming and when it starts to brown, remove it from the heat. Watch it closely because it will burn very quickly. Pour the butter in a bowl and place it in the refrigerator to cool
In a large bowl, mix the cake flour, all-purpose flour, baking soda, baking powder, salt and cinnamon
In a mixing bowl, cream the cooled brown butter with the brown sugar and white sugar until creamy. Add the vanilla extract. Then add the eggs one at a time, mixing after adding each egg. Finally, add the bourbon. The alcohol will cook out leaving a light caramel flavor.
Add the flour mixture to the butter mixture and combine
Stir in the chocolate chunks
Refrigerate the dough for at least 1 hour or overnight. This is important because the butter has been browned and liquefied, so chilling it ensures the cookies keep their form when baking
After chilling the dough, preheat the oven to 350 degrees
Let the dough "thaw" for about 20-30 minutes (or you're going to get a real arm workout trying to scoop the dough)
Scoop the dough onto a cookie sheet. I went with Bakergirl's recommendation to use an ice cream scoop to scoop the dough onto my cookie sheet...and it worked great!
Bake for 10-12 minutes. The cookies will look like they aren't cooked, but rest assured they will firm up as they cool
Cool the cookies a few minutes on the baking sheet and then transfer to a wire rack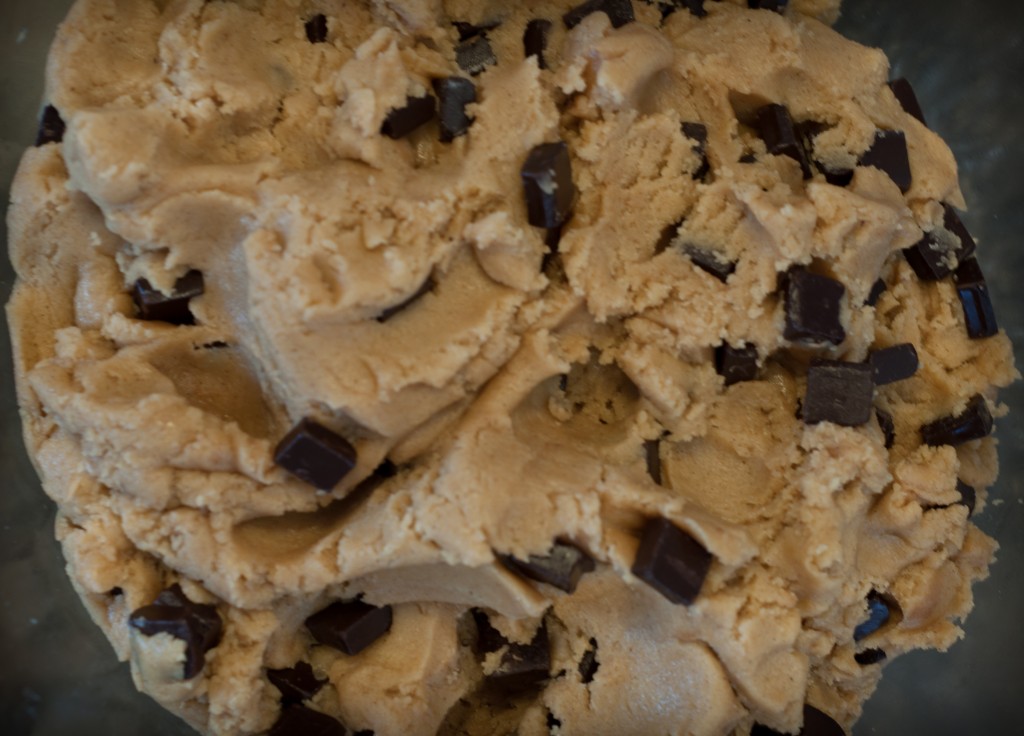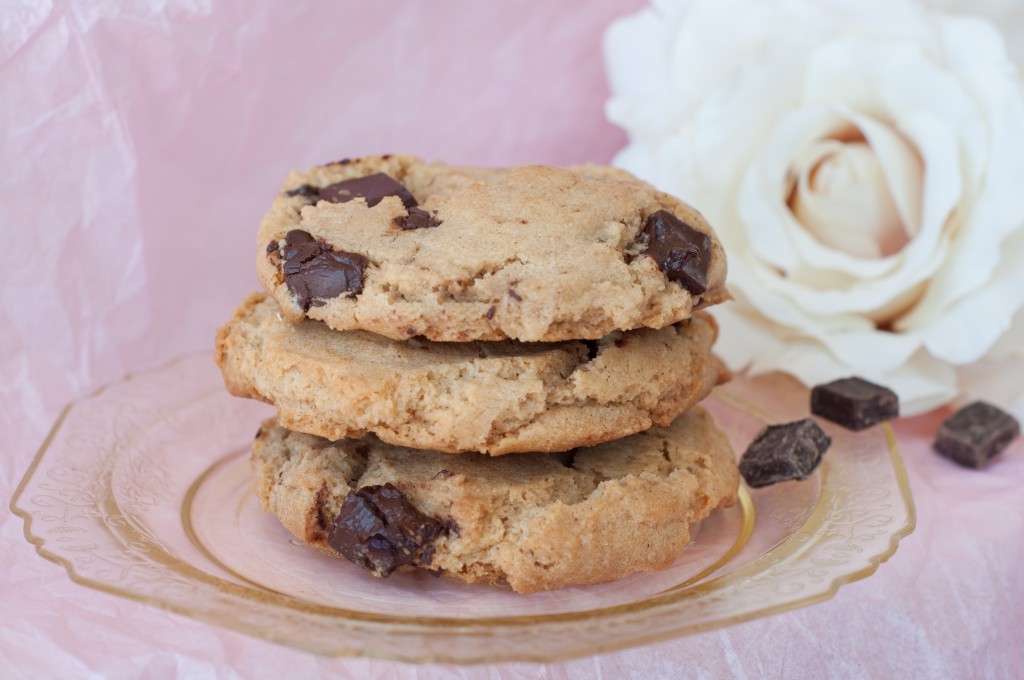 Comments