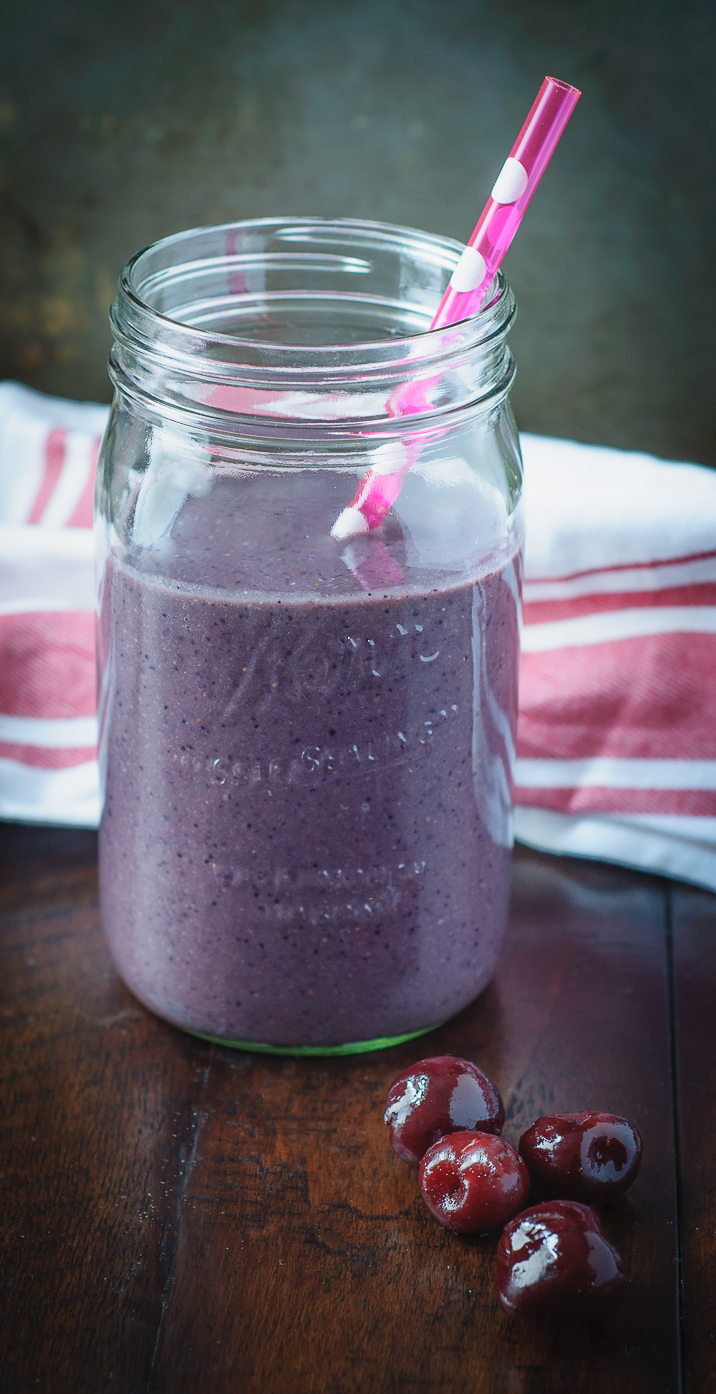 Life offers up some sweet moments. Many are obvious, but far more interesting are the ones you have to pay attention to… the not-so-obvious. The space between. The silence between the notes. The pause between the inhale and the exhale. These are the gems. This is where I find that place that feels worthy of pause, of wonder, of contemplation, of curiosity.
So, while I was aimlessly scrolling the internet one evening, I just about breezed by this article: "Jennifer Aniston Shares Her Signature Breakfast Smoothie." I paused, though, when I saw the opening line, "What did it take for Jennifer Aniston to squeeze into that glittering Saint Laurent dress…?" …and I chuckled and the inner monologue started. Now I was hooked; I kept reading. What did it take, how did she do it?… I purposely skipped past the part that said "In addition to exercising 4-5 days a week…" and saw that Jen "starts each day with a healthy homemade shake." Oh yes, a shake… I can do that.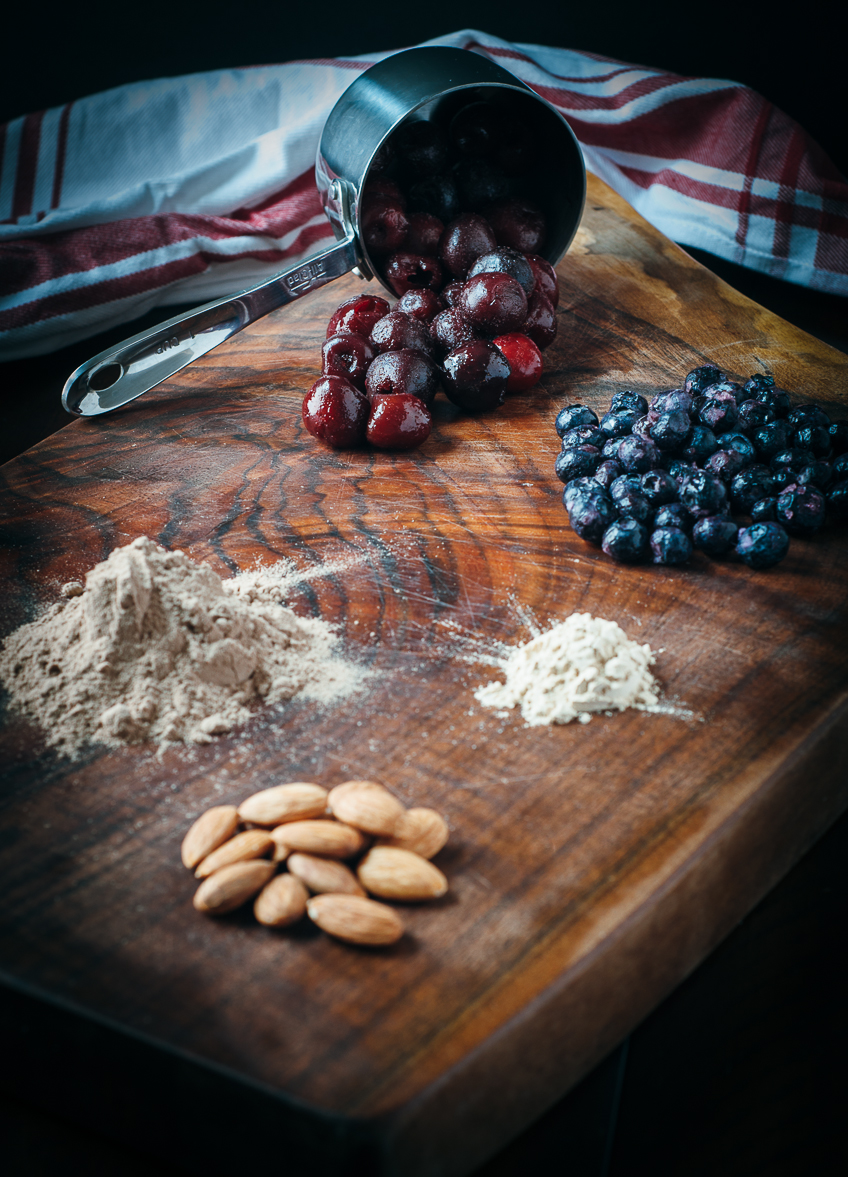 Whether you've had a chocolate covered cherry or black forest cake, you're probably well aware that chocolate and cherries are a classic pair. Oh yes, chocolate and cherries are good for your SOUL… but the combo in this smoothie is good for your soul wrapper too!
Chocolate almond milk, frozen banana, cherries, blueberries, organic raw almonds, Maca root powder, vegan chocolate protein powder (I've grown attached to Vega Protein & Greens), and just a couple drops of liquid stevia.
I'm glad I stopped and read further. I'm glad I got past my drink-this-smoothie-look-like-Jen-Aniston snort laugh (and trust me, I'd drink a helluva lot of smoothies to look like her!). Because, I found a wonderful, easy, naturally sweet, healthy, smoothie. It's my go-to morning shake.
I love finding the sweetness in the not-so-obvious…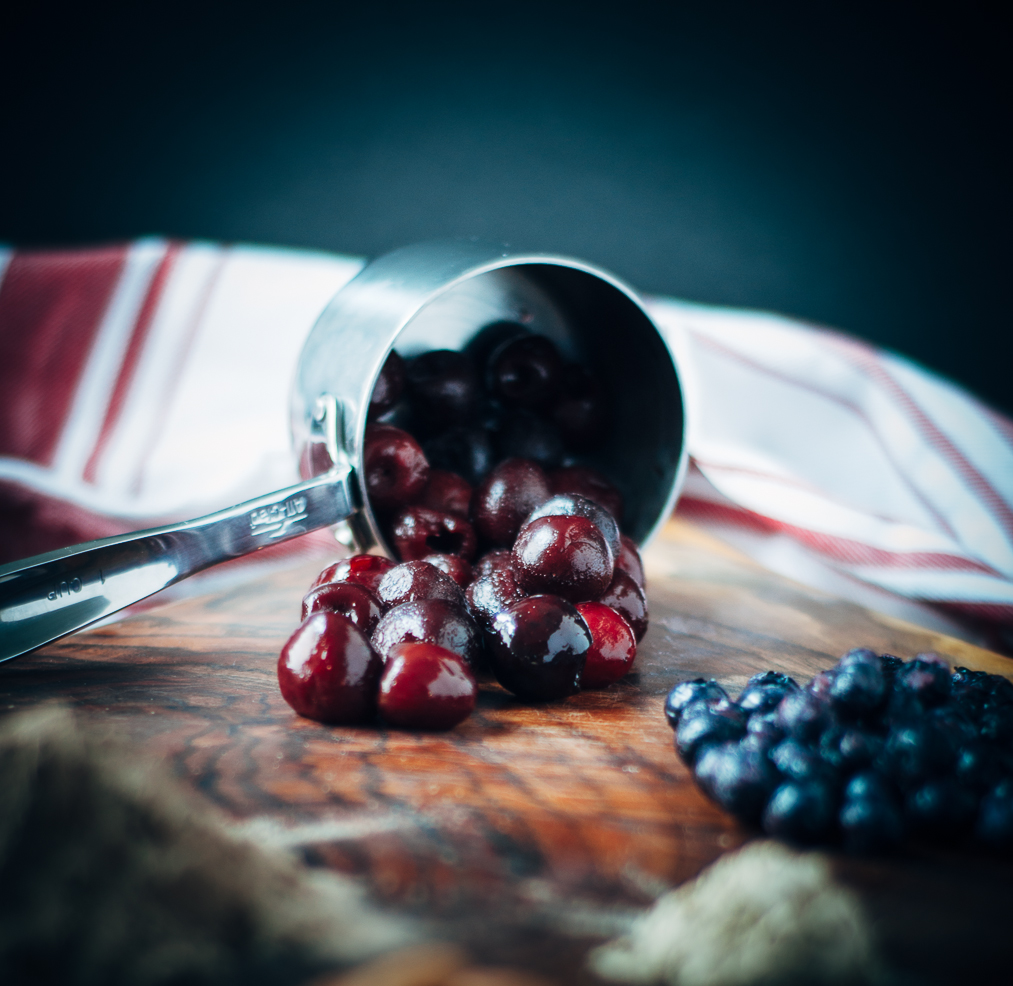 While I'm reveling in unexpected sweetness, I find that lately –in the midst of seeming chaos– I'm paying more attention to the delicate space between the craziness. I'm nurturing this perspective. I've been shifting focus from the disaster to the rescuer, from the problem to the volunteer …to the grass-root solution. …a donation made. …the community engaged.
I didn't quite expect to find myself at the Women's March in Washington DC last month. I don't do crowds. Certainly, not 500,000-large crowds. But, I felt compelled to go. No sign, no plan. Just me, feeling like I needed to be a part of our great democracy in action. I piled into the Metro. And, what seemed like an eternity later, I was birthed out of L'Enfant Metro stop, moving in a sea of people with pink hats and funny-witty-punchy-serious-naughty-poignant-creative signs.
Moments later, at Independence and 6th Street, and surrounded by more people than I felt comfortable with, I climbed a tree, nestled between two limbs, and perched there for 5 hours listening to Gloria Steinem, Michael Moore, Alicia Keys, Senator Duckworth, Madonna, and many others. I didn't go to see these people; I had no idea they'd be there. But, I appreciated each speaker. I heard them: stand up, take action.
As far as the march goes… It took a heckofa long time to actually start moving. The march route was so packed we were wedged in place for hours; but then a budge, and then a few feet, and then we walked for miles. It was peaceful. It was powerful. It was a day that I pledged: from now on don't complain, do something. It was a special day. There was a sweetness in it I was not expecting.
But, you clicked on this link because you were looking for something sweet …like chocolate cherry sweet. Keep scrolling…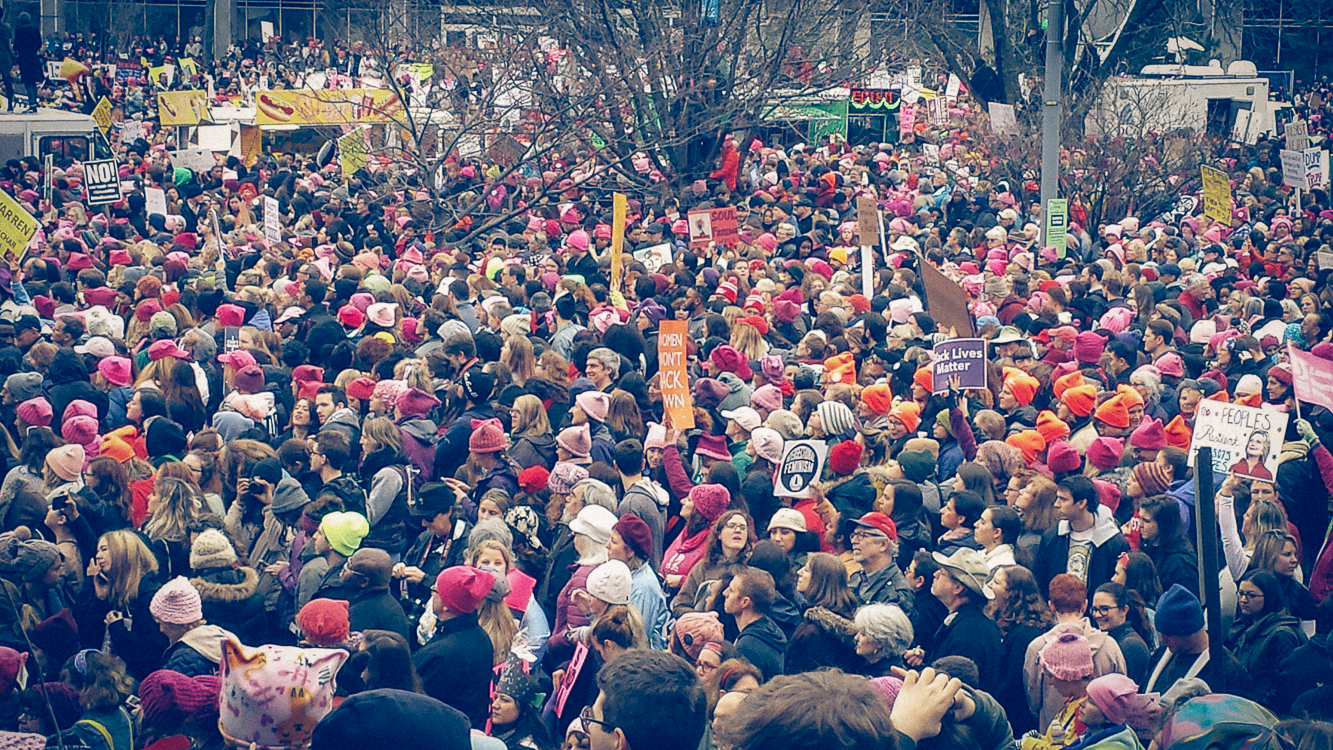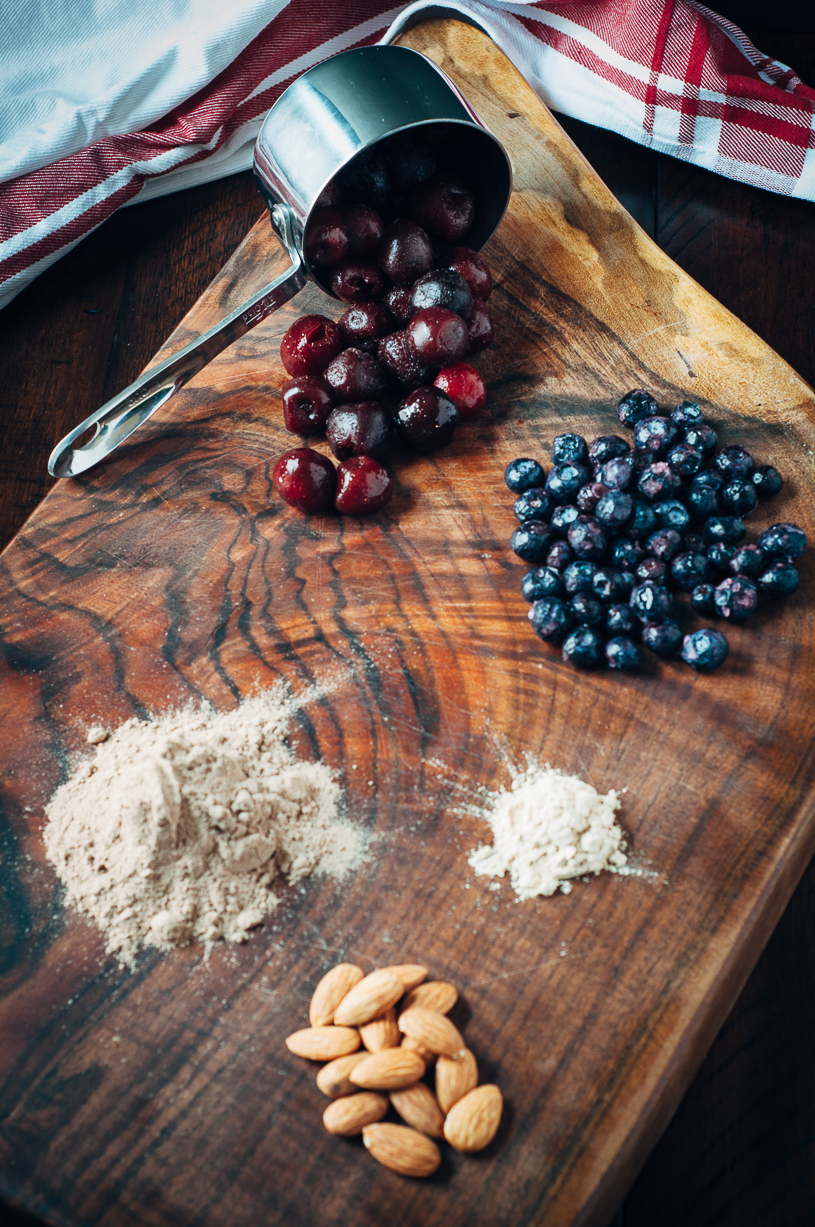 As we become purer channels for God's light, we develop an appetite for the sweetness that is possible in this world. A miracle worker is not geared toward fighting the world that is, but toward creating the world that could be.
~ Marianne Williamson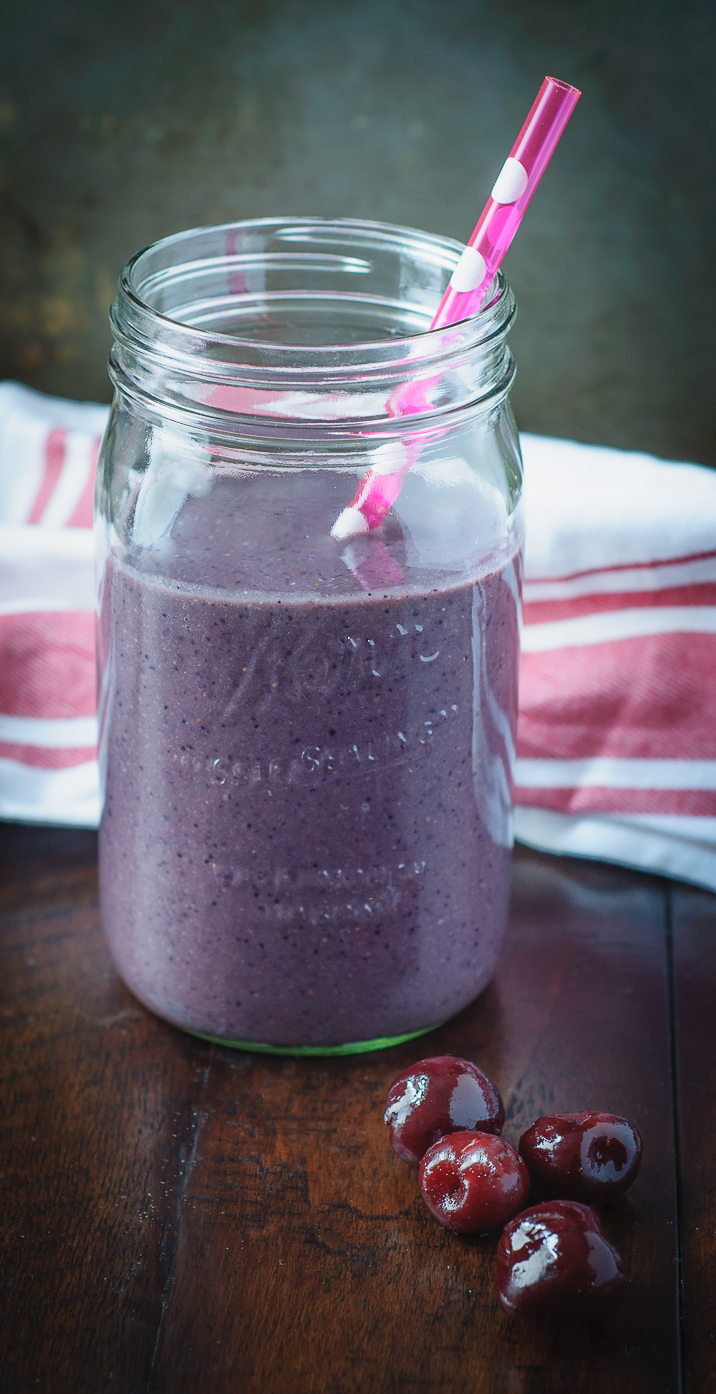 Chocolate Cherry Breakfast Smoothie
2017-01-20 18:49:07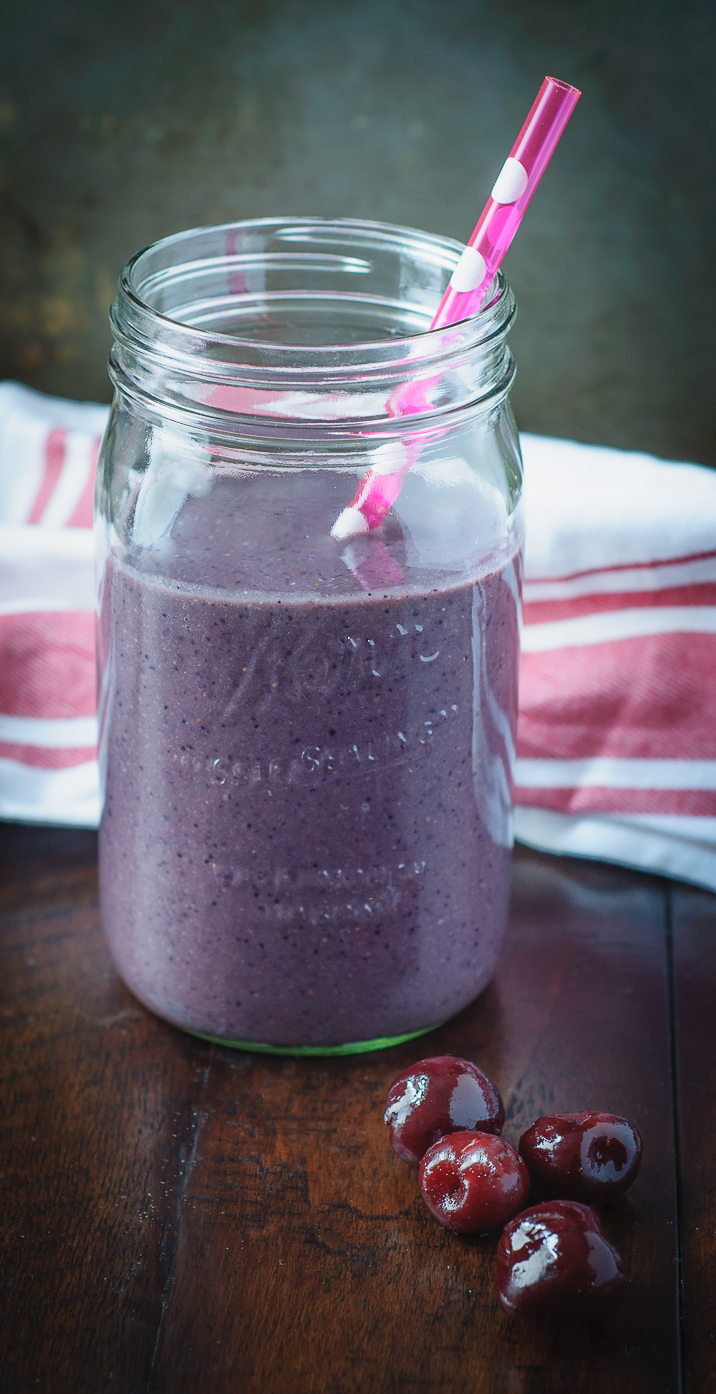 Serves 1
Chocolate and cherries combine in a naturally sweet and healthy smoothie. This is soon to become your go-to, guilt-free morning shake!
Nutrition Facts
Amount Per Serving
* Percent Daily Values are based on a 2,000 calorie diet. Your Daily Values may be higher or lower depending on your calorie needs.
Ingredients
1 cup unsweetened chocolate almond milk
1 cup frozen cherries
1 cup frozen blueberries
1/2 frozen banana
1 cup ice
1 scoop chocolate flavor vegan protein powder
1/2 tablespoon maca powder
2-3 drops of liquid sweetener or stevia
10 raw almonds
Instructions
Place all ingredients in blender with the liquids first. Blend until smooth.
Notes
Initially spotted on the InStyle.com fashion magazine. What a great find!
TraveLynn Eats http://www.travelynneats.com/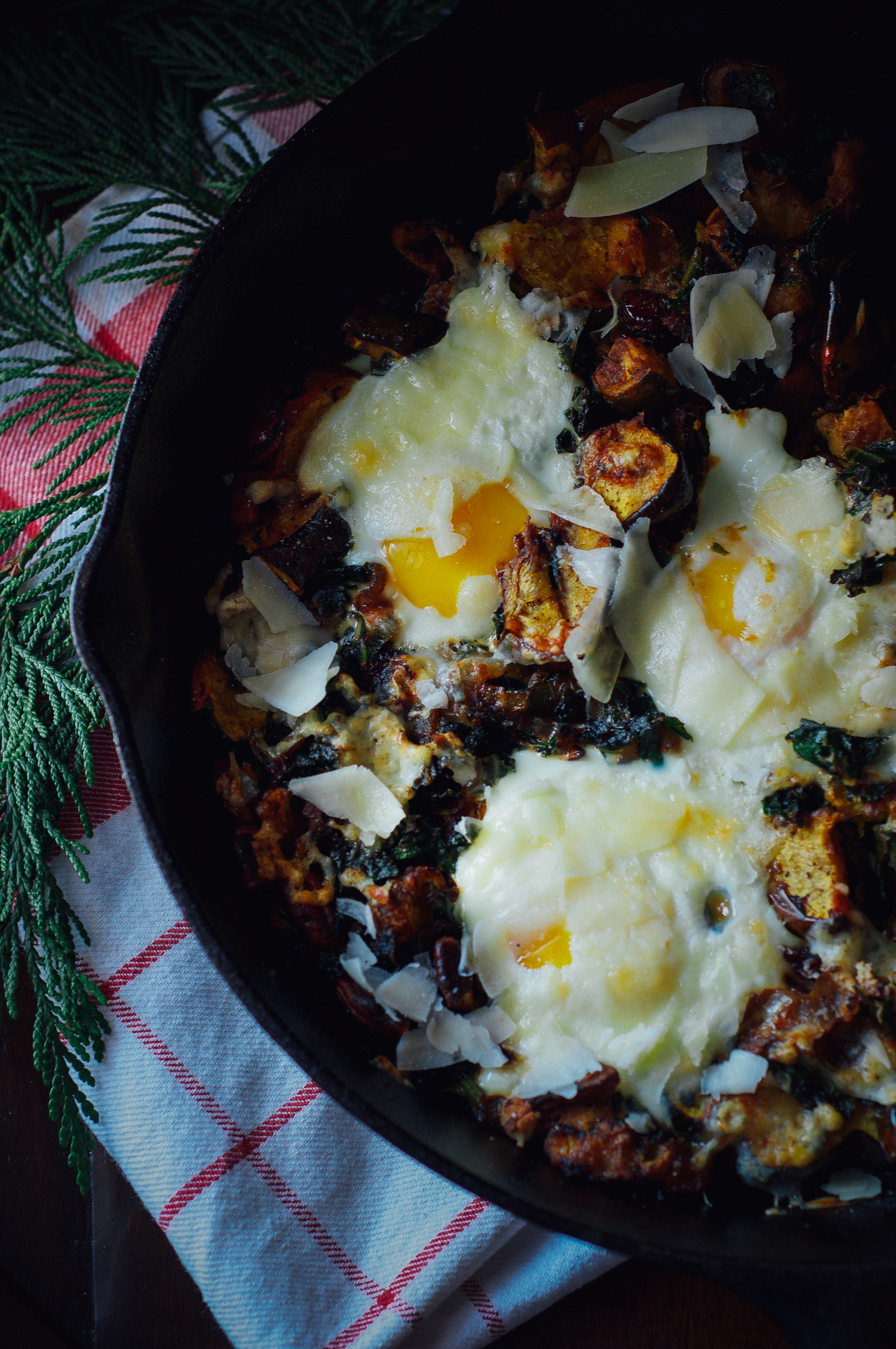 If you know me, like really know me… you know I'm an introvert (that was possibly an understatement). So, even though my California soul longs to be out, flip flops on, frolicking around on the beach with my homies,… this winter thing kinda suits my need to turn inside, go into my gal cave, stay in my jammies all day, sip my coffee slowly, get mesmerized by the twinkling lights on the Christmas tree, savor the sweetness of solitude, and just RECHARGE. So, while I resist winter with every fiber of my being, December is actually a soothing time of year for me. Beyond the obvious that is the holiday season, there is a subtle settling into a transition that transcends the autumnal shift.
Today, I woke up, rolled around in bed for two hours longer than intended, and calmly recognized it was going to be (and needed to be) one of those jammies-all-day kind of days. I threw on my big 'ole fluffy robe, shuffled downstairs, peeked into the kitchen and knew that baked eggs in a cast iron skillet had to happen on this lingering, lazy morning.
When I discovered I had an acorn squash, one onion, kale, a carton of eggs, dried cranberries, pecans, and vegetable broth already on hand… Well, I had a moment. That sweet feeling when you delightfully discover something you weren't expecting. Seriously, it was special. Let me mention some other ingredients: the spices. I, like you, have a cupboard stuffed full of every imaginable spice (and, oddly, I never seem to have the spices needed for a new recipe… another life mystery). But, there are two spices I keep right near the stove: Herbes de Provence and a bottle of ground Spiced Chipotle Smoked Red Jalapeños. I found it at Whole Foods. I adore it. It adds a smoky, spicy, unique flavor.
Breakfast, brunch.. this dish is a 'good morning to you' all day long…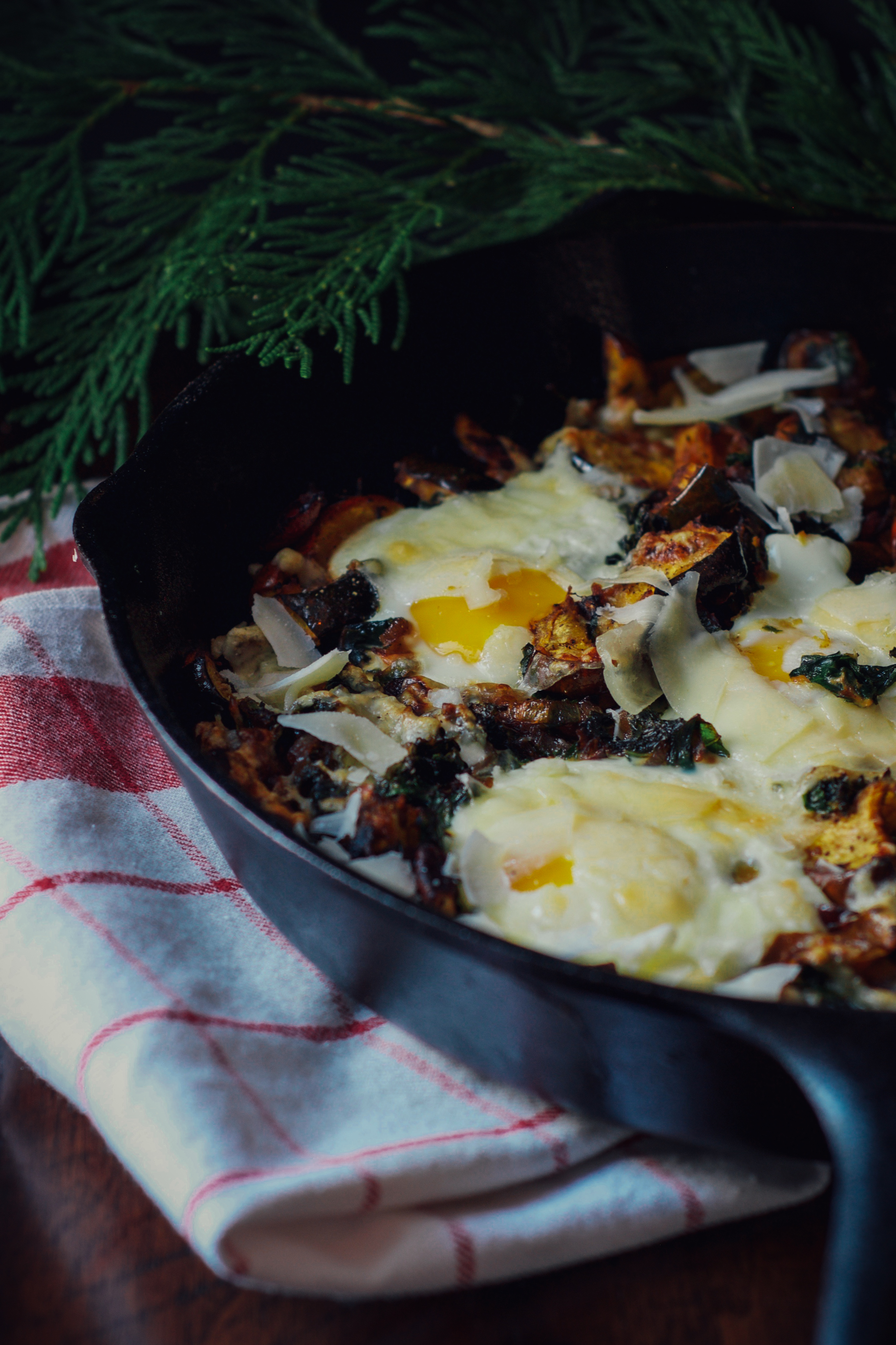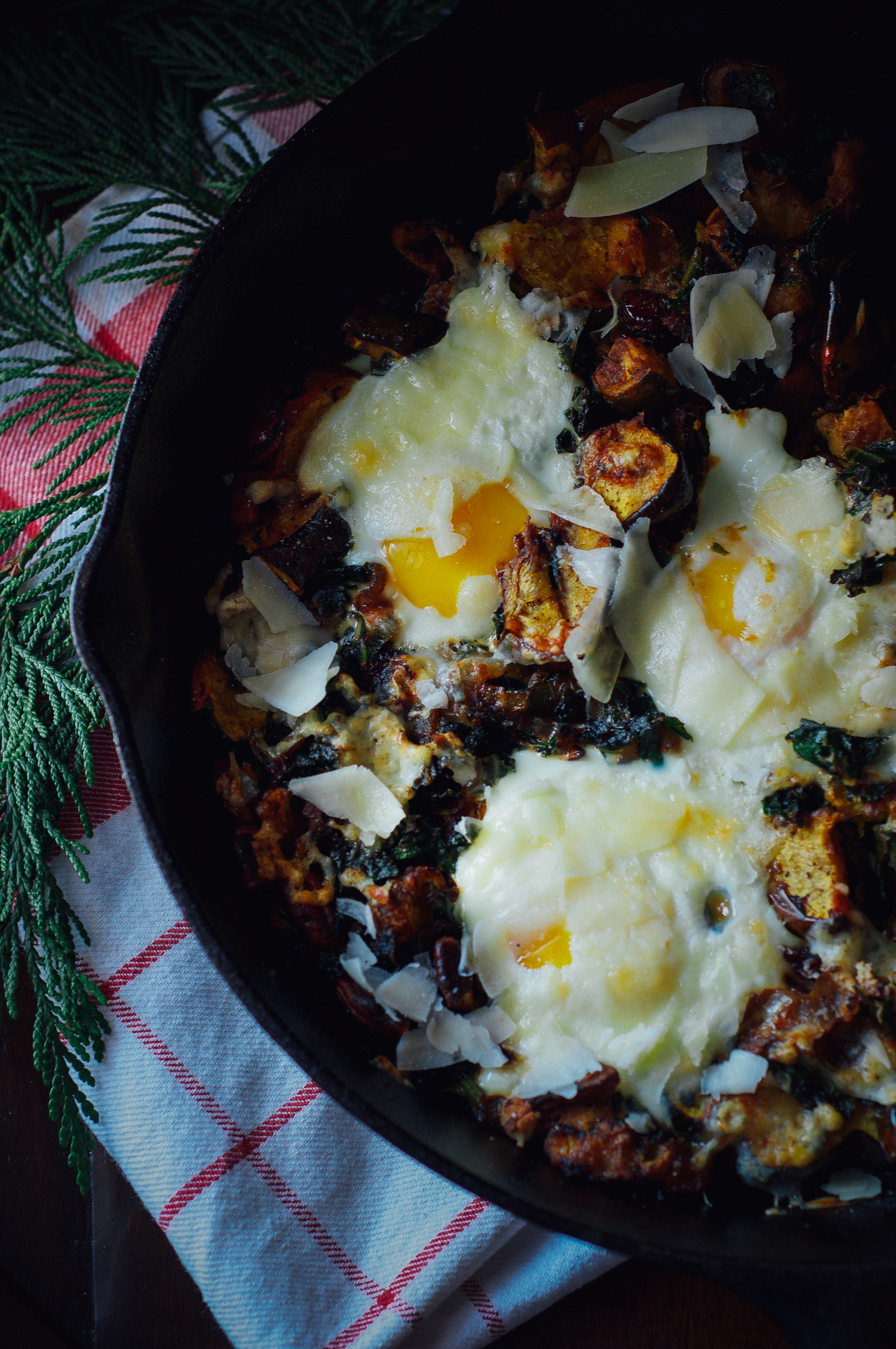 Baked Eggs with Roasted Acorn Squash & Kale
2016-12-10 12:05:01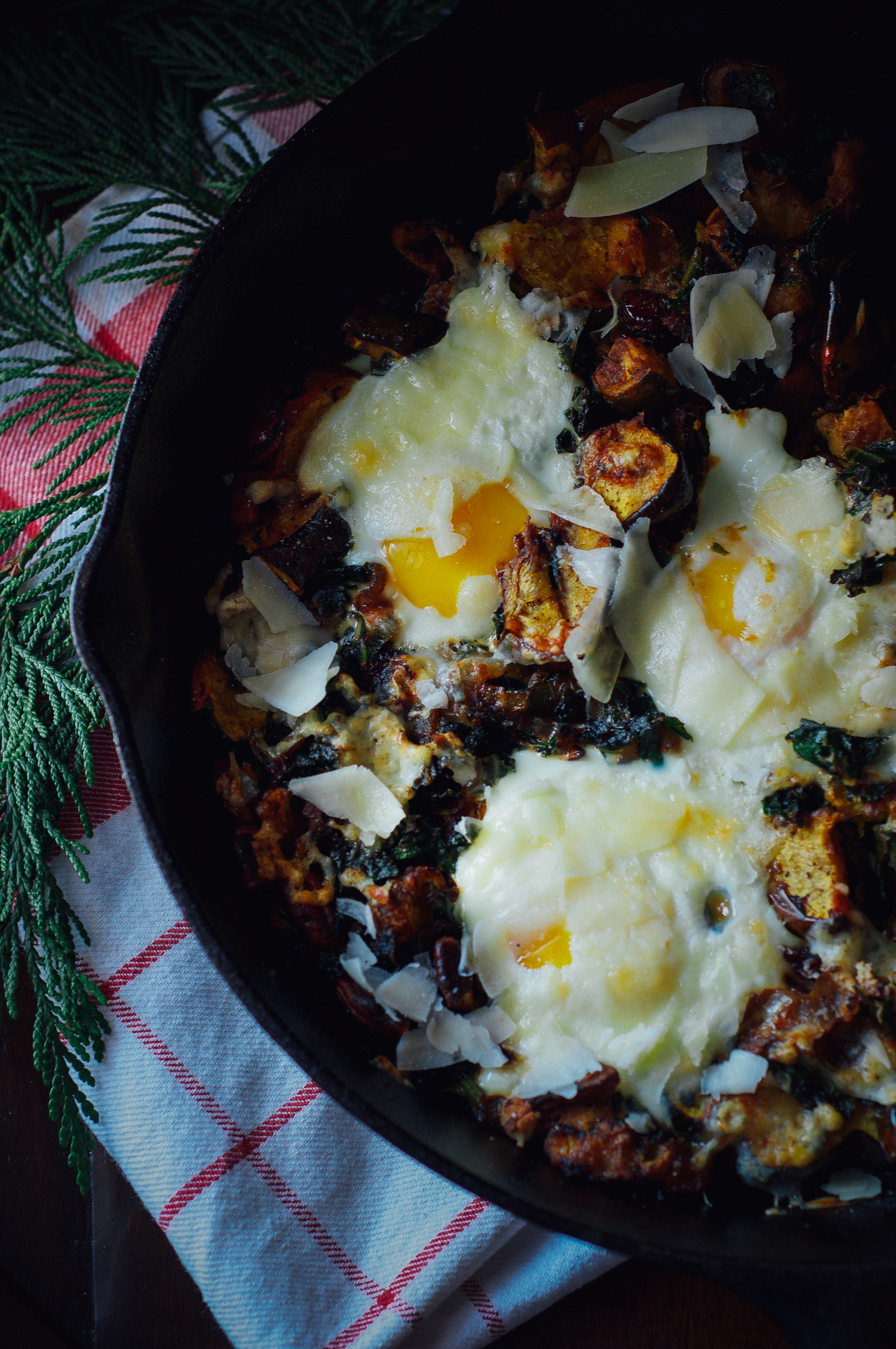 Serves 4
Roasted acorn squash, caramelized onion and kale combine to create a comfort food "cradle" for baked eggs.
Nutrition Facts
Amount Per Serving
* Percent Daily Values are based on a 2,000 calorie diet. Your Daily Values may be higher or lower depending on your calorie needs.
Ingredients
1 large acorn squash (about 4 cups of squash), cut in 1/2 inch slices
1 teaspoon each of Kosher salt & ground black pepper, and 2 tablespoons olive oil (for the squash)
2 tablespoons of olive oil (for sautéing the onions)
1 medium onion, thinly sliced (about 1/4 inch slices)
4 cloves of fresh garlic, chopped
1 teaspoon Herbes de Provence
1/4 teaspoon ground chipotle powder
1 bunch curly kale cut into thin ribbons (about 5 packed cups); try to remove the big stems...
1/2 cup low-sodium vegetable broth
1/4 cup dried cranberries
1/4 cup pecan pieces
4 to 6 eggs
1/2 cup freshly shaved Pecorino Romano and/or Asiago cheese
Instructions
Heat the oven to 410 degrees.
While the oven is pre-heating, thoroughly wash the acorn squash and cut into 1/2 inch slices. I typically start cutting from the end and then when I reach the center with the seeds, I scoop them out. I'll often slice a side off the acorn squash so I can lay it flat and then cut the slices a little easier. You can leave the rind on or cut it away from the "flesh." I opt to leave it on because the roasting makes it tender and it gives a great texture to the dish.
Lay the acorn squash slices flat on a large sheet pan, drizzle with about 2 tablespoons of olive oil and sprinkle with about 1 teaspoon of Kosher salt and 1 teaspoon of ground pepper. Roast the squash slices for 20-25 minutes in the 410 degree oven. Halfway through the roasting, flip the squash slices over on the pan with a spatula.
Meanwhile, while the squash is roasting, heat 2 tablespoons of olive oil in a large skillet on medium-high heat (a cast iron skillet works beautifully, since you'll be broiling the eggs at the end--in the oven--in your gorgeous, big skillet). Sauté the onion slices for 20-25 minutes (about the same time the squash is roasting). Season the onions with salt & pepper to taste and 1 teaspoon of Herbes de Provence. Watch the onions so they don't burn; if they start to get too dark, turn the heat down to medium so they can caramelize a bit. After 15 minutes, add the roughly chopped garlic cloves.
After the onions have caramelized, add the thinly sliced kale to the skillet (about 2 cups at a time). After you add the first 2 cups of kale, pour 1/4 cup of the vegetable broth and let the kale cook until it just softens. Stir a bit and then add 2 more cups of kale, 1/4 cup of broth, 1/4 teaspoon of the chipotle powder, and simmer until the kale softens. Add the cranberries and pecan pieces, simmer and stir for 2 minutes. Add the final cup of kale and stir the onions, kale, cranberries and pecans in the skillet and let it simmer for a few minutes on medium heat.
Remove the roasted squash from the oven. Cancel the bake setting and turn on the broiler in the oven. Move the rack in the oven (with an oven mitt!) so it is about 6 inches under the broiler. Take the roasted squash slices and place them in the skillet. You can "cut" the slices into smaller chunks with your spatula in the skillet, but be careful not to stir the mixture too aggressively or the squash will break apart and get mushy.
Take the back of a spoon and press 4 - 6 wells into the squash/kale/onion mixture. Crack an egg into each of the wells and lightly sprinkle with salt and pepper. Sprinkle half the shaved cheese on top of the eggs and squash mixture. Carefully, place the skillet in the oven and broil for 4-5 minutes until the egg whites have set, but the yolks are still runny. Keep an eye on the eggs, they will go from 'just set' to cooked yolks very quickly. When you remove the skillet from the oven, sprinkle the other half of the shaved cheese on top of the dish.
Serve immediately with buttered toast or toasted pita bread.
TraveLynn Eats http://www.travelynneats.com/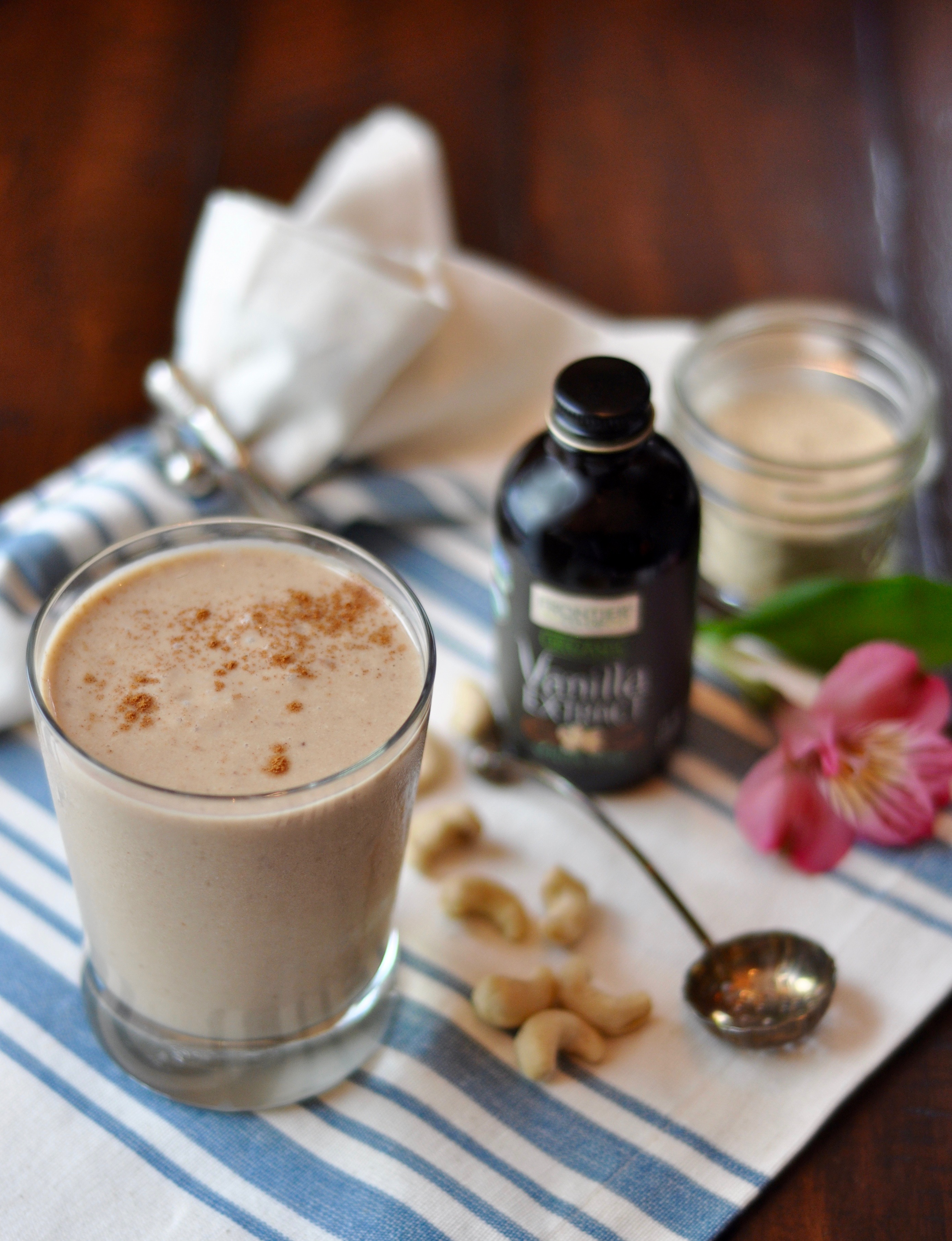 I know, I know… just when I told you I'm not vegan. Presenting: the Vegan Power Frappe! Ta da… I just can't help myself because 1) I'm falling in love …with a new food blog…oh yes, The First Mess and 2) I'm trapped inside with 30 consecutive days of rain in the Washington DC area (..and NPR just reported it's sunny in Seattle during the local rubbing-it-in weather report). I need a pick-me-up people! Like now… like right now…
I love adding Maca powder to my morning shakes, and I've been known to sneak a pour of coffee into my shakes as well. So, when I saw these two in The First Mess Maca Caramel Frap, I dove right in. Maca has a malty, earthy flavor and, most importantly, a noticeable energy kick. You'd think it might be the coffee, but I get the same energy boost when I add only Maca and no coffee to my shakes.
There are a few items you'll need to prepare in advance: the frozen banana (I always keep a gallon ziplock bag of half-cut bananas in the freezer); cold brewed coffee (you can cold brew, when needed, or use yesterday's leftovers); and soaked cashews (soak the cashews overnight in cold water or soak in boiling water for 10 minutes as you're preparing the rest of the shake… I used boiling water from my electric tea kettle while preparing the other ingredients).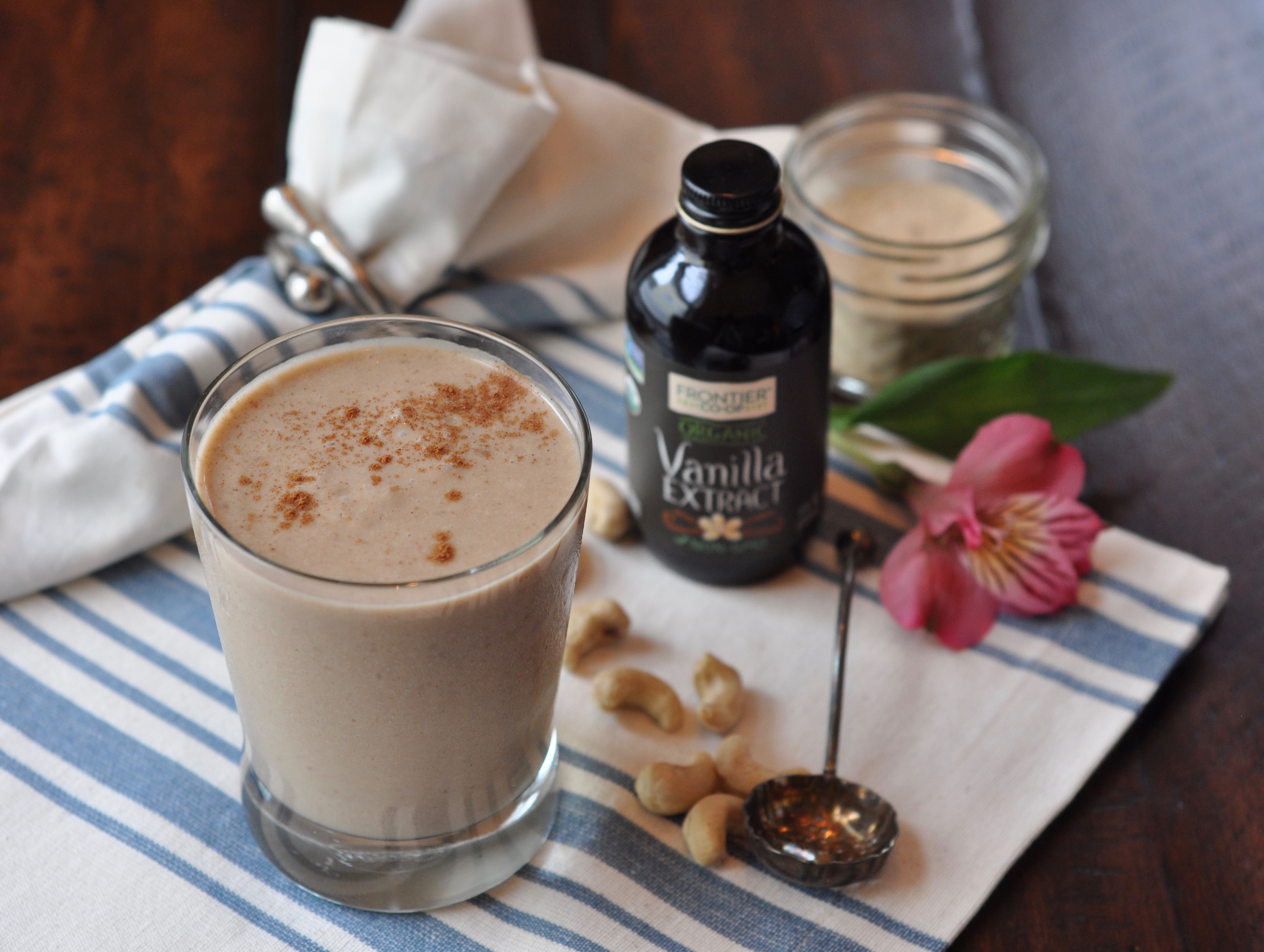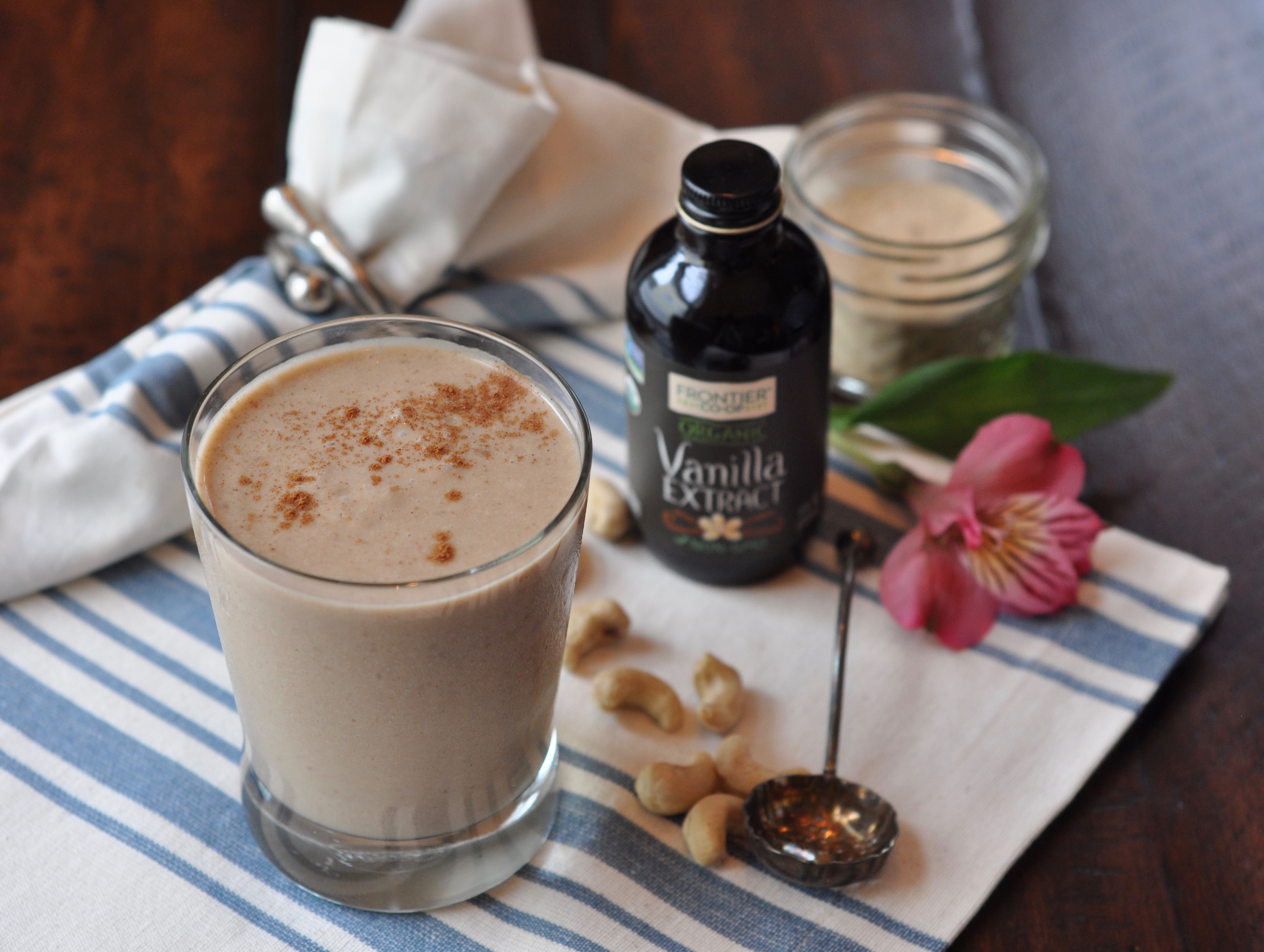 Vegan Power Frappe
2016-05-22 11:25:43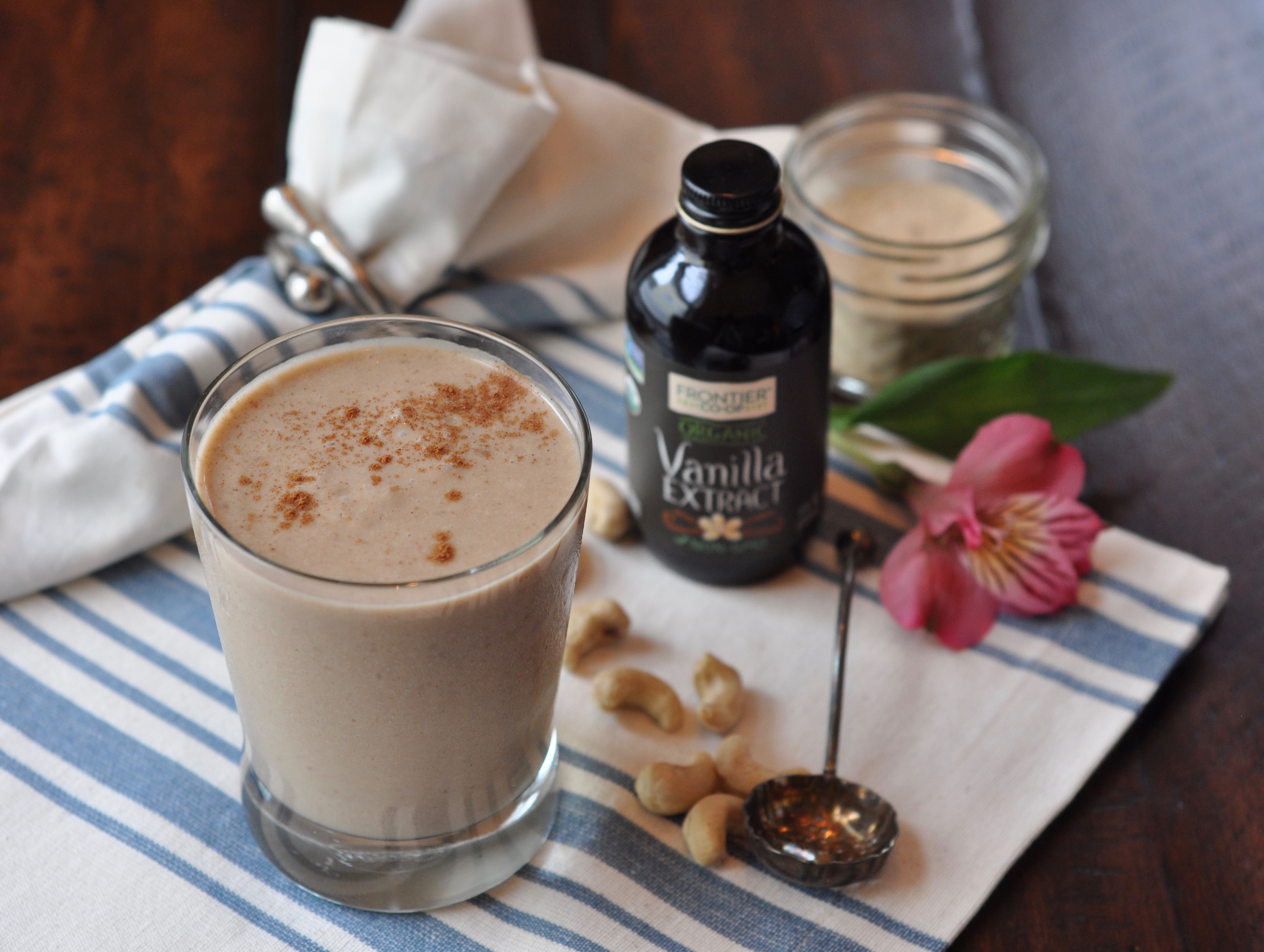 Serves 2
This rich vegan frappe will give you just the boost of energy you need to get your day started!
Nutrition Facts
Amount Per Serving
* Percent Daily Values are based on a 2,000 calorie diet. Your Daily Values may be higher or lower depending on your calorie needs.
Ingredients
1/2 cup raw cashews, soaked for 10 minutes in boiling water
4 soft Medjool dates, pitted
1 banana, sliced and frozen
Handful of ice cubes
2 teaspoons Maca powder
1 teaspoon vanilla extract
1/4 teaspoon fine sea salt
1/2 cup cold brewed coffee
1/2 cup unsweetened, unflavored almond or coconut milk
Instructions
Soak the raw cashews in a bowl with boiling water for 10 minutes. You can boil the water in the microwave, stove top or tea kettle.
For the coffee, you can cold brew or use yesterday's leftover coffee...
Combine all of the ingredients in a high-speed blender. Blend the mixture on high until smooth and frothy. Enjoy!
Adapted from The First Mess
TraveLynn Eats http://www.travelynneats.com/
<a href="http://www.bloglovin.com/blog/14927009/?claim=grm2fwqvawf">Follow my blog with Bloglovin</a>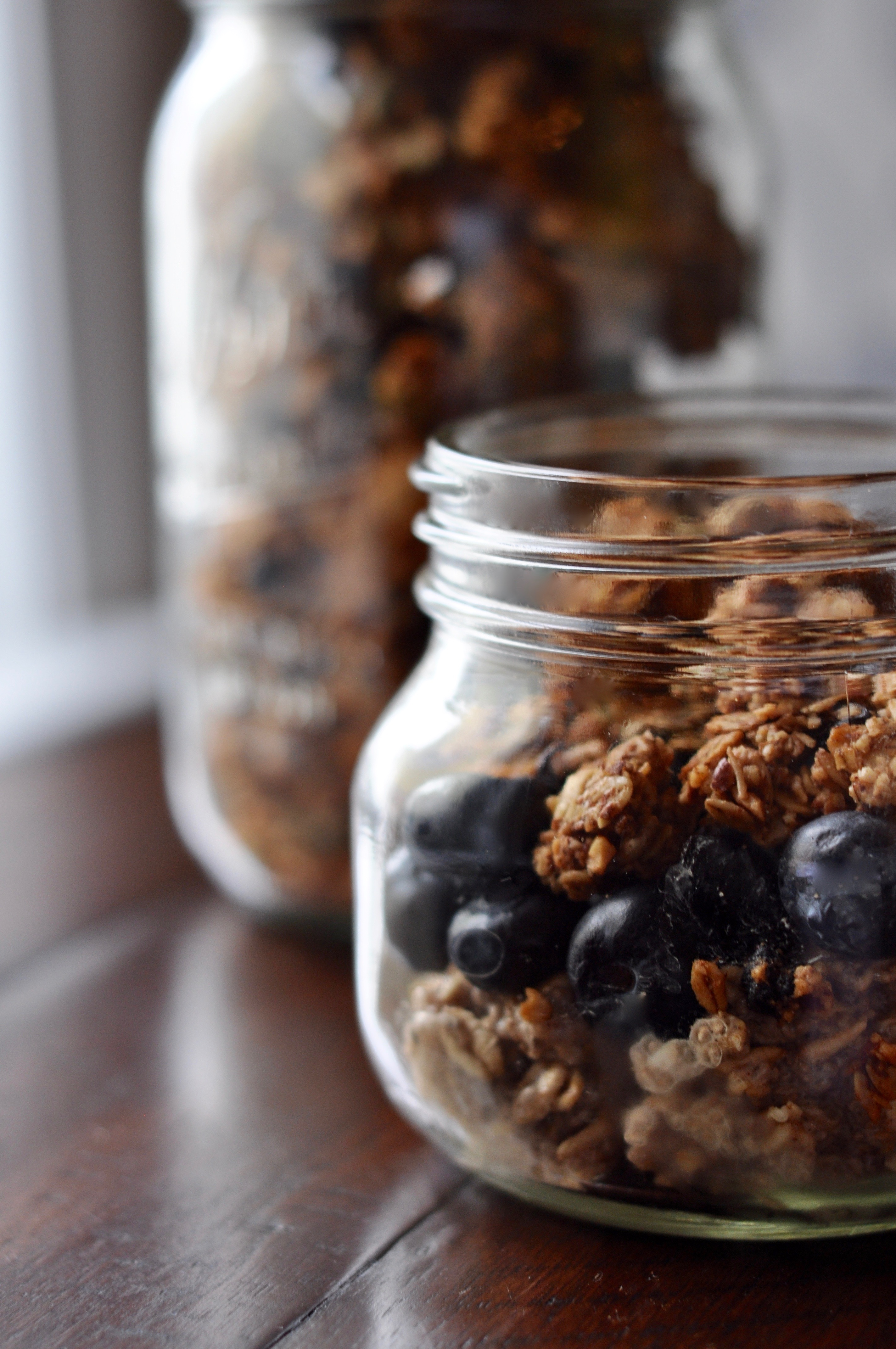 Every time I find myself in Dupont Circle, I wonder why I'm not wandering around Dupont Circle more often. It's a charming and lively spot in the city: embassies, restaurants, shops, bookstores, eclectic everything. On each visit, I seem to end up at Kramerbooks & Afterwards Cafe. There are many things I love there: books and food and cashiers with nose piercings and tucked in the corner by the cafe… cookbooks… a.k.a. foodie romance novels.
And just like that, another one for the collection: The Oh She Glows Cookbook, Over 100 Vegan Recipes to Glow from the Inside Out by Angela Liddon. Not because I'm vegan, but just because I want to be more mindful of what I'm eating. In the interest of more mindful eating, I thought I'd start with breakfast… Because, in my world, coffee is a food group… It's what's for breakfast… I'm not a morning person… so, I knew this new mindful eating thing would have to be easy if involving breakfast. And, with that, I present to you: Angela's Vegan Overnight Oats with Nutty Granola Clusters. They are simply delicious. If you're skeptical of cold oats… don't be. Vegan oats… It's what's for breakfast.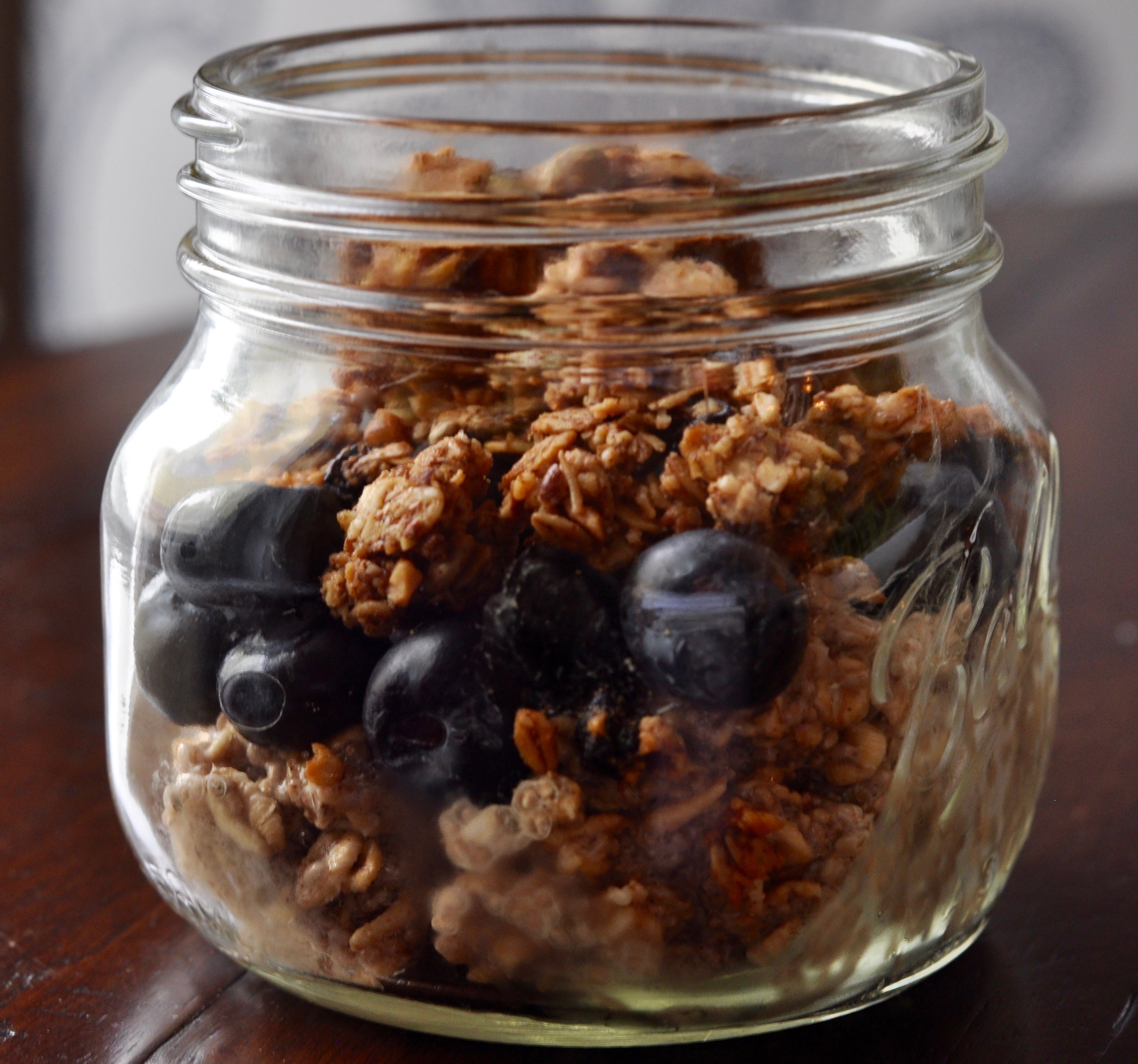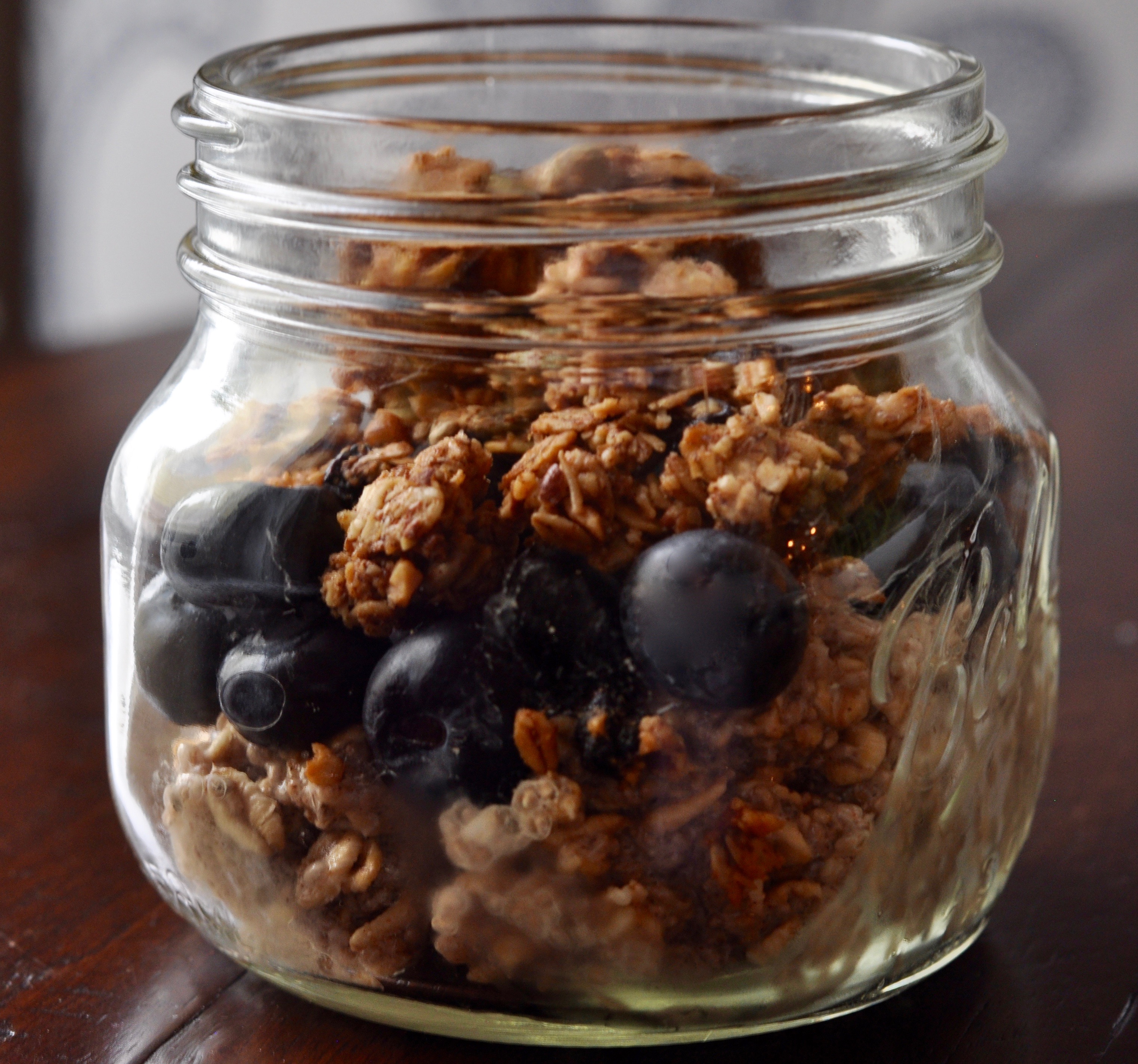 Easy Vegan Overnight Oats with Nutty Granola Clusters
2016-05-11 21:10:55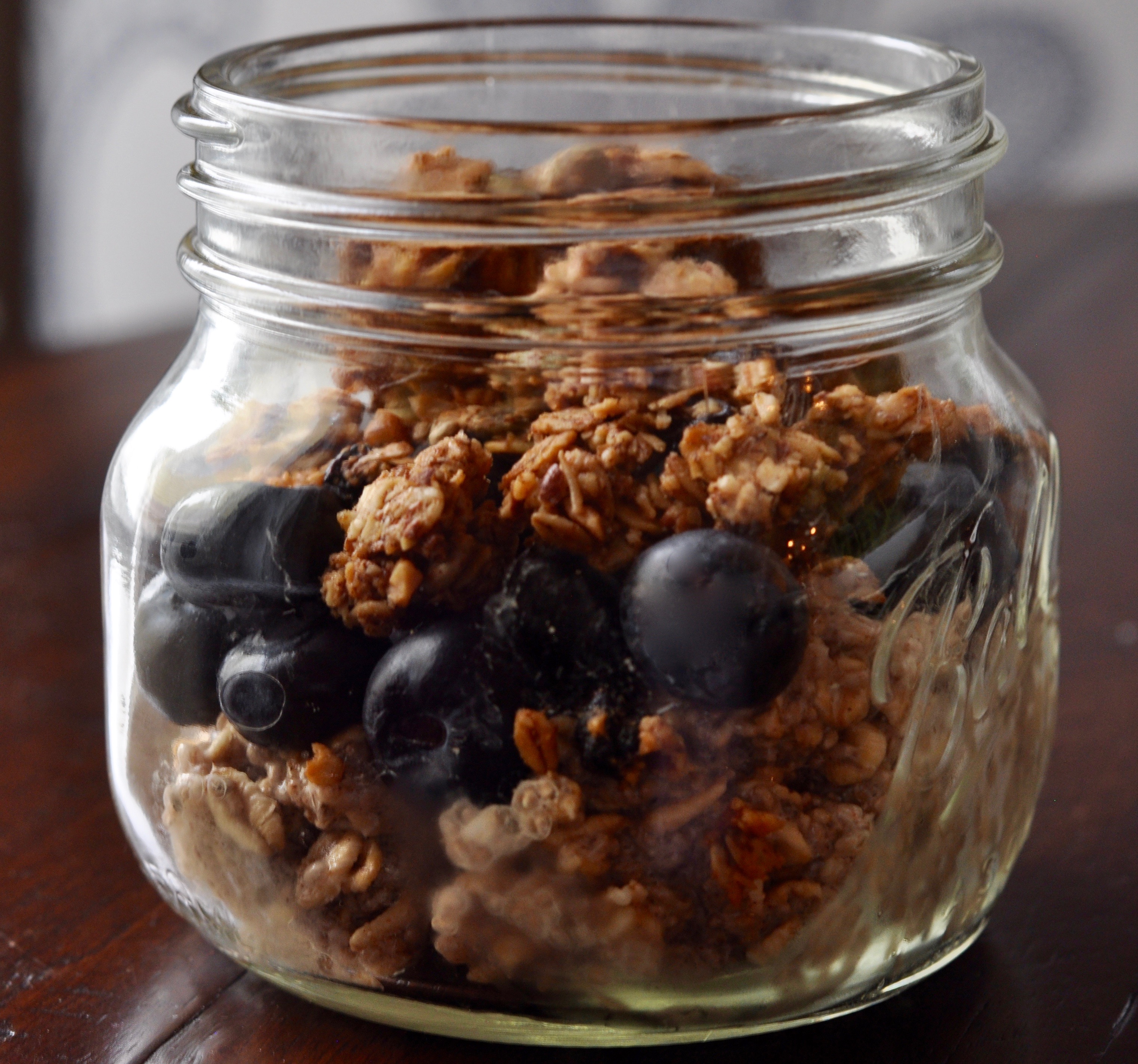 Serves 4
Easy prep, CHILL OVERNIGHT so you can chill in the morning, top with your favorite fruit and nutty granola.
Nutrition Facts
Amount Per Serving
* Percent Daily Values are based on a 2,000 calorie diet. Your Daily Values may be higher or lower depending on your calorie needs.
Vegan Oats
1 cup rolled oats
1 1/2 cups almond milk
1/4 cup chia seeds (white chia seeds if you can find them)
1 large banana, mashed
1/2 teaspoon ground cinnamon
For serving
Blueberries or fresh berries of your choice
Nutty Granola Clusters
Maple Syrup
Nutty Granola Clusters
1 cup whole raw almonds
1/2 cup raw pecans
1 1/4 cup rolled oats
2/3 cup mixed dried fruit (cranberries, cherries and/or blueberries)
1/2 cup raw pepita seeds
1/4 cup raw sunflower seeds
1/3 cup shredded unsweetened coconut
2 teaspoons ground cinnamon
1/4 teaspoon fine-grain sea salt
1/4 cup + 2 tablespoons pure maple syrup (or other liquid sweetener)
1/4 cup coconut oil, melted
2 teaspoons pure vanilla extract
Vegan Oats
In a small bowl, thoroughly mix the oats, almond milk, chia seeds, mashed banana and cinnamon. Cover and refrigerate overnight to thicken. In the morning, if too thick--add a little almond milk.
Nutty Granola Clusters
Pre-heat the oven to 275 degrees. Line a large baking sheet with parchment paper.
Place 1/2 cup almonds into a food processor and process for 10-15 seconds, until a fine meal forms. Transfer the ground almonds to a large bowl.
In the food processor, combine the remaining 1/2 cup almonds and 1/2 cup pecans and process 5-10 seconds, until finely chopped (there will be some fine meal and some larger pieces). Add to the bowl with the almond meal.
Add the oats, dried fruit, pepita seeds, sunflower seeds, coconut, cinnamon and salt to the large mixing bowl and stir.
In a small bowl, combine the maple syrup, melted oil and vanilla and then mix into the large bowl with the oats.
With a spatula, spread the granola into a 1/2 inch layer on the baking sheet and gently press to lightly compact it. Bake for 20 min, then rotate the pan and bake for 18-20 minutes more--until the granola is lightly golden.
Cool the granola in the pan for at least 1 hour and then break apart and store in a glass jar. The granola stores for 2-3 weeks in the refrigerator or freezer for 4-5 weeks.
To serve
In a jar or parfait dish, layer the oats, fresh berries and granola and drizzle with a little maple syrup, if desired.
Adapted from The Oh She Glows Cookbook
Adapted from The Oh She Glows Cookbook
TraveLynn Eats http://www.travelynneats.com/