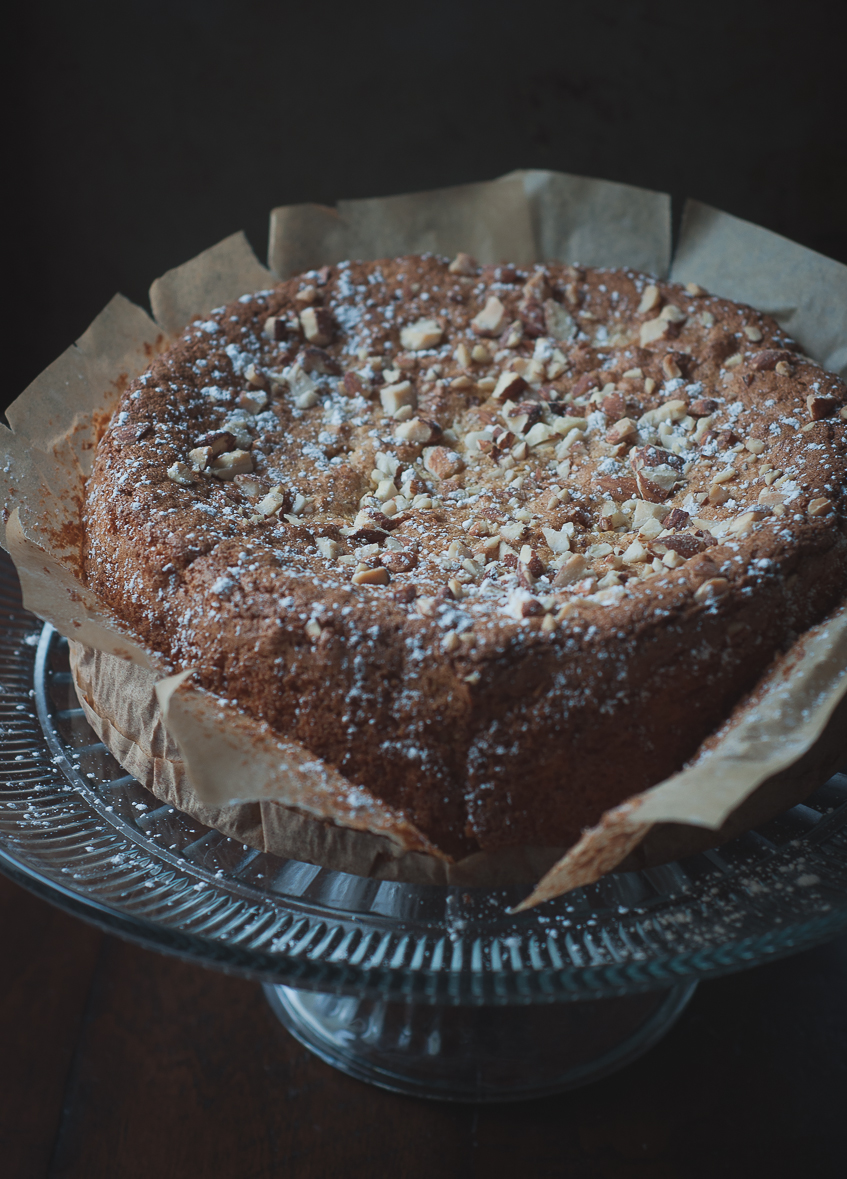 I love contrast. Light, dark, bitter, sweet, soft, strong, black, white, whisper, loud, cause, effect, beginning, end. Sometimes it's not enough to luxuriate in the gray area; you have to stretch your arms wide and reach out to the fringes. You know, pull the ends together to a point of juxtaposition…until the opposites are uncomfortably close. Maybe that's this cake for me. Bright, dark, nutty, deep, citrus spark, spicy, intense, playful.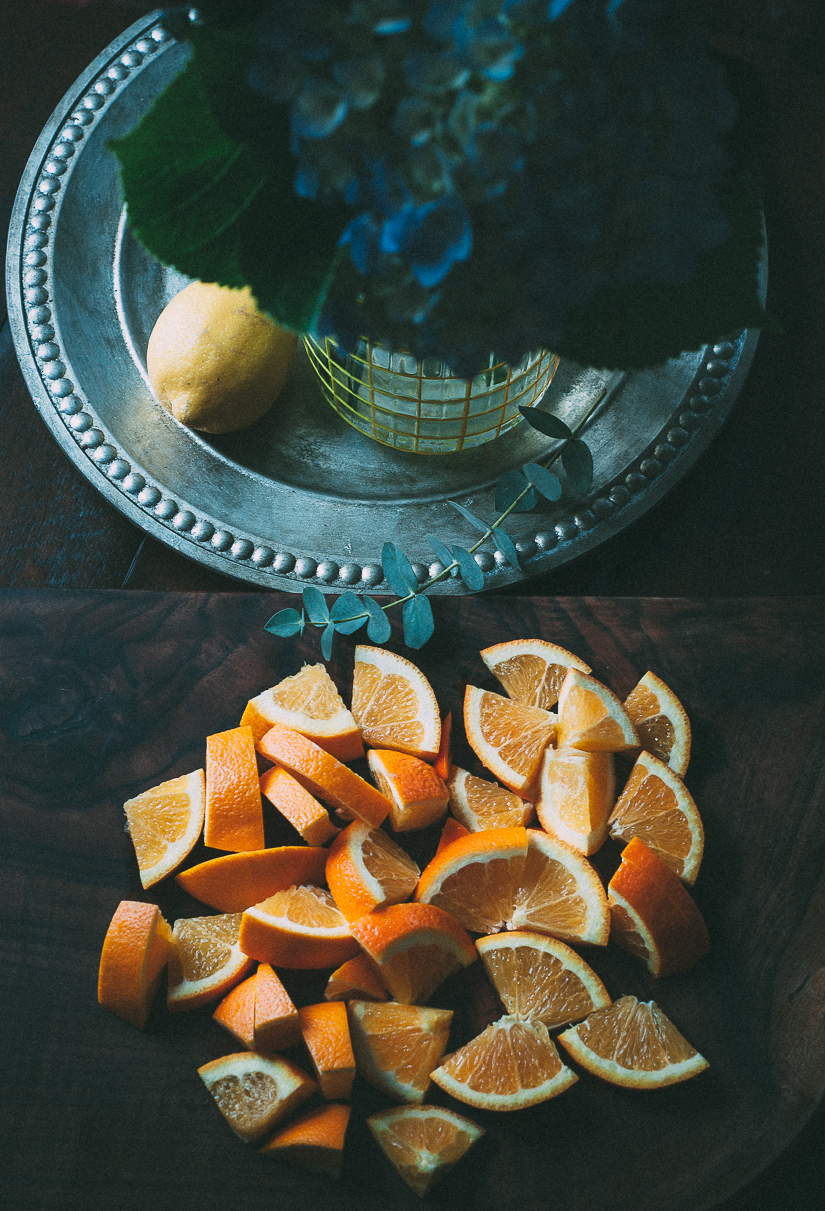 If you like citrus, this is your game. If you need a gluten-free sweet, try this. If you're looking for an under-10-ingredient cake, dig in. If you're wanting something different, don't wait.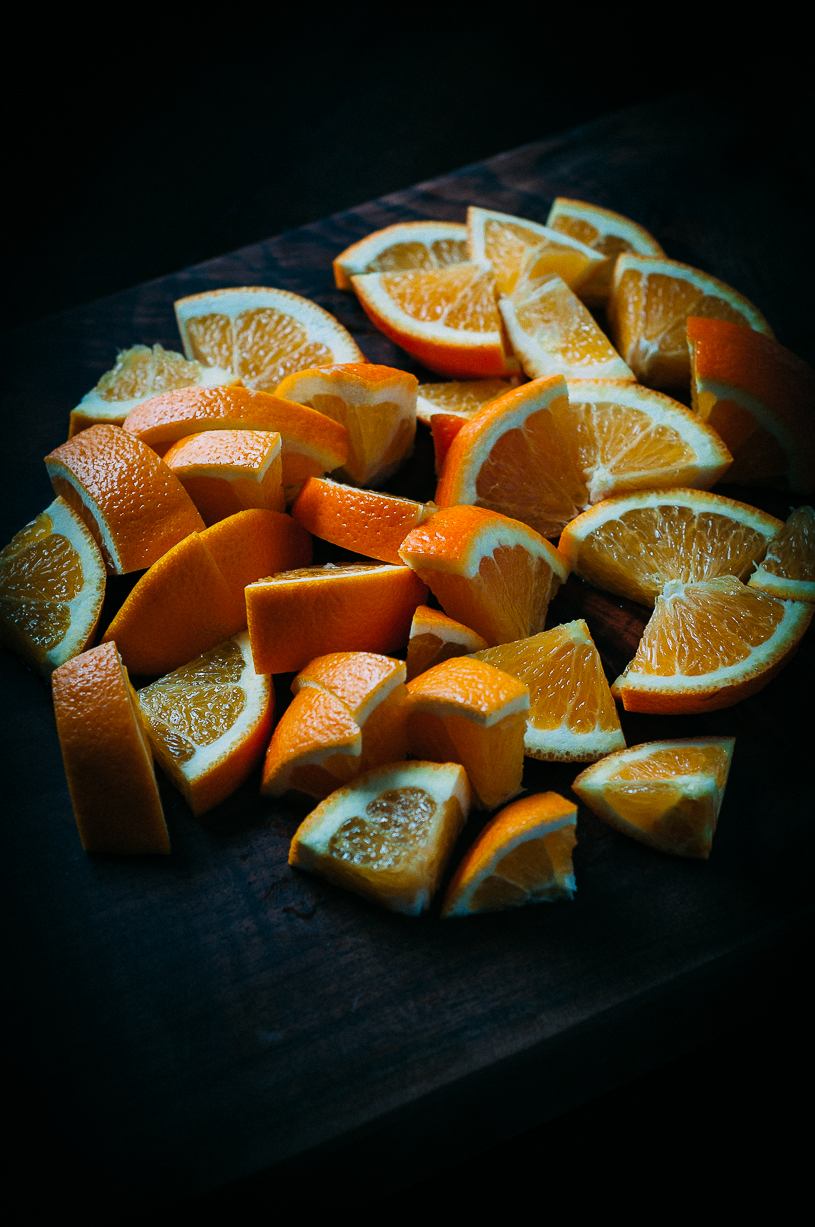 The orange will grab your attention, but the saffron and cardamom will pull you in and linger on your tastebuds.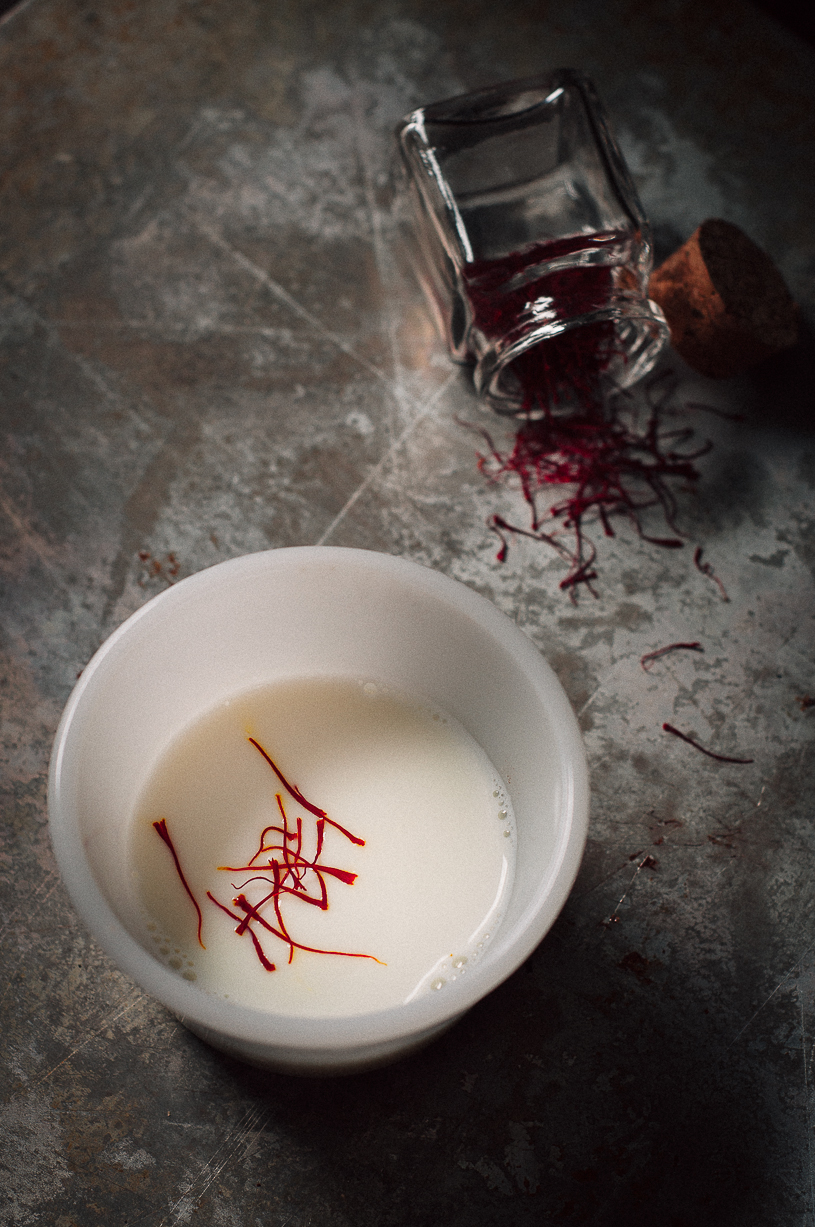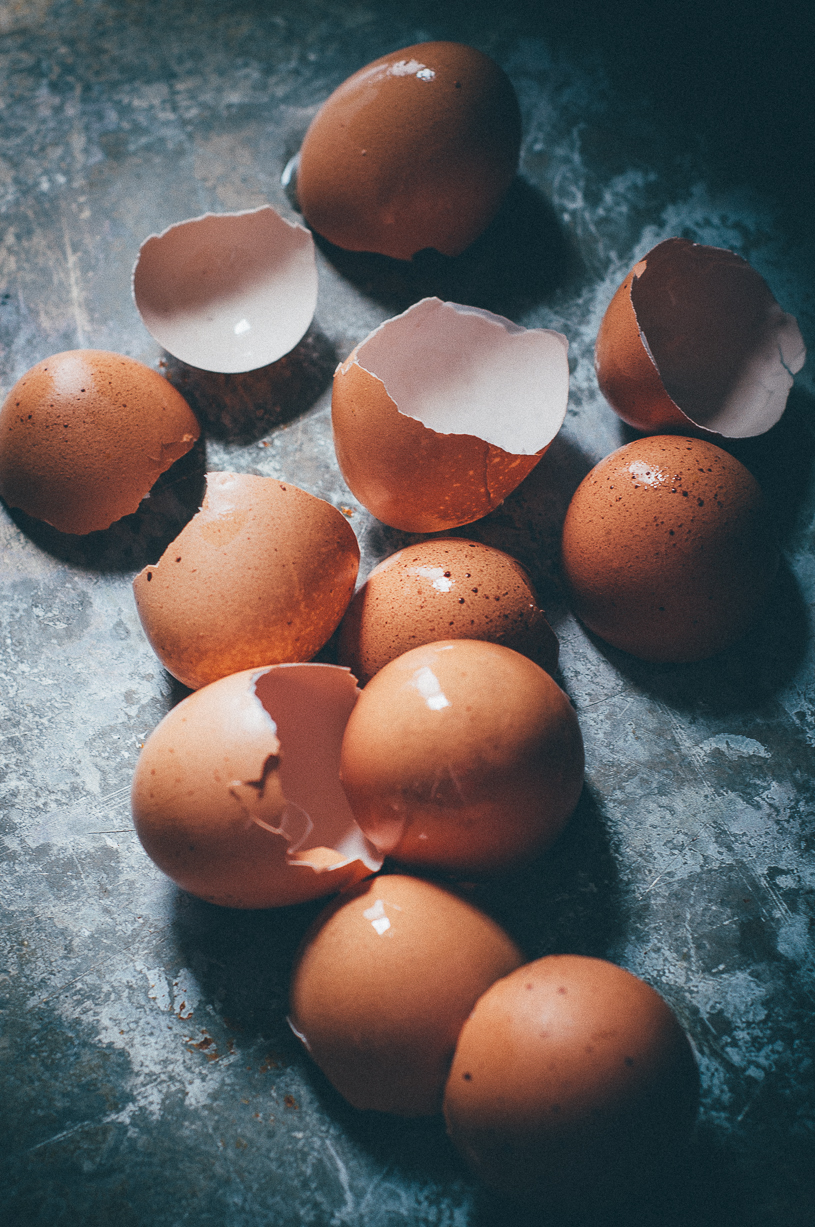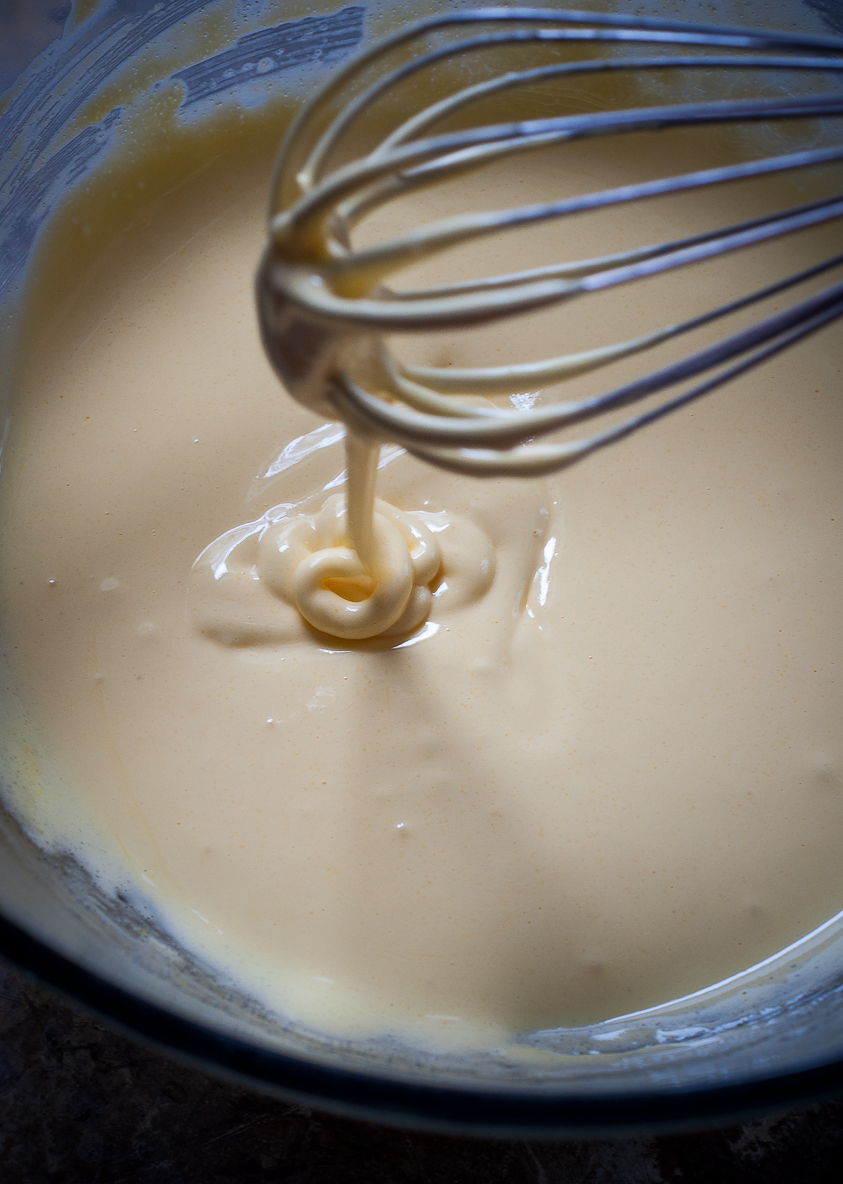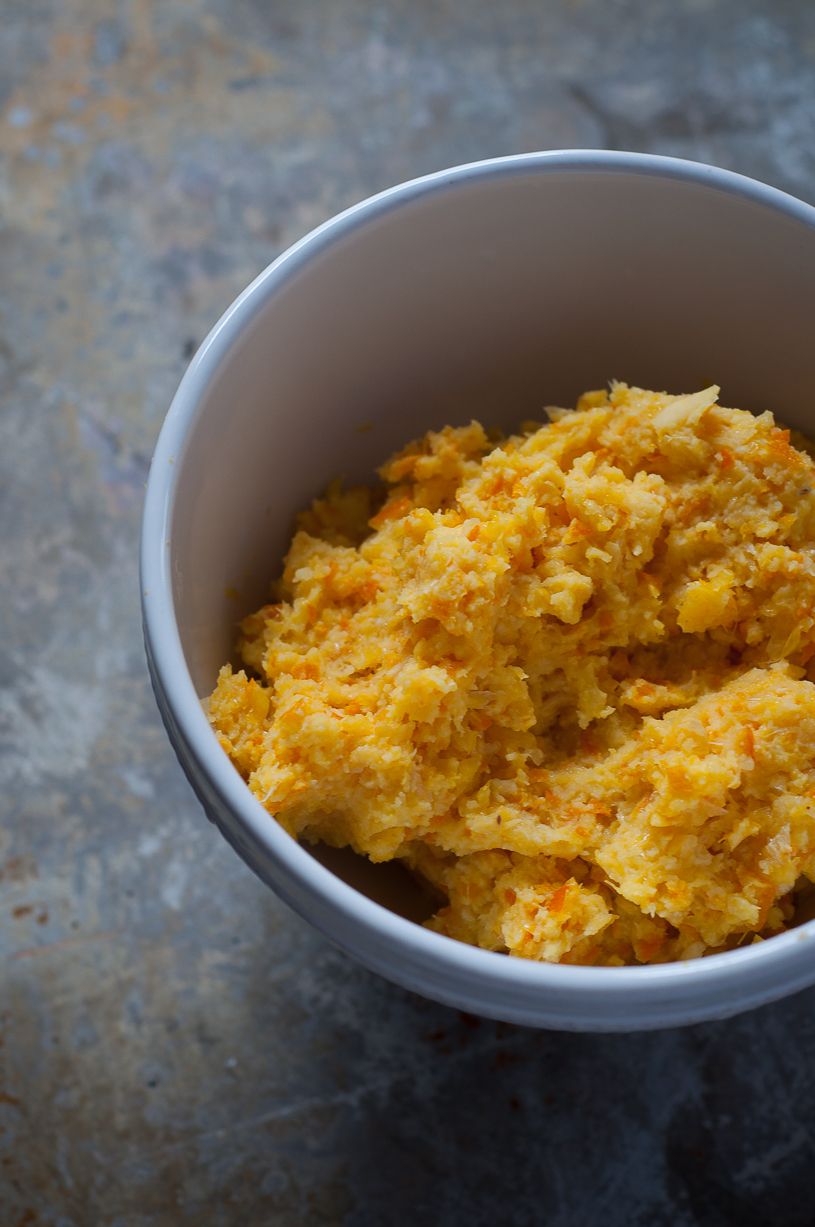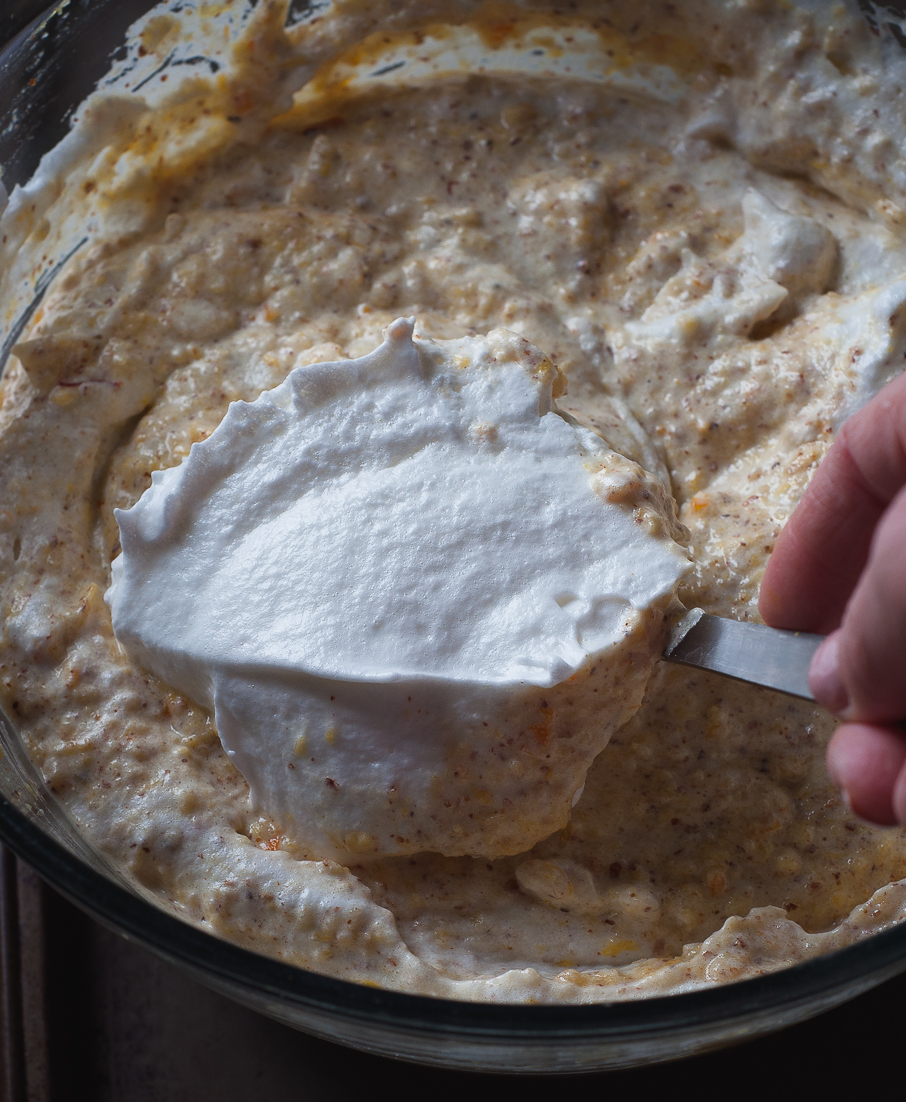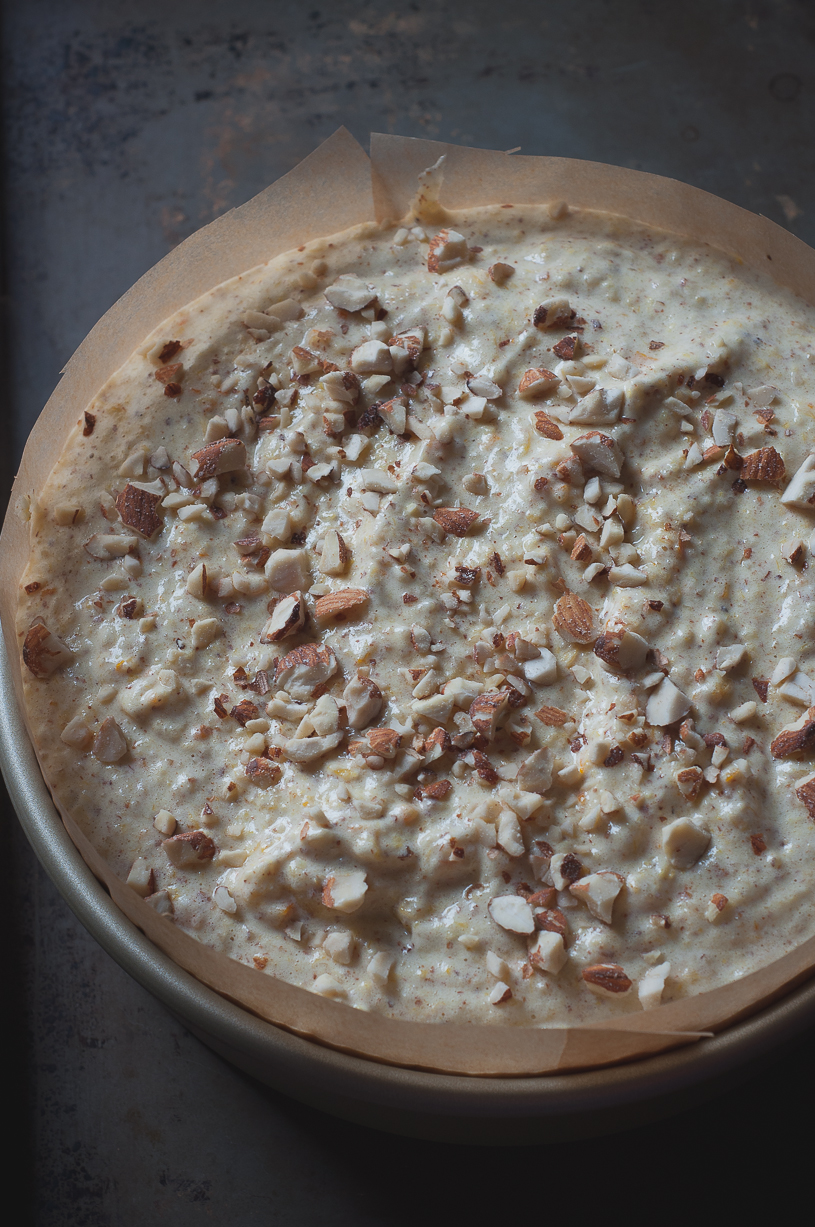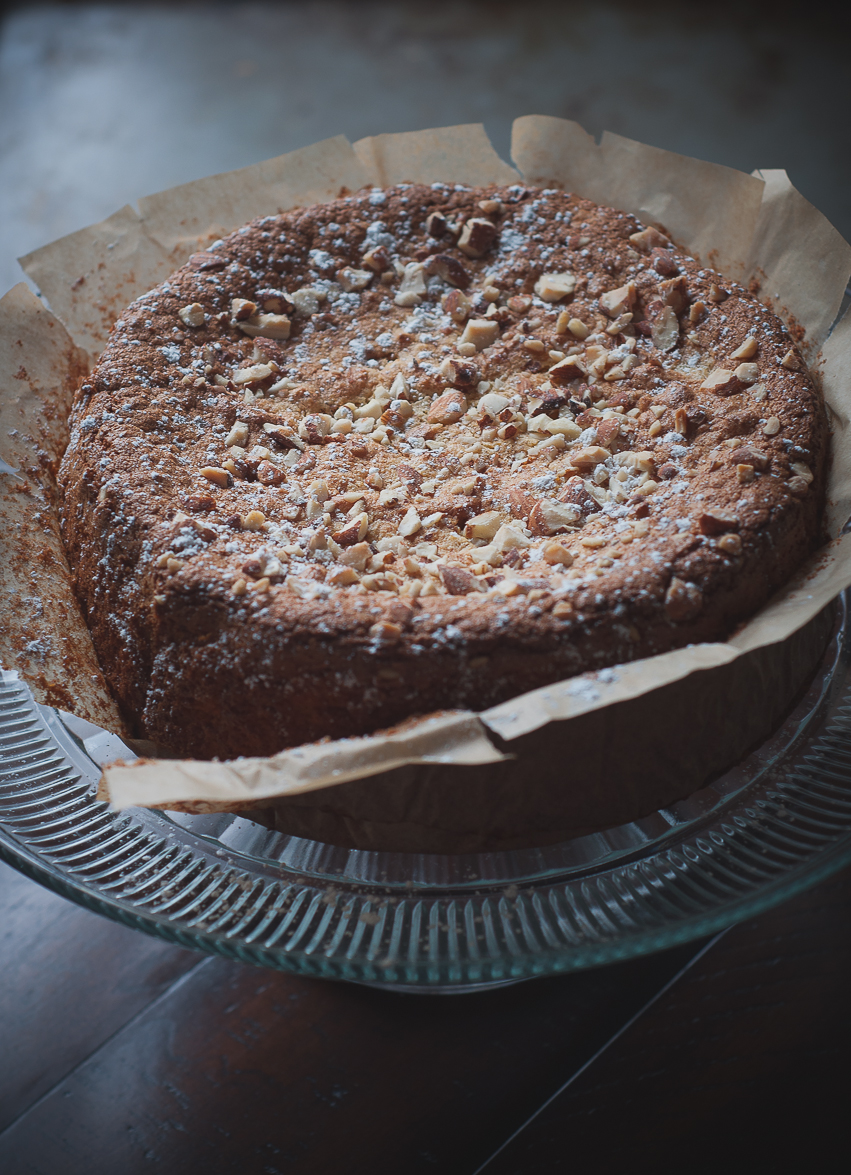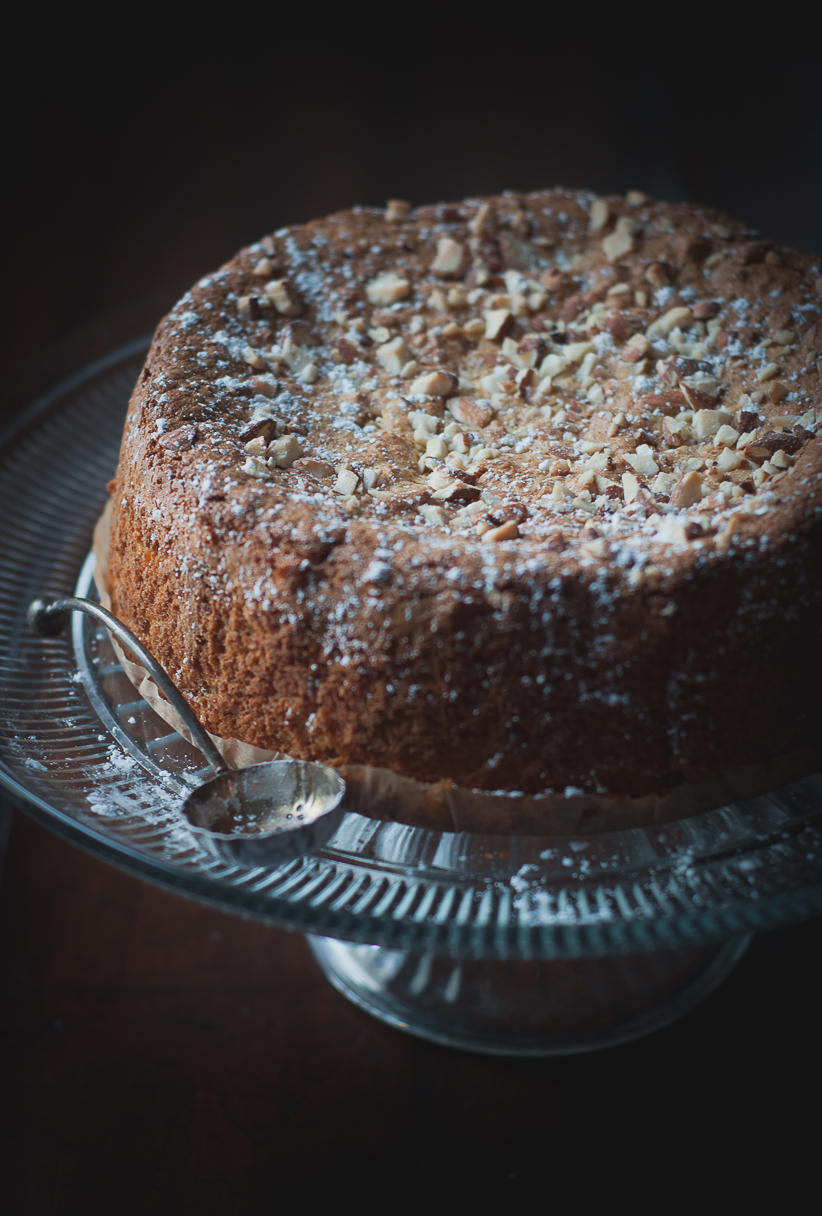 Sublime upon sublime scarcely presents a contrast, and we need a little rest from everything, even the beautiful.
~ Victor Hugo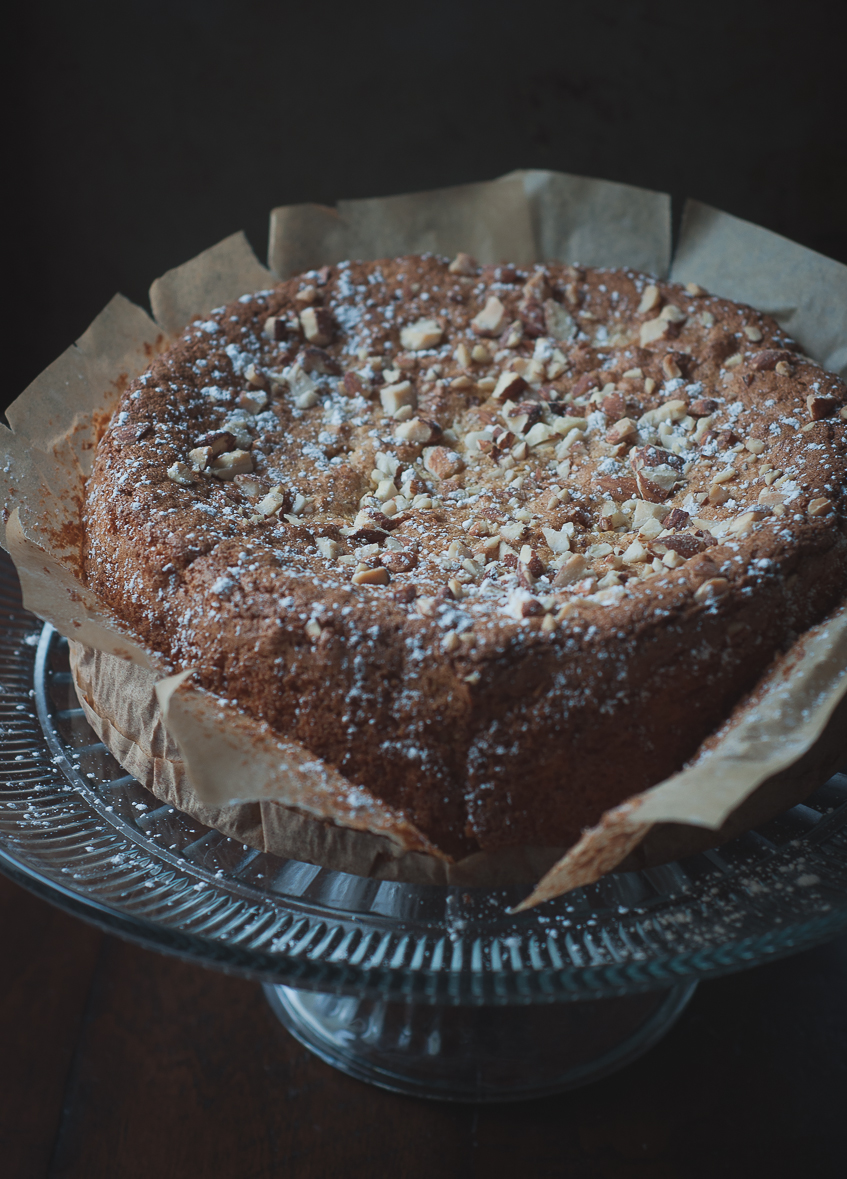 Almond, Orange & Saffron Cake
2017-04-02 14:17:42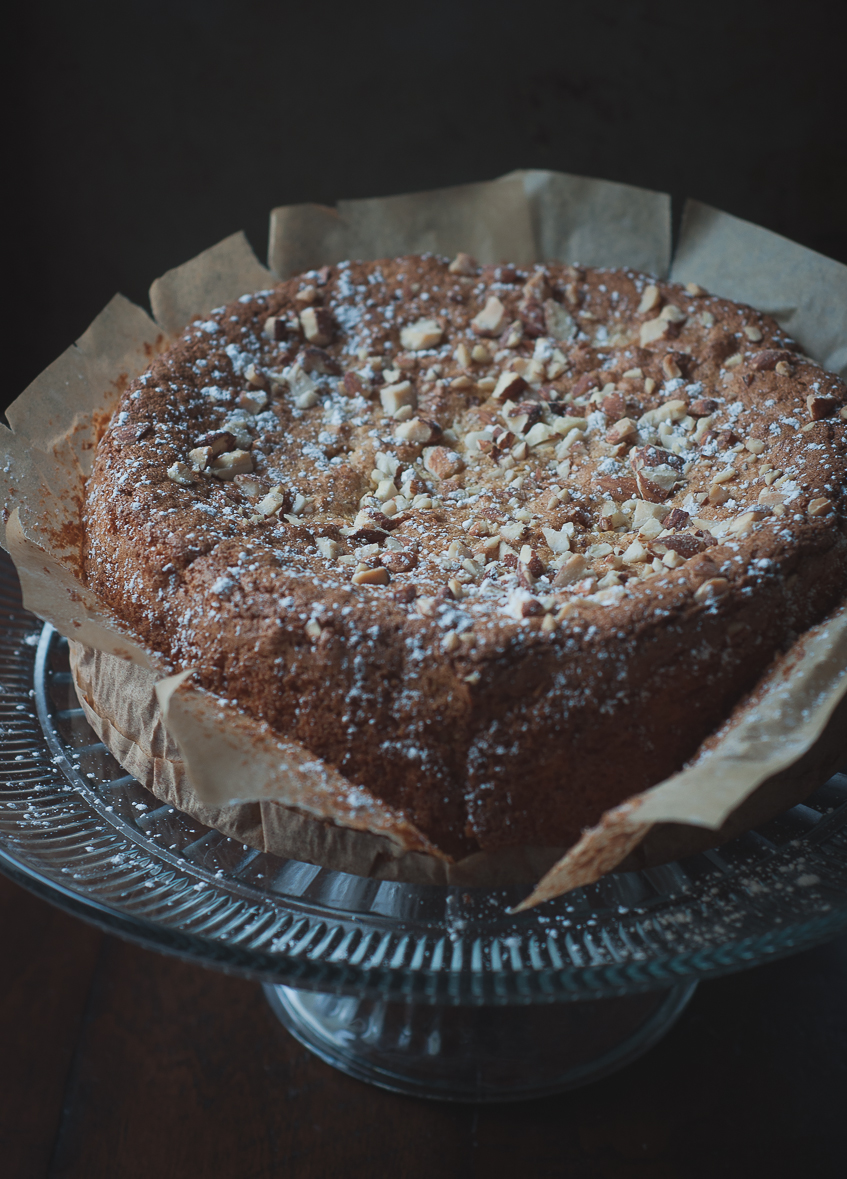 Serves 8
Moist, light, bittersweet orange mixed with spicy notes and subtle almond flavors. This cake is gluten free, delicious, and sure to catch your guest's attention.
Nutrition Facts
Amount Per Serving
* Percent Daily Values are based on a 2,000 calorie diet. Your Daily Values may be higher or lower depending on your calorie needs.
Ingredients
2 medium oranges, chopped (including peel)
5 eggs, separated
Pinch of ground cardamom
Pinch of saffron threads
1/4 cup milk (or unsweetened original almond milk), for soaking saffron threads
1 cup superfine sugar
2 cups ground raw almonds (grind to a flour consistency in a food processor)
2 tablespoons sliced or finely chopped raw almonds
2 tablespoons powdered sugar
Instructions
Preheat oven to 350 degrees F. Line the base and sides of a 9-inch cake pan with parchment paper.
Warm the milk (or almond milk) for 30 seconds in the microwave in a small bowl. Remove the milk from the microwave and place a small pinch (5-6) of saffron threads in the warm milk. Soak the threads in the milk for 30 minutes.
While the saffron is soaking, heat the chopped oranges in a pan over low heat with 1 tablespoon of water. Cover and cook with a gentle simmer for 30 minutes, until the oranges are soft and the liquid has evaporated. Remove the pan from the heat and let cool. When cool, finely chop the oranges in a food processor.
Whisk the egg whites in a clean, dry bowl until soft peaks form. Gradually stir in the superfine sugar and continue to whisk for 1 minute.
In a separate bowl, whisk the egg yolks together with the remaining superfine sugar for 2-3 minutes. Whisk in the oranges and then fold in the ground almonds, ground cardamom, and saffron (with the soaking milk). With a large metal spoon, fold in spoonfuls of egg whites until everything is well combined.
Pour the mixture into the prepared cake pan, sprinkle with sliced or chopped almonds and bake in the oven for 50-55 minutes (or until golden brown). Check every 20 minutes while baking.
Let the cake cool in the pan before turning out and dusting with powdered sugar.
Store in an airtight container for 3 days.
Adapted from My Indian Cookbook
Adapted from My Indian Cookbook
TraveLynn Eats http://www.travelynneats.com/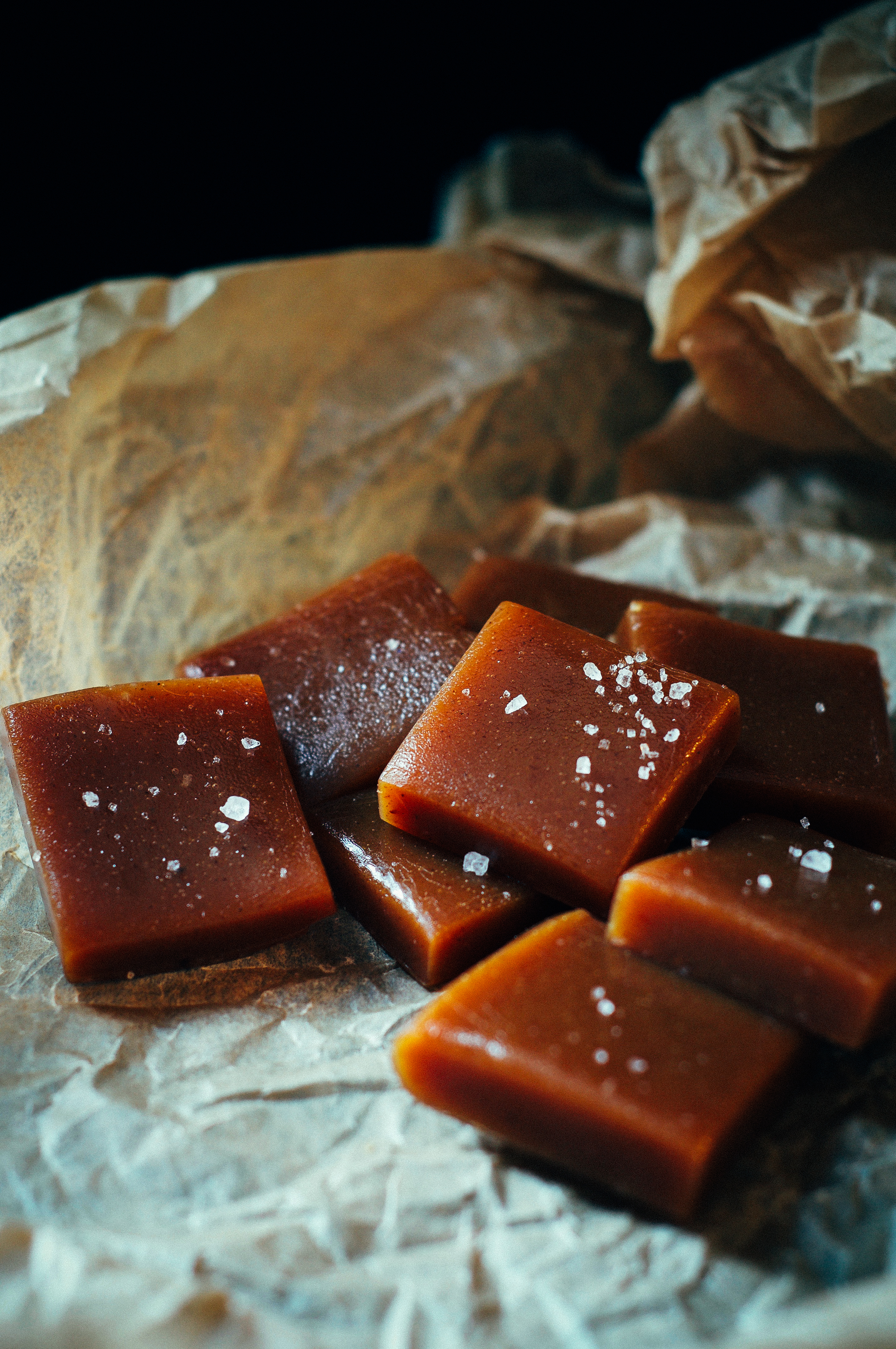 I feel like November just cruised by, top-down-with-the-heater on, leaves floating by, beep-beep, get outta the way… Now, the tree is up, lights twinkling, foggy mornings, forecast snow, humming baby it's cold outside, peeking over my shoulder and wondering how Autumn just zipped on by. It didn't even ease it's foot off the accelerator.
Autumn in Virginia was lovely and it was short-lived. I gave it my all; I really did. Pumpkin Spice Lattes (they taste different when you drink them with a big, chunky home-made yarn scarf hugging your neck…they do…); fall leaf peeping; apple picking in the orchards; the Hunt Races at Montpelier; sneaking gorgeous chunks of squash into unsuspecting dishes; getting nostalgic watching It's the Great Pumpkin, Charlie Brown; and just, well, you know… soaking in the seasonal slow down.
Somewhere, on a country road, at a stand filled with apples and gourds, at a location I'll never remember, I picked up some apple cider. This isn't the clear jug of apple cider on Aisle 9 that looks curiously like the apple juice snuggled up next to it. This is the cloudy, thick, spicy, rich, country stand apple cider. I've also found some great, seasonal apple ciders in the refrigerator section at the grocery store. Both Trader Joe's and Whole Food's apple ciders are deelishussss.
So, farewell Autumn. Just before I get into the Christmas cookie swing of things, I'm saying au revoir to your color-filled days with these: Apple Cider Caramels.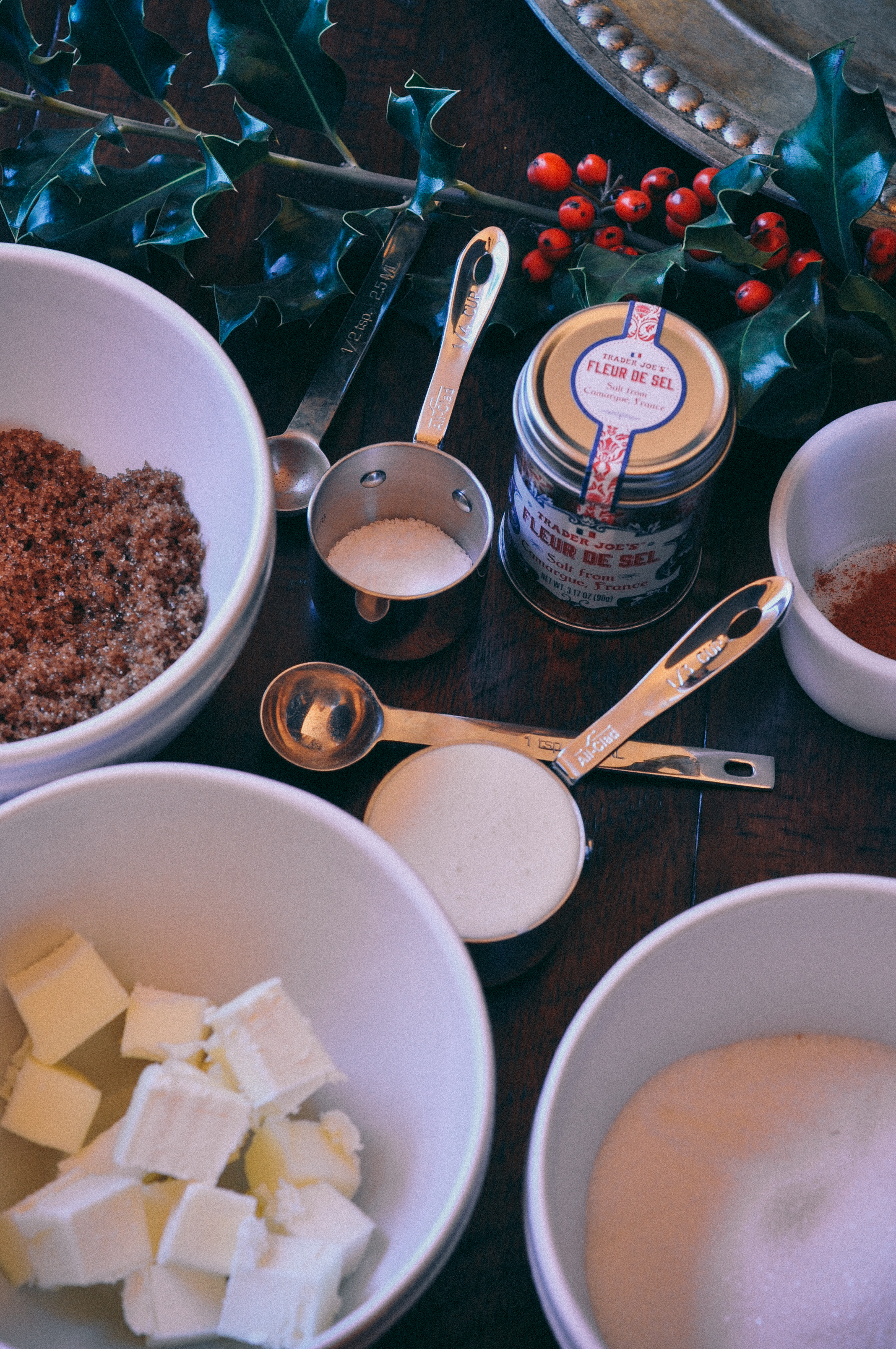 "Autumn is as joyful and sweet as an untimely end."
― Rémy de Gourmont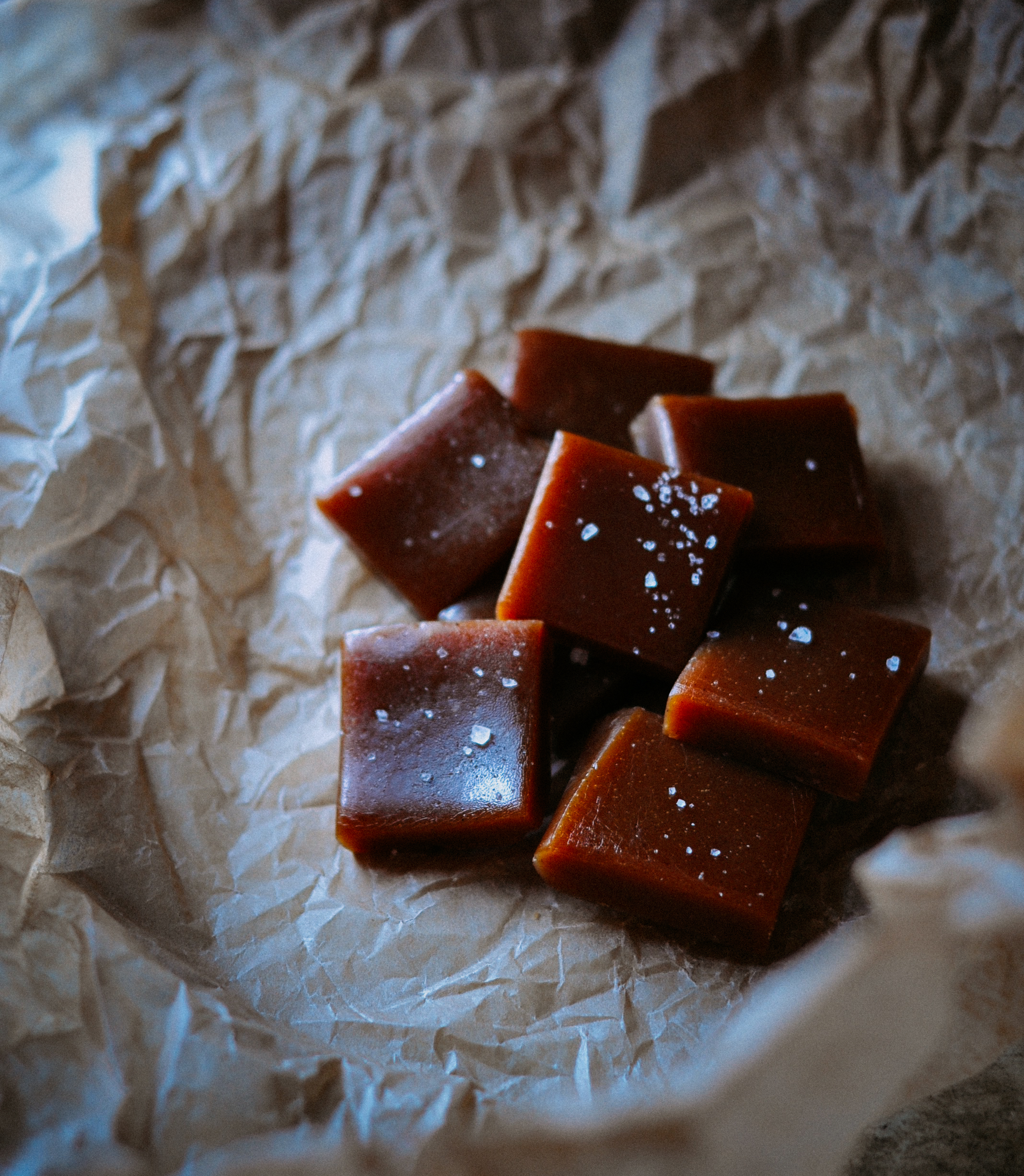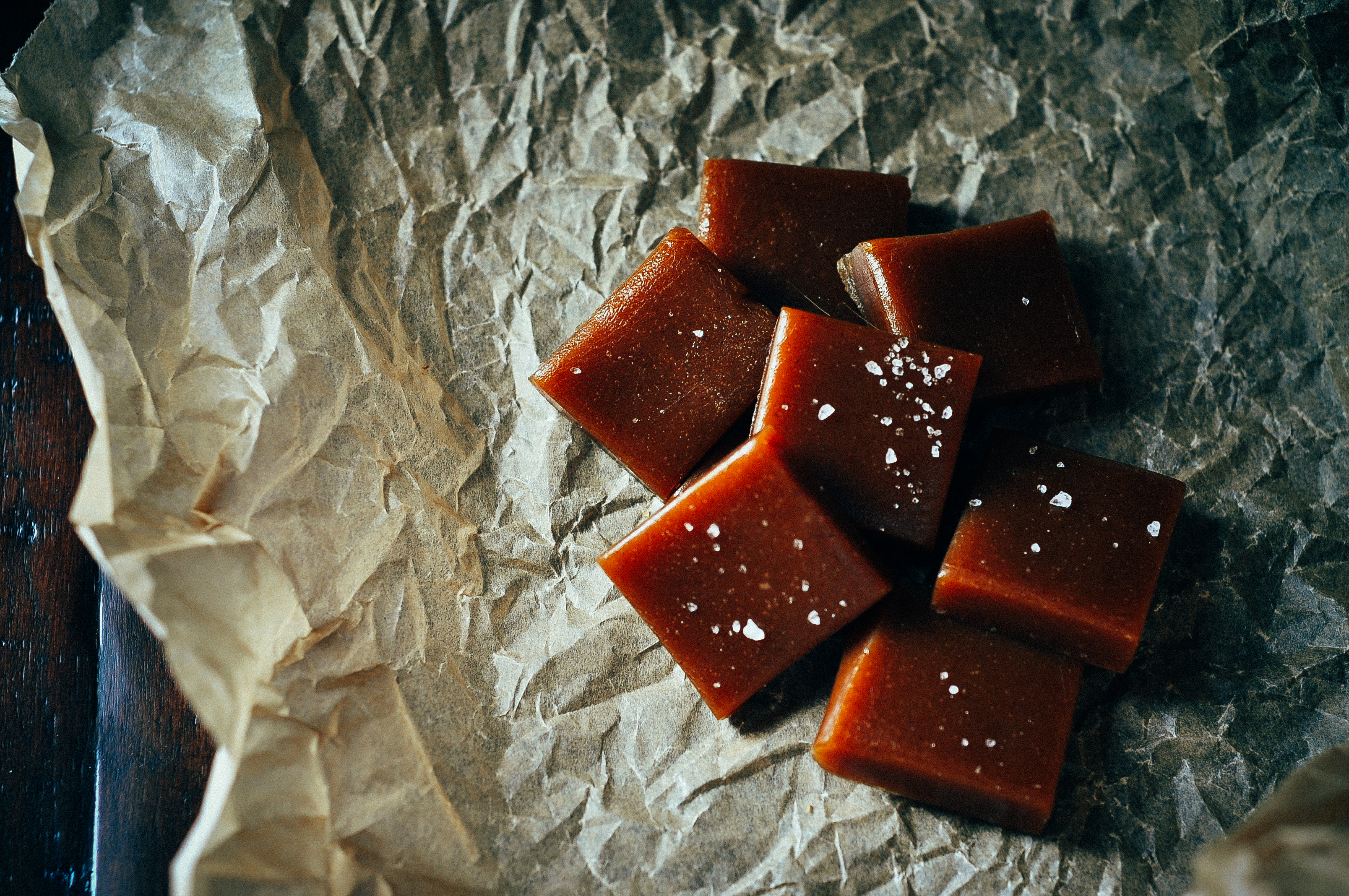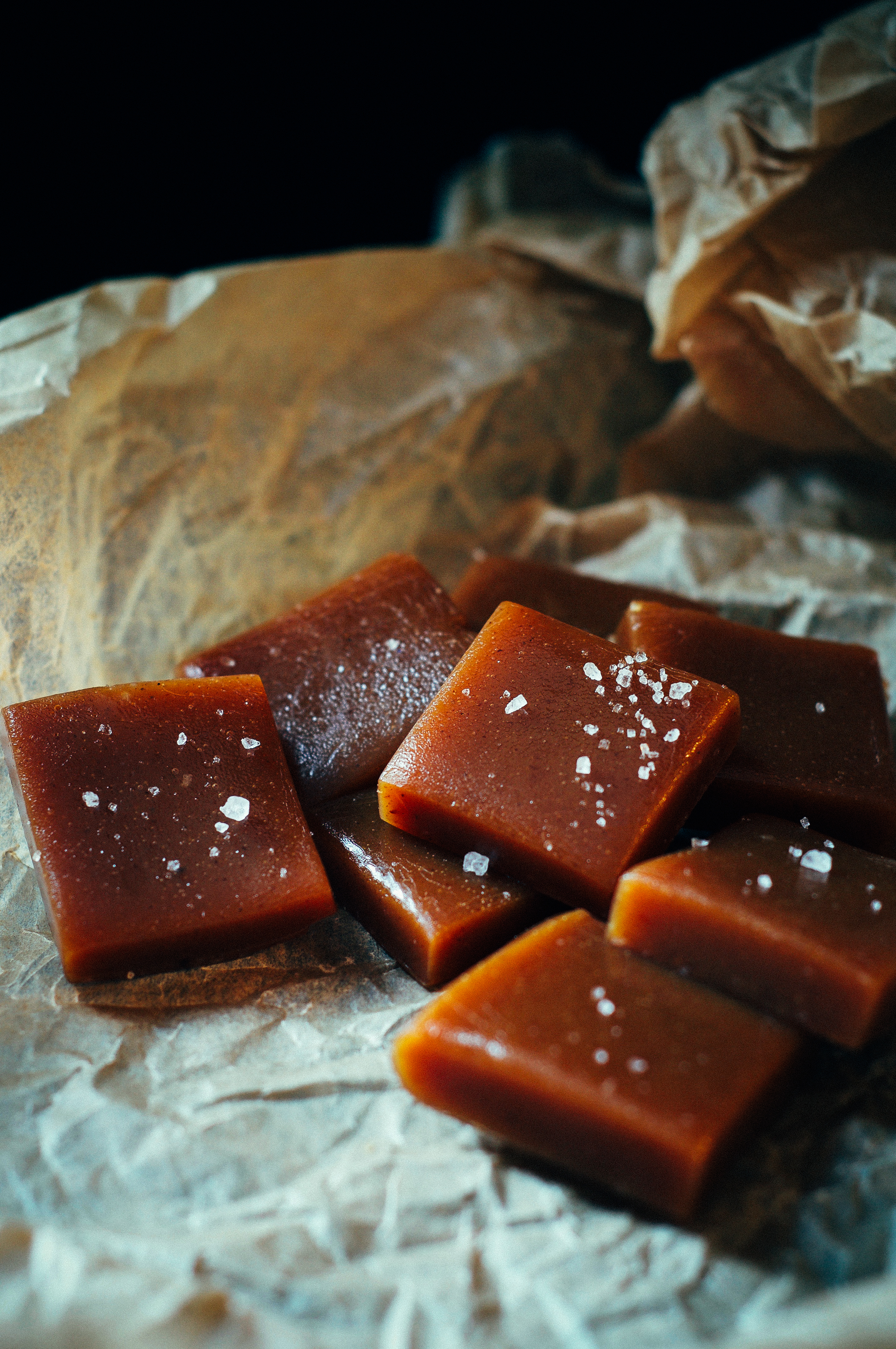 Apple Cider Caramels
2016-12-06 18:54:18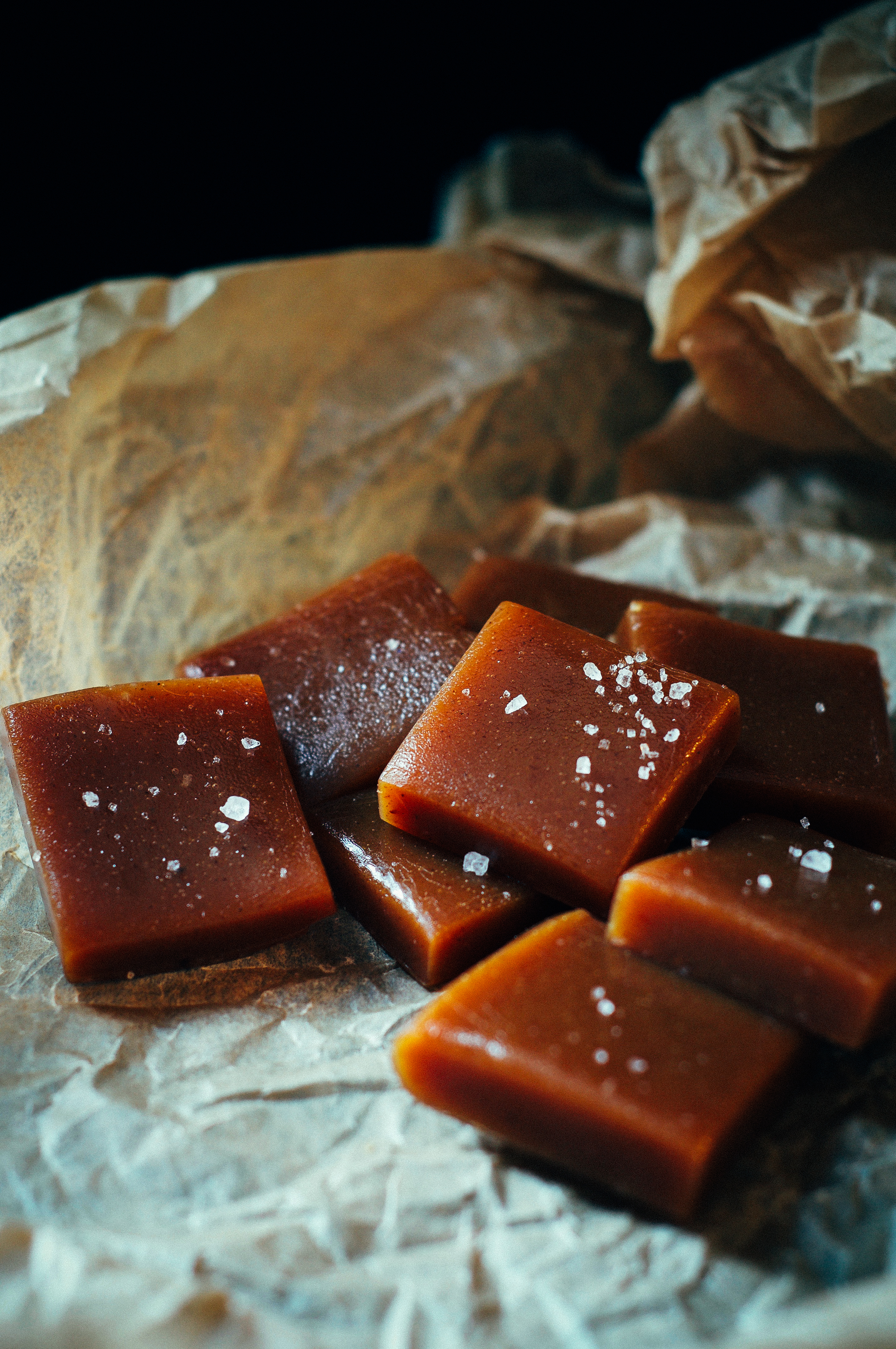 Gorgeous, chewy, spicy, buttery, apple cider caramels. The perfect mix of sweet and salty. So good, so easy, so make right now.
Nutrition Facts
Amount Per Serving
* Percent Daily Values are based on a 2,000 calorie diet. Your Daily Values may be higher or lower depending on your calorie needs.
Ingredients
4 cups apple cider
1 cup granulated white sugar
1/2 cup light brown sugar, packed
8 tablespoons (1 stick) unsalted butter, cut into chunks
1/3 cup heavy cream
1/2 teaspoon ground cinnamon
2 teaspoons Fleur de Sel or flaky salt
Grape seed oil for the knife
Instructions
On high heat, boil the apple cider in a saucepan until it is reduced to a thick syrup (about 1/2 cup in volume) and stir occasionally. This takes about 35 - 40 minutes.
While the cider is boiling, get your other ingredients ready because you'll need to move quickly after the cider is reduced to syrup. Measure the sugars and place in a bowl. Cut the butter into small chunks. Measure the heavy cream. Stir together the cinnamon and salt and place in a separate, small bowl.
Line the bottom and sides of an 8-inch straight-sided square metal baking pan with 2 long sheets of parchment paper (in a crisscross layout). Set it aside.
Once you are finished reducing the apple cider, remove it from the heat and immediately stir in the sugars, butter, and heavy cream. Stir until the mixture is smooth and the butter has melted. Return the pot to medium-high heat for about 5 minutes. Have a bowl of very cold water ready, and cook the caramel (for 5 minutes) until a very small spoonful dropped into the water becomes firm, chewy, and able to be formed into a little ball. If you want to be precise, use a candy thermometer and let it boil until the thermometer reads 252 degrees. Either way, watch the caramel closely; you don't want to under or over cook it.
Immediately remove the caramel from the heat, add the cinnamon and salt mixture, and give it several stirs to distribute the cinnamon/salt evenly.
Pour the caramel into the prepared pan. Let it sit until cool and firm—about 2 hours (only about an hour in the refrigerator). Once the caramel is firm, lift the caramel from the pan by the parchment paper and transfer it to a cutting board. Let the caramel sit out for a little bit before you start cutting it. If it is too cold, it will crack when you try to cut it. Use a well-oiled knife to cut the caramel into 1-by-1-inch squares. Lightly sprinkle the caramels with flaky salt.
Wrap each one in a 4-inch square of waxed paper or parchment, twisting the sides to close. Caramels will be somewhat on the soft side at room temperature and hard and chewy if left in the refrigerator. These caramels keep for about 2 weeks in an airtight container if left outside the refrigerator.
Perfect holiday gift. Unless you eat them all first...
Adapted from The Smitten Kitchen
Adapted from The Smitten Kitchen
TraveLynn Eats http://www.travelynneats.com/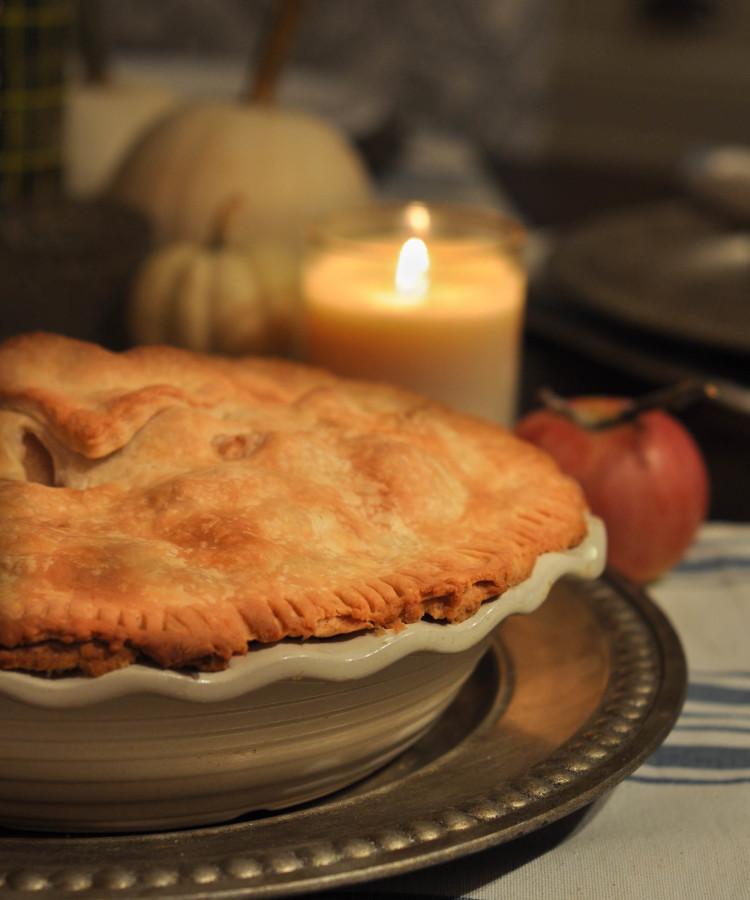 I'm a full-fledged fall fan. It took me a while, but watch out… I'm so in it now… I'm loving your fallen leaves, your crisp mornings and scarf-worthy breezes, your sweat pant hugs, your apple picking.
The apple picking. Virginia, do you ever have some apple picking.
Branches heavy hanging. Children laughing, running through rows, sitting under trees, sneaking little nibbles. Carefree, family outing, dogs curiously sniffing, bags overflowing, enthusiastic fruits, ground covered, harvest tables, so inviting. So lovely, apple pie.
APPLE PIE.
Because there's comfort food, and then there's apple pie.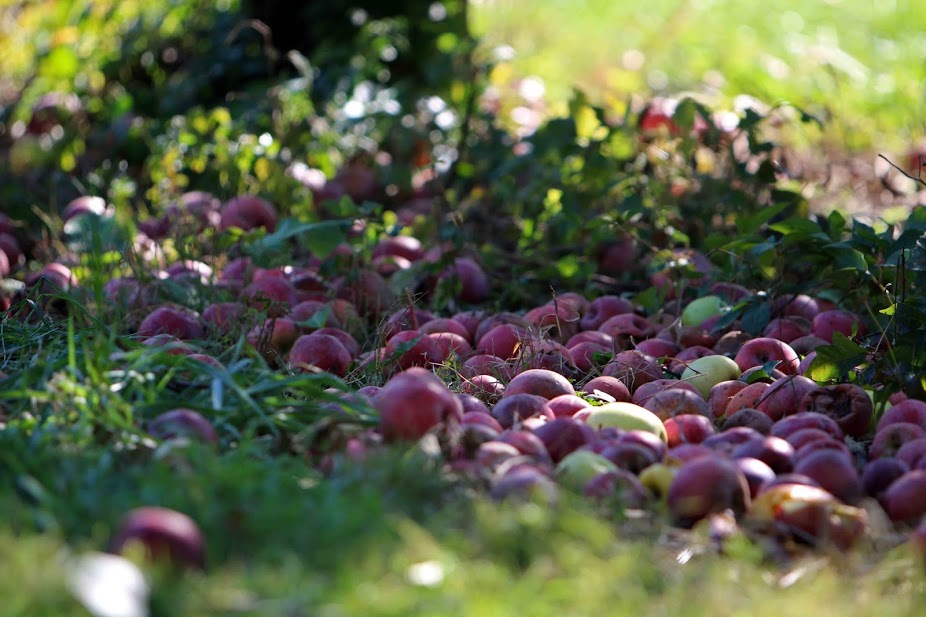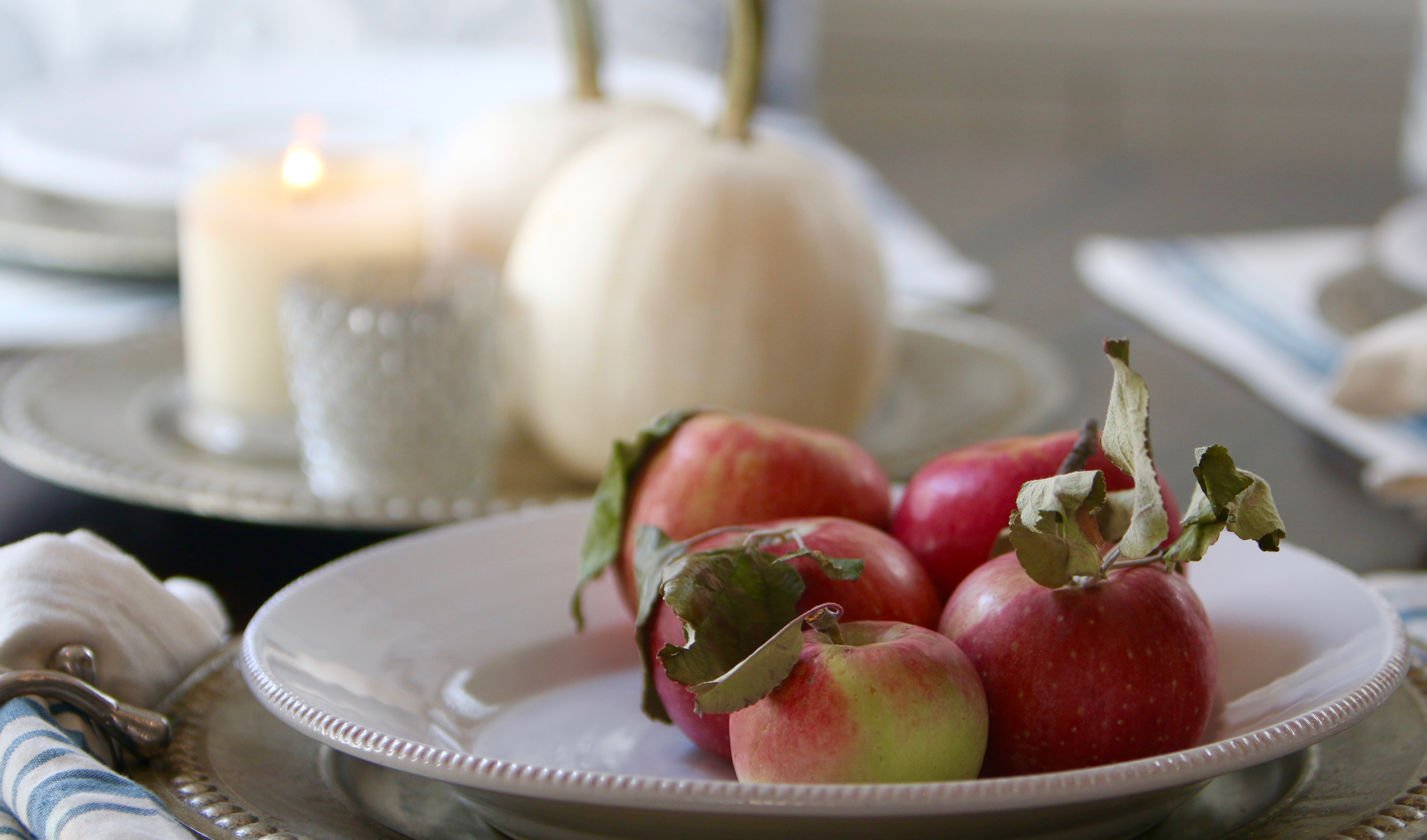 …And I just felt like there was one thing that needed to happen after picking: APPLE PIE.
I have played around with this recipe for years, and I think I've finally reached my version of apple pie perfection. The cinnamon, nutmeg, ginger and dash of cayenne combine into an earthy richness that add a subtle warmth to the sweetness and a balance to the tartness.
A few little tips: 1) Cook the apples in advance. The apples cook down so you can really create a jam-packed apple experience. I've made plenty of apple pies without cooking the apples first, and the results don't even come close. 2) Use an apple wedger (buy one, just do it). 3) Use a great quality pie plate. I use a stoneware pie dish that browns the crust perfectly. And, it just looks cute… I used a mix of Idared and York apples because, well, that's what was on the trees. Result: fantastic. I'm also a fan of Braeburn apples for pie. Ultimately, though, you're the artist and it's your (pie) palette.
"If you wish to make an apple pie from scratch, you must first create the Universe."
Carl Sagan gave a tall order, but I think you'll find this recipe within the realm of the earthly possible. At the very least, you'll end up with a little slice of heaven…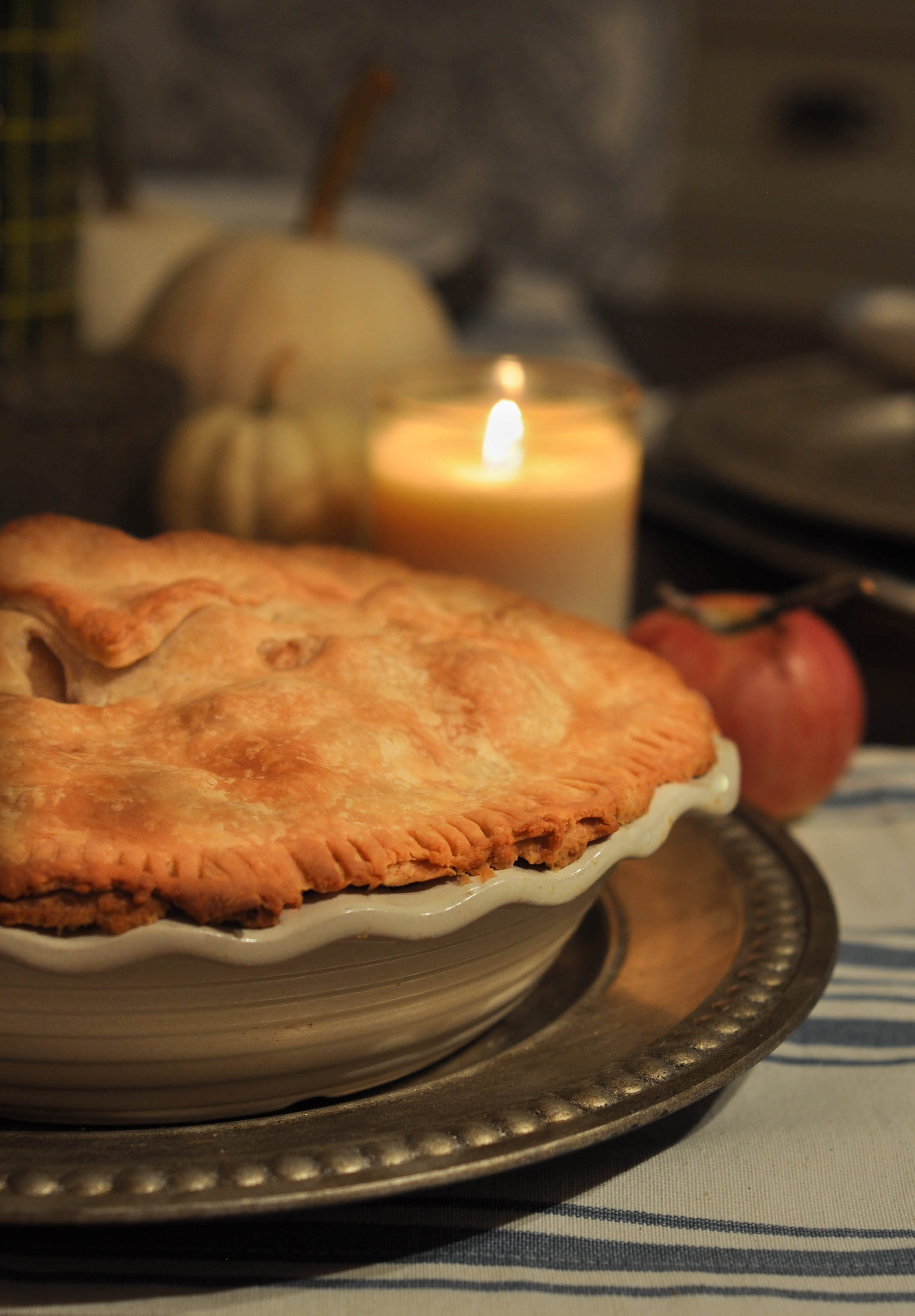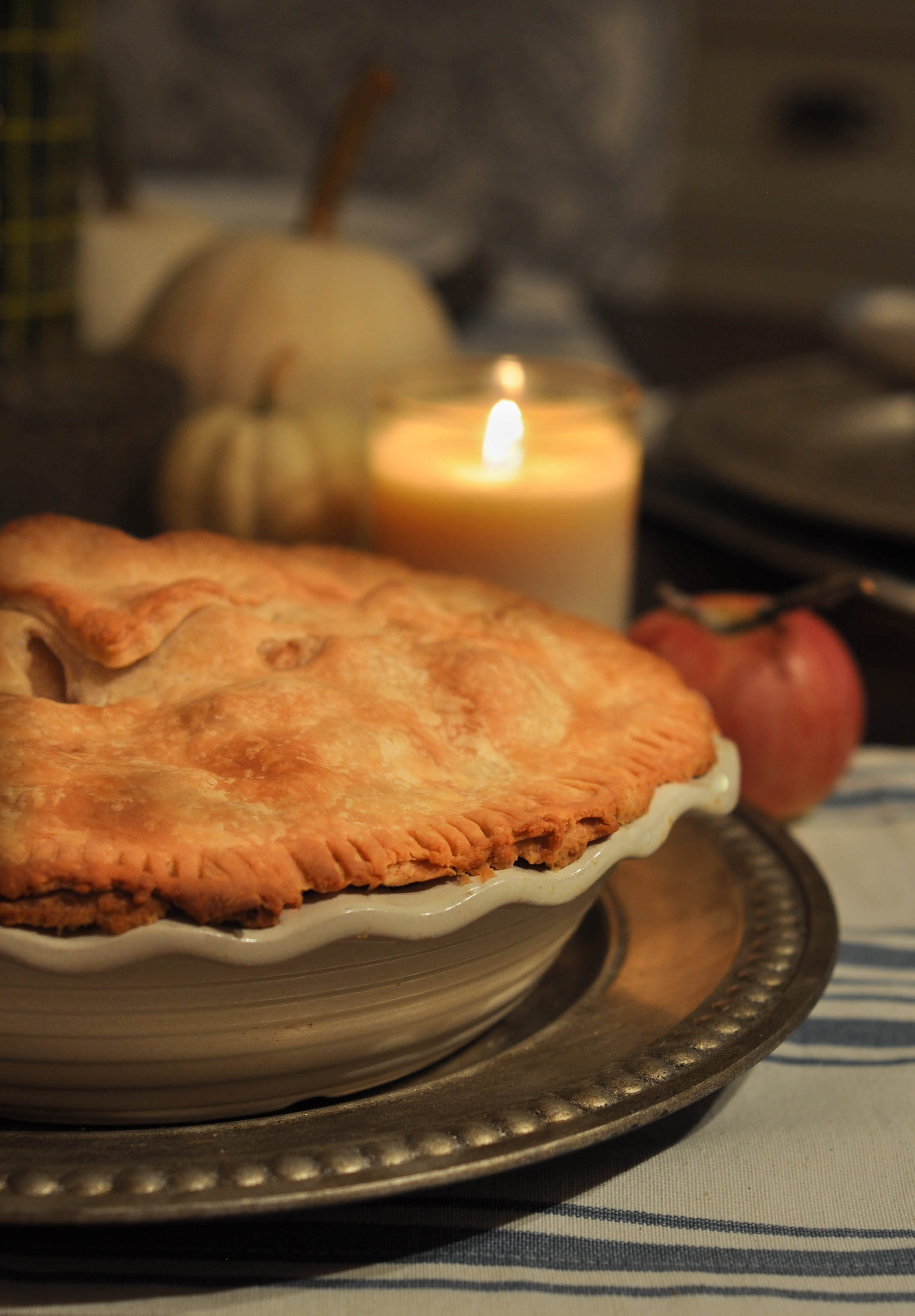 Virginia Apple Pie
2016-10-25 21:05:09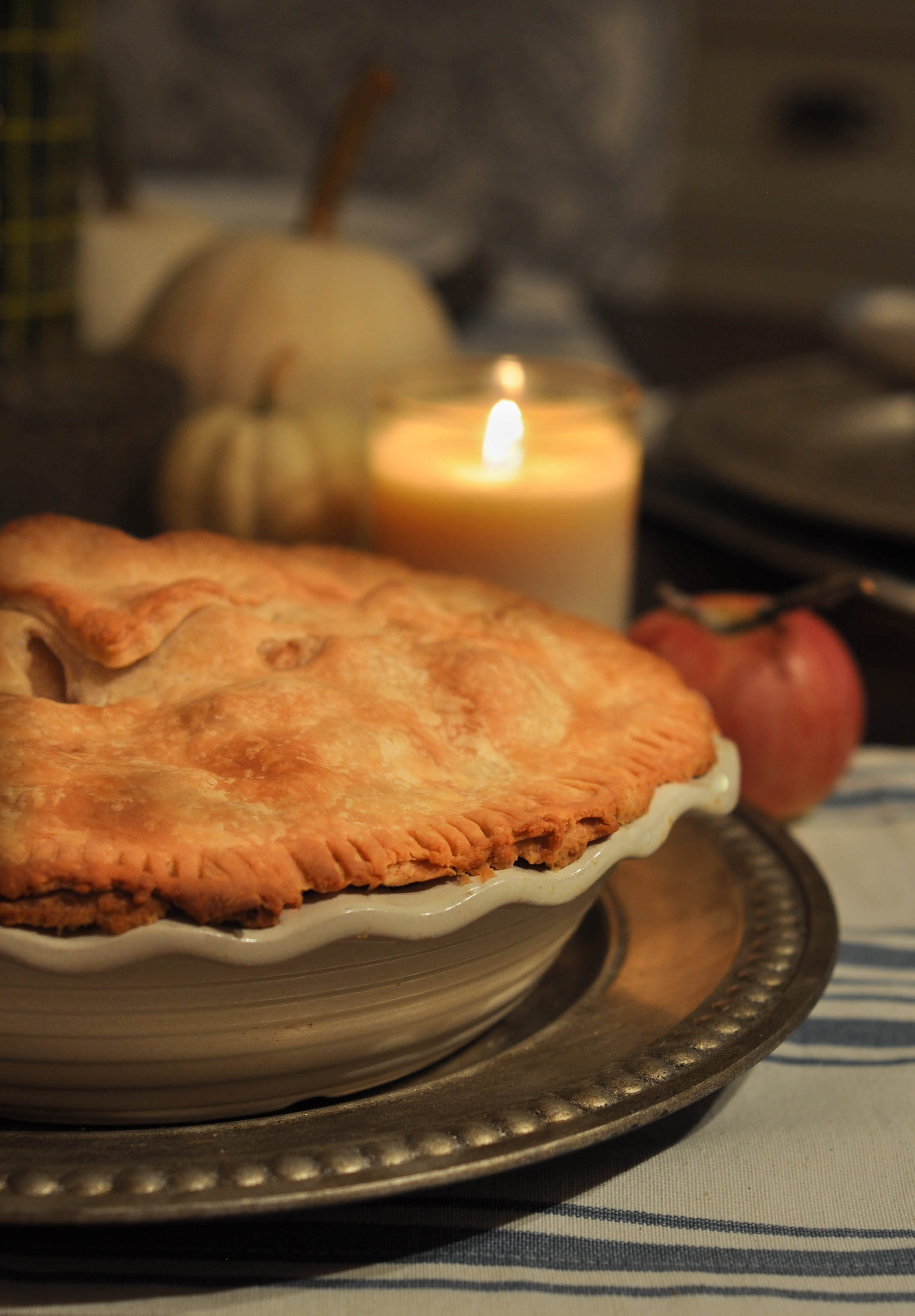 Serves 8
The absolute perfect apple pie. Packed to the brim with spiced apples and nestled in a flaky crust. Go ahead, have a slice for breakfast too, no one's watching...
Nutrition Facts
Amount Per Serving
* Percent Daily Values are based on a 2,000 calorie diet. Your Daily Values may be higher or lower depending on your calorie needs.
PIE CRUST
2 cups all purpose flour
1/2 cup + 6 tablespoons butter, cut into small pieces
2 teaspoons sugar
1 teaspoon salt
2 teaspoons apple cider vinegar
1 egg
1/4 cup cold water
PIE FILLING
10 - 12 apples
1/2 fresh lemon (to squeeze over apples after slicing)
1 cup sugar
1 teaspoon cinnamon
1/4 teaspoon nutmeg
1/8 teaspoon ground ginger
2 dashes of cayenne pepper
1/8 cup all purpose flour
3 tablespoons butter, cut into small pieces
PIE CRUST
In a medium mixing bowl, mix the flour, sugar, and salt with a fork. Cut the butter into the flour mixture with a pastry knife. Alternately, you can cut the butter into the flour mixture with a food processor. With either method, mix the butter into the flour until you have a crumb-like mixture.
Mix the vinegar, egg and water with a fork and combine the liquid mixture into the dry mixture until all ingredients are moist. With your hands, mold the dough into a ball and tightly cover with plastic wrap. Chill in the refrigerator for at least 15 minutes and up to 2 days. Don't you just love a pie crust that will let you wait until the last minute or plan ahead...
PIE FILLING
Preheat the oven to 375 degrees.
Peel, core and slice 10 - 12 apples. Don't be intimidated. You're going to cook the apples, so they will cook down a bit and allow you to really pack your pie full of apples. If you have an apple wedger--perfect! If not, slice apples into 1 inch wedges after peeling, cut out the core, and then cut the wedges into half pieces (the apples will pack into the pie crust easier). Place the apples in a large glass mixing bowl. Squeeze lemon over the cut apples to keep them from turning brown. Mix the sugar, cinnamon, nutmeg, ground ginger, cayenne pepper, and flour in a bowl; then sprinkle the mixture over the apples and thoroughly toss the apples in the sugar and spice mixture.
Remove the dough from the refrigerator right before you cook the apples.
In a very large skillet (I actually use a wok), cook the apples for about 10 minutes until they are fork tender, but not mushy. Much of the water from the apples will fill the skillet--you want this to happen. Remove the apples from the skillet and place back in the large mixing bowl. Continue to cook the remaining liquid over medium heat until it reduces and thickens (another 5 - 7 minutes). Remove the reduced liquid from heat.
ASSEMBLING
Cut the dough in half. Take one half and roll out thinly so that it will hang over the edge of your pie dish by 1/2 inch. With a large spoon, place the cooked apples into the pie shell in the pie dish. Drizzle the reduced apple and spice liquid over the apples. Dot the apples with 3 tablespoons of butter cut into small pieces. Roll out the other half of the pie dough and place over the apples in the dish. Fold the overlapping crusts together and crimp the edges all around the pie dish edge (a fork works well for this).
Place the pie on a cookie sheet and bake at 375 degrees for 50 minutes. Check the pie at the halfway point, if the crust starts to brown too quickly, you can loosely cover the top or edges with aluminum foil to control the browning.
TraveLynn Eats http://www.travelynneats.com/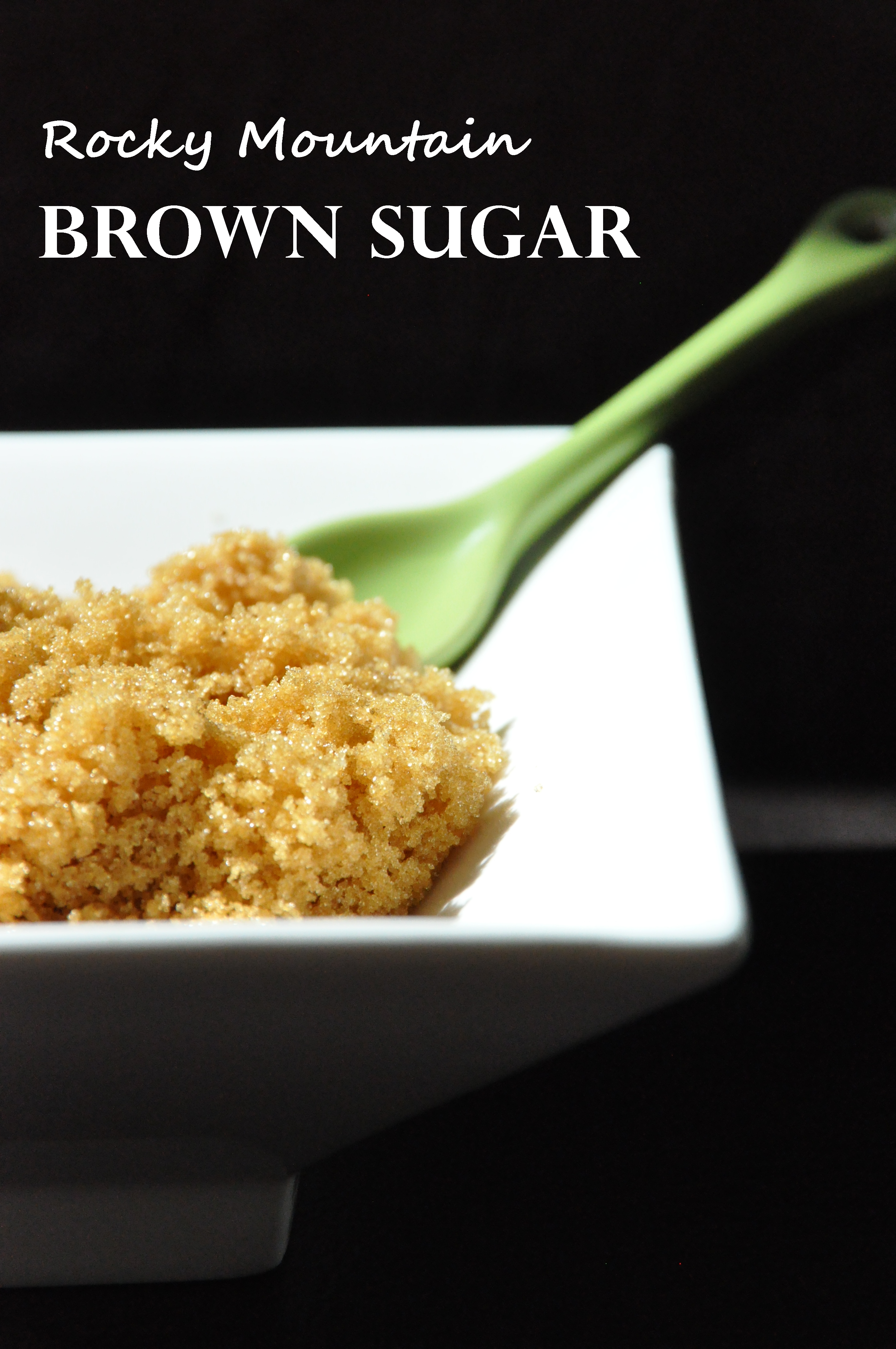 In keeping with the theme of "recipes for an arid climate"….  I introduce to you "Rocky Mountain Brown Sugar!"  Ok, so there's really 'no such thing' as Rocky Mountain Brown Sugar…  but, if you've lived in a humid-free zone you may know the "I'm big time bummed" feeling of reaching into your pantry to grab the brown sugar (when making your favorite chocolate chip cookie recipe) only to find a brown sugar BRICK.  Something had to be done.
It's real easy to make your own brown sugar!  Sugar + molasses = brown sugar.  Ta da!  Two tablespoons of molasses will give you a perfect medium brown sugar.  If you want dark brown sugar…  easy…  just add another 1-2 tablespoons of molasses!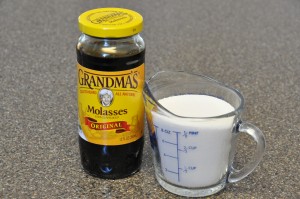 I was wondering how I was going to evenly distribute the molasses.   Was I supposed to mix it with a fork?  a whisk?  with my most prized possession….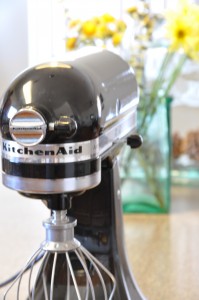 So, the KitchenAid was the perfect tool for whipping the molasses and sugar into this light, fluffy mixture.  You do have to give it a good run in the mixer though…
When you first start to mix the sugar and molasses, it will get a little clumpy.  No fear!
Your sugar and molasses will continue to blend together, just keeeeep mixing….. persevere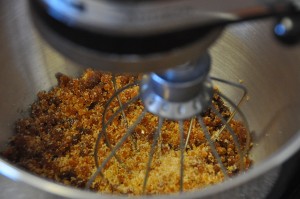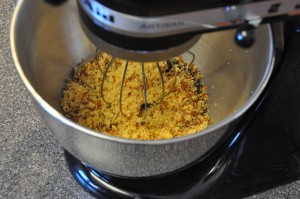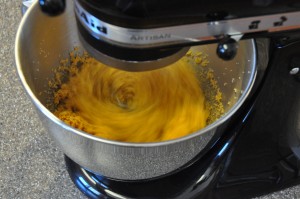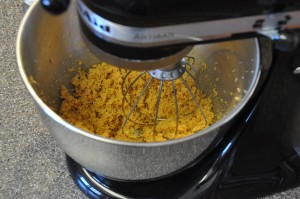 I always lick the batter from a whisk and this was no exception.  I highly recommend turning the KitchenAid off first though.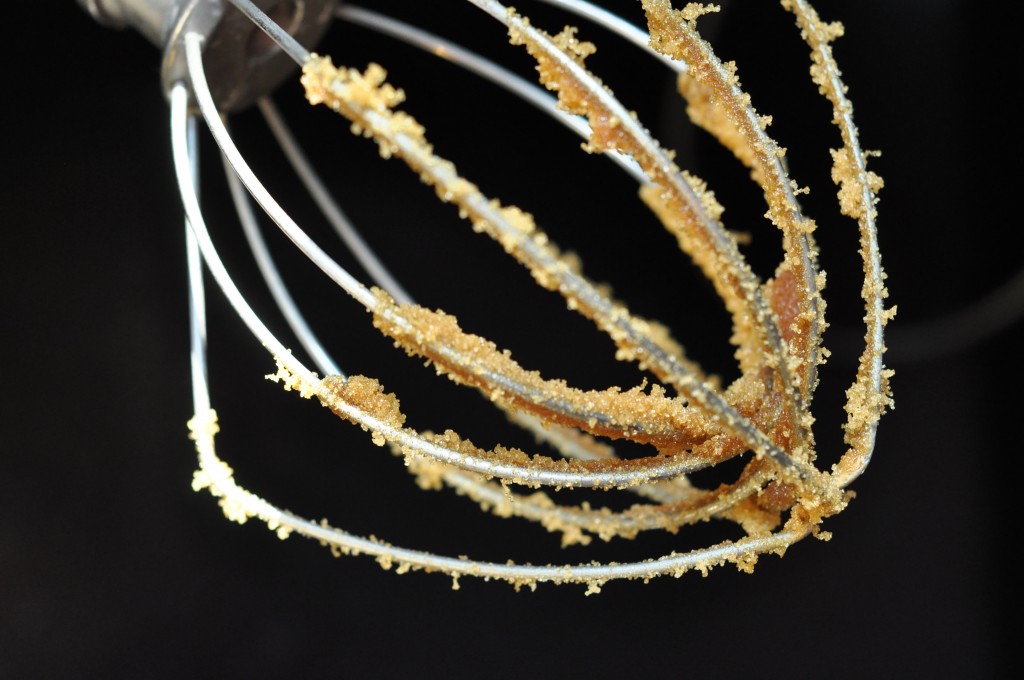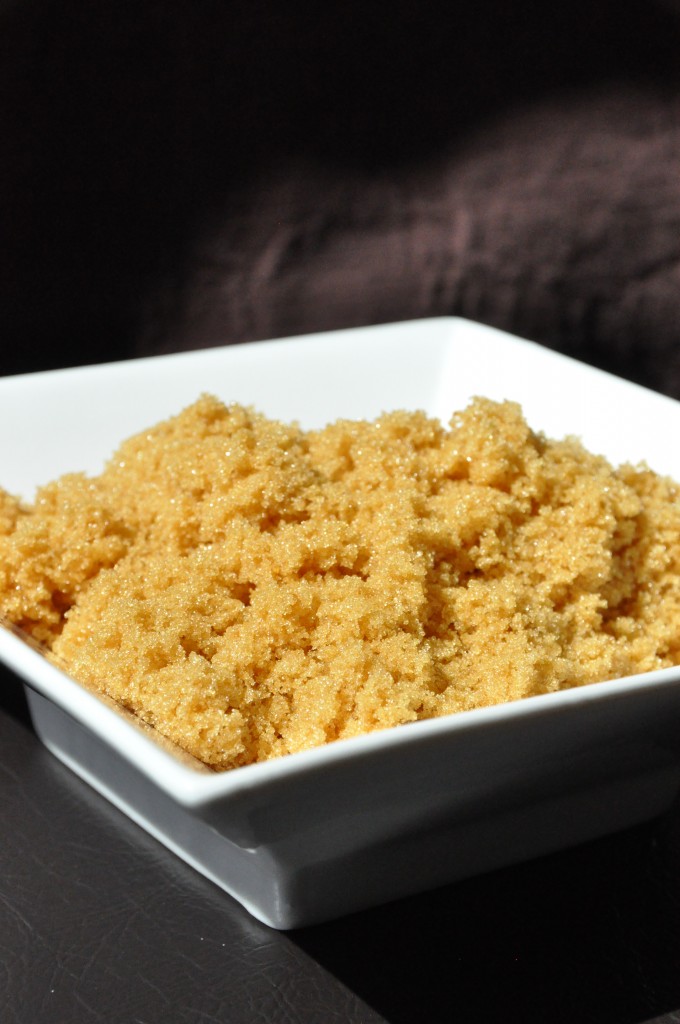 Rocky Mountain Brown Sugar
Homemade brown sugar is as easy as 1, 2, 3...literally. Sugar + molasses + mix!
Ingredients
1 cup sugar
2 Tbsp molasses
Instructions
Combine the sugar and molasses in a mixer
Mix on medium speed for several minutes
Store in an airtight container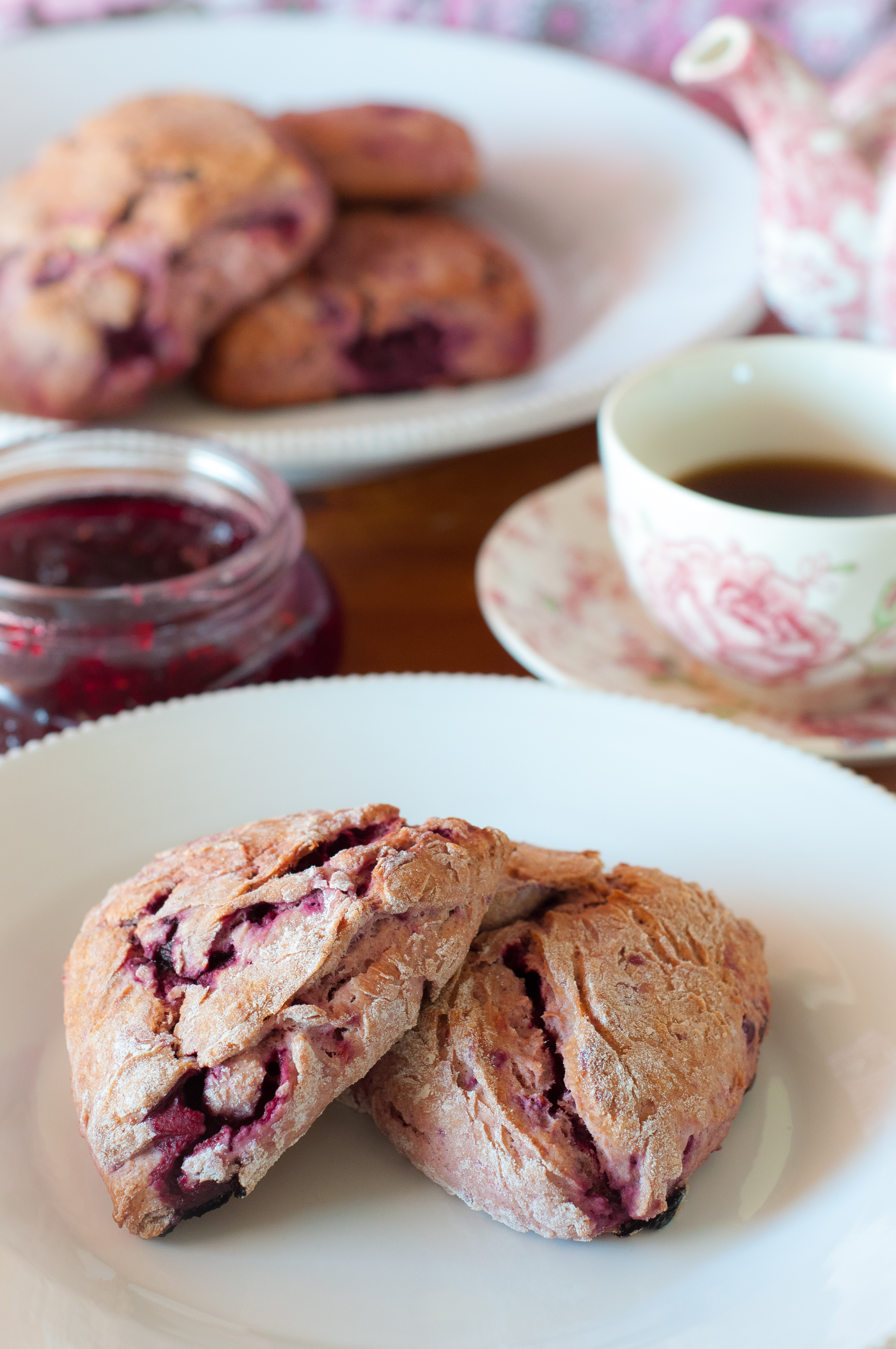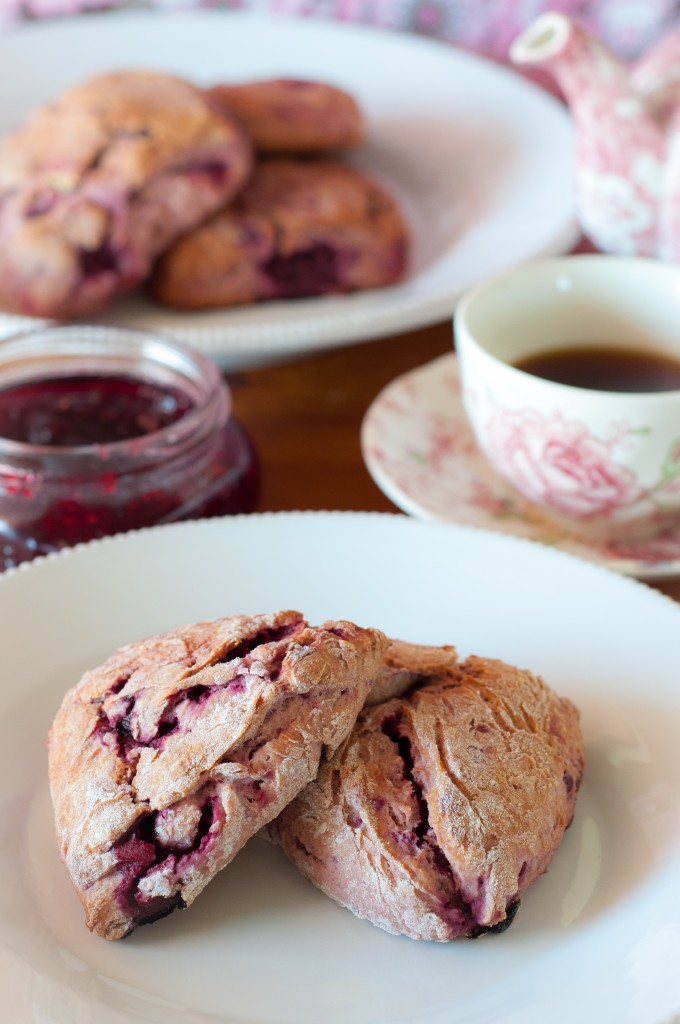 Happy Valentine's Day! You really don't need a special reason to make these treats though; they are so easy to make, you can have them ready in no time for breakfast or afternoon tea….or a midnight snack…
Most of the recipe is blended together in a food processor. You can blend together with a hand-held pastry mixer, if you want a pre-scone workout. The texture is light and fluffy, the taste is fresh, and these are truly easy to whip together. Mixed and baked–start to finish–in about 30 minutes!
It has become my Saturday morning routine…
Ingredients:
1 1/2 cups all-purpose flour
1/2 cup whole wheat flour
1 Tbs baking powder
1/4 cup sugar
1/2 tsp salt
6 Tbs butter (cut in slices)
1 cup frozen raspberries
1 cup ricotta
1/3 cup cream (or full fat buttermilk…this adds a little tang… and it's good)
1/2 cup dark chocolate chips
Preheat oven to 425 degrees
Instructions:
In your food processor, add flour, baking powder, sugar, salt and butter and blend until butter is in small pieces. Add frozen raspberries and pulse the mix until the raspberries are just slightly broken up.
Pour contents into a large bowl and add ricotta and cream. Mix flour mixture and wet ingredients together. Add chocolate chips. You may need to add a little more cream to get the mix to hold together.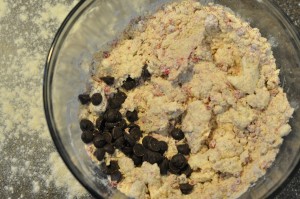 Generously flour your counter surface and place the mixture on your counter. Form a ball and lightly knead. Pat the dough into a rectangle shape about 5×7 and about 1 inch thick. Cut into 9 square shapes (or you can cut into uniformly sized triangles).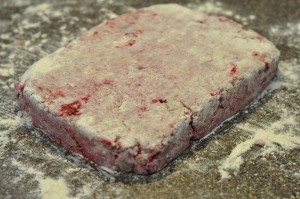 Spray a cookie sheet and bake for 15-20 minutes until lightly browned.
Cool briefly…..
These scones are absolutely gorgeous served with raspberry jam and fresh ricotta!